Videos
Pregame: KU vs. Illinois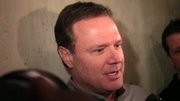 Kansas and Illinois face off in the third round of the 2011 NCAA Tournament on Sunday, March 20, 2011.
Tulsa, Okla. — Praise for Illini
Illinois senior guard Demetri McCamey averages 14.9 points, 6.1 assists and 3.4 rebounds per game heading into tonight's Round of 32 game against Kansas.
"He makes the game easier for everybody else," KU coach Bill Self said. "He's fast, strong, has great vision. When he gets in rhythm, he may be the best guard we've played against this year."
McCamey, 6-3, 200 from Bellwood, Ill., is "one of the biggest guards at our position," KU freshman Josh Selby said. "We're going to have to get up close on him because he can shoot from anywhere."
KU junior Tyshawn Taylor believes he'll open defensively on McCamey.
"He has deep range, can shoot the three-ball," Taylor said. "He controls their team. As a senior, it's different. Seniors know it's their last hurrah and let everybody have it."
Self was asked if Brady Morningstar might spend some time on McCamey.
"It could be Brady. It could not be, too," Self said with a smile.
Noted Morningstar: "Whoever is on him will have a tough task. He's an all-around point guard that can score and pass the ball. Whenever you have a guy like that, you have to be on your toes and make sure you know where he is at all times."
KU senior Mario Little, a native of Chicago, played against McCamey in high school. Junior Marcus Morris became friends with McCamey at the LeBron James Skills Academy last summer in Ohio.
"He's a good guy, a great player. We Tweet a lot," Morris said. "He reminds me of Deron Williams. He is my favorite point guard."
Favorite except for KU's guards, of course.
"I take my guys over everybody, but other than that, yeah," Morris said.
Roberts has Illini roots
KU freshman Niko Roberts lived in Champaign, Ill., for three years, from the ages of 8 to 11 when his dad assisted Self on the U of I coaching staff.
"It was kind of like Kansas, a college town. It was a little bit colder," Roberts said. "The main thing I remember about Illinois is, it was right next to a pig farm. The whole time, all you could smell was pigs and cows."
Roberts said he idolized Illini player Sergio McClain as a youth.
"He was like my brother, a member of the family," Roberts said. "They were my favorite team when I was younger. I think it'll be a great game. They are a good team. We are a good team."
Collins headed overseas
Former Kansas University basketball guard Sherron Collins has signed with Lietuvos Rytas in Lithuania.
Collins, who spent most of the season with the Charlotte Bobcats, was waived by Charlotte after the trade deadline. The Bobcats wanted to bring back Collins, but he missed two separate flights back to Charlotte.
Collins will play on the same team with former Maryland player D.J. Strawberry.
Loose team
KU's Thomas Robinson put Elijah Johnson in a headlock as Johnson, Selby and Robinson performed a rap number with a Topeka TV reporter in the locker room Saturday.
"This is my roommate. I have to keep him under control," Johnson joked of Robinson.
Tall bombers
Illinois' starting lineup includes 7-foot-1 Mike Tisdale and 6-9 bookends Mike Davis and Bill Cole. The tall Illini can step out and shoot from the perimeter.
"When you have to defend all five spots, it puts a lot more pressure on you defensively," Self said. "Illinois runs some things into their motion, but they are a true motion team. The hardest teams to guard are teams that run motion that really know what they are doing and they know what they are doing.
"A lot of times, if you are defending motion, you have to use one guy to clog you up, and you can't do that with Illinois, because all their guys can make shots to 17, 18 (feet) and beyond that. I think it's a game we have to be as alert defensively as we have been at any point in time this year."
NBA talk
Self was asked if he will have to talk to underclassmen more than usual after the season about the NBA Draft. There is expected to be a lockout this postseason.
"I would think so," Self said, "but trust me, they are getting counseling, and it's not always from the staff. They are getting counseling from family members, from agents, from a lot of people that they trust or whatnot, that see it through their eyes. Coaches may see it through our eyes.
"And a lot of times I think there are people out there that feel like coaches are being selfish because they want you back for their own personal benefit. But the lockout is an interesting twist because it doesn't do a lot of good to get drafted real high if you are not going to get paid. But the agent will say, 'But you'll get to your second contract quicker.'
"There's going to be a give and take on everything. I think the big thing is to have a good relationship with your players where you can be open and honest.
"We've always had the philosophy and there's only been once or twice I thought kids didn't make great decisions. The majority of the time the kids we've have made great decisions. And when the time's right, they've got to go (pro). That's the way I look at it."
Antlers rumor debunked
There was a rumor Missouri's Antlers have been phoning Marcus Morris to bother him in the NCAAs. Morris said the rumors were false.
"I've seen some junk on the Internet about me texting somebody about them losing or something like that. I don't hate them. That's where I think they get it wrong. They hate me. They hate us. I don't hate them. I don't have a problem with them at all. Their guys had a great season this year. They came (up) short, but it happens like that in the NCAA Tournament.
"I don't have a problem with anybody. I definitely did see what they said, that I was texting somebody back about them losing or something like that. I mean, I'm not worried about them. I'm worried about us. I'm worried about us not losing. I could care less about what they do over there."
More like this story on KUsports.com