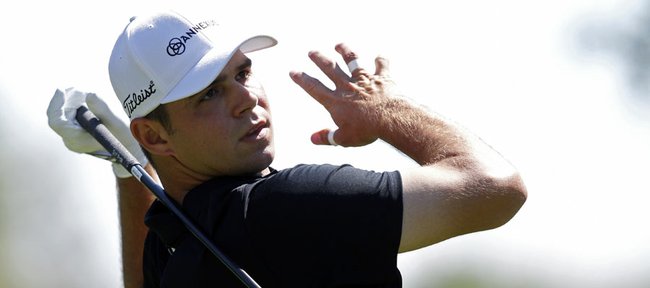 PALM HARBOR, FLA. — Gary Woodland, a pure athlete who only started serious golf competition eight years ago, figured out quickly that hitting the ball from here to the moon was not going to help him win tournaments.
Perhaps it was only fitting that his biggest shot Sunday at the Transitions Championship came with his putter.
The race to the finish at Innisbrook was so wild that Woodland didn't make a single par on the back nine until the last hole. He made a 10-foot par putt that proved to be the difference in a one-shot victory over Webb Simpson.
"I can't come out here and hit the golf ball 900 yards and win," said Woodland, exaggerating only slightly. "I was very conservative this week, laid back almost all day — all four days — and just tried to get the ball in the fairway, get it on the green and let the putter do the work. That's what I'm learning."
The final par — his only par on a back nine that featured five birdies and three bogeys — gave Woodland a 4-under 67 and his first trip to Augusta National for the Masters.
Simpson also flew long on the 18th green and faced the same scary shot as Woodland in the group ahead. He hit off the back of the green, chipped 20 feet by the hole and the par putt was the only bad stroke he made all day. The bogey gave him a 69 and a runner-up finish in an otherwise solid performance for his first time in serious contention.
Woodland took only 23 putts in the final round — 10 on the back nine. According to the Shotlink data, he didn't miss a single putt inside 20 feet in the final round, with four of those 17 putts outside 10 feet.
Woodland, who played college basketball at Washburn until deciding to transfer to Kansas to play golf, became the first player to earn his inaugural PGA Tour title at Innisbrook.
The win gives Woodland an invitation to Augusta National, where his awesome power and soft putting touch could make for an interesting marriage at the Masters. He missed the second half of his rookie season two years ago with shoulder surgery, but began to show potential when he lost in a playoff at the Bob Hope Classic.
Woodland finished at 15-under 269 and earned $990,000, moving up to No. 3 in the FedEx Cup standings.
"One thing that helped me was putting, and today it saved me," Woodland said. "Luckily, it won me a golf tournament."