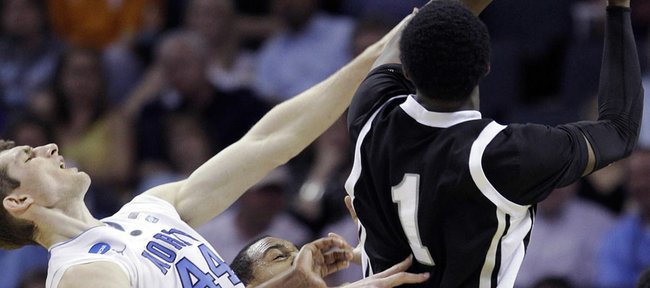 Charlotte, N.C. — North Carolina coach Roy Williams said he was concerned about his team's lack of NCAA experience.
So with the first-round game on the line Friday night, the Tar Heels went to their player who had the most.
Junior forward Tyler Zeller — who played a total of 32 minutes during UNC's six-game national title run in 2009 — scored 25 of his career-high 32 points in the second half of the second-seeded Tar Heels' 102-87 victory over No. 15 seed Long Island University.
Carolina (27-7) will either face either seventh-seeded Washington or No. 10 seed Georgia in Sunday's third round for the right to advance to the Sweet 16.
Tar Heels sophomore John Henson added a career-high 28 points at Time Warner Cable Arena, and freshman Harrison Barnes chipped in 24 to mark the first NCAA game in which three UNC players have scored 20 points or more.
But it was Zeller's poise that was most key down the stretch.
After having as much as a 21-point lead chipped to 73-59 with about 10 minutes remaining, Zeller scored UNC's next 11 points to keep the Tar Heels ahead 84-70. After a breather, he came back and followed a Kendall Marshall 3-pointer with six more points help seal the victory.
The Tar Heels increased their all-time NCAA tournament record to 10-0 when playing in Charlotte and 28-1 in the state of North Carolina.
Julian Boyd lead LIU with 18 points.
UNC, which struggled with slow starts during its three ACC tournament games, led from the jump, taking an early 12-2 lead, thanks to six points from Henson. Then, still ahead 19-11, Henson scored the Tar Heels' next 10 points on a baseline jumper, two free throws, a dunk after which he fell on his rear, an alley-oop dunk after which he managed to stay on his feet, and an inside move. That gave UNC a 29-16 advantage.
But the Blackbirds — miffed at being a No. 15 seed, considering they had won 27 games (including the Northeast Conference tournament) and were owners of the longest active winning streak in college basketball (13 games) pushed back using a zone that helped frustrate UNC into at least four sloppy turnovers. That fed a 14-2 LIU run, culminating when forward Kenny Onyechi scored to tie it, 33-33, with less than five minutes left in the first half.
Barnes, however, countered with a three-point play to kick start a 13-2 run by the Tar Heels. That breakaway included another four points from Henson, who became the first Carolina player to score 20 points in a half since Ty Lawson had 21 vs. LSU in the 2nd round of 2009 NCAA tournament.
The Tar Heels led 53-42 at the break, but coach Roy Williams looked livid with how the half ended on a turnover (their 11th of the game) that LIU turned into a David Hicks 3-pointer.
More like this story on KUsports.com