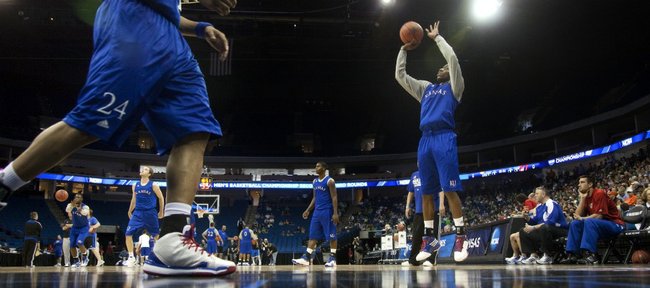 Tulsa, Okla. — Tyshawn Taylor has had so many personal highlights, and lowlights, in his three-year Kansas University basketball career, he has made wisecracking media wonder: "Is there a good Tyshawn and a bad Tyshawn?"
"I don't know. I think there's just one Tyshawn that gets in trouble sometimes," Taylor, KU's starting point guard, said Thursday, on the eve of today's NCAA Tournament opener between KU (32-2) and Boston University (21-13). Tipoff is 5:50 p.m. at BOK Center.
"I also feel I am kind of in the wrong places at the wrong time. It's how I look at it. I think it's part of being young. I think everybody has done some things when they are young. When I get up there in age, I think it will probably be something I talk about and laugh about," he added of some of his stormier moments at KU. "It's something I can grow from, become a better person and better man."
The "bad" Tyshawn at the end of February was suspended two games for breaking team rules and lost his starting spot in four more contests.
He enters the NCAA Tournament back in coach Bill Self's good graces.
The 6-foot-3, 185-pounder from Hoboken, N.J., regained his starting job in the second half of last Friday's Big 12 tournament semifinal against Colorado.
He scored 15 points and dished four assists in that game, and back as starter, exploded for 20 points and five assists in the title game against Texas.
"It's how it's been my last few years, up and down, up and down," Taylor said of his junior year. "I want to come in this tournament, try to start this one like I ended the last one."
Taylor, who for the season has averaged 9.1 points a game off 46.7 percent shooting, with 143 assists against 86 turnovers, has heard various TV analysts say his play could be the "key" to KU's postseason hopes.
Guard play is considered essential to success this time of year.
"I've heard them say it a couple times. It feels good that people think that about me," Taylor said. "It's good people are saying that about me. At the same time, we're so deep. If I do what I gotta do and my teammates do what they've gotta do, we'll be in good shape."
Taylor acknowledges his confidence is soaring.
"I had a ball," Taylor, who took the ball to the basket repeatedly, said of last weekend's Big 12 tourney. "My team played well. I played well. Coach was happy with us.
"I had a ball," he repeated. "It felt good. I feel this is how I want to play. There's no better time to start that heading into the NCAA Tournament. I am going to try to keep that ball rolling."
Self won't overstate Taylor's importance in the 2011 postseason.
"Everybody needs to play well," Self said. "It's important key guys play well. He is a guy who can change the game and create pace and do some things others can't. It's important he play well.
"Elijah (Johnson) started when Ty had his issues and played very well. Then Ty was lights out against Texas and played well in the Big 12 tournament. But we need them both. That's what I tell them. We need them both. One is more a possession guard (Johnson), and the other kind of a road-runner-type guard. But we need Elijah's athletic ability and maybe even play some of those guys together or play those two together more than we have."
Of course, ever-reliable Brady Morningstar and Tyrel Reed will be starting at guard with Taylor and the Morris twins.
Morningstar likely will open defensively on America East Conference player of the year John Holland, a 6-5 senior who averages 19.2 points and 5.9 boards.
"He's going to be a tough matchup, whoever guards him," Morningstar said. "And you've got to be ready to play team defense, especially in the NCAA Tournament, because a lot of guys on different teams can score in different ways. But I'm impressed from what I've seen from him. He looks like he can do it all. It will be exciting to get to guard him."
Self said Holland, "is a potential pro. He can do a lot of things. He can post. He can face. He can drive it. He's certainly athletic."
KU has a wildcard guard entering the postseason in another player expected to play in the NBA, maybe as soon as next season — Josh Selby.
Selby, who has been hampered the last several weeks because of his foot injury, said he's healthy and ready for March Madness.
"It's exciting. Tomorrow I will be jumping out of my pants. I'm not going to lie to you," Selby said Thursday. "I saw the atmosphere on TV today. It's crazy. I can't wait."
Of his own upcoming performance, he said: "What's happened in the past is past. This is a new season for us and me. I'm coming in with a different attitude. When coach throws me out there, whatever he needs me to do, I'll do. I think right now, one thing we have to do is stop them from scoring. From what I've seen on TV, Holland is very tough. They've got a fast point guard, too, in Irving (D.J., 6-foot freshman, 7.9 ppg, 3.6 apg). I think if our bigs play well and our guards play well, we should be able to do some good things."
Selby wouldn't trade his mentor, Taylor, for anybody.
"Tyshawn is fast, can defend, can get to the rack whenever he wants. He's special," Selby said.
He's also key to KU's gameplan today and, if the Jayhawks win, Sunday's battle against either UNLV or Illinois.
As far as the "bad-good" Tyshawn debate, "For me, there's only a good Tyshawn," Selby said. "If there is a bad Tyshawn, he does a good job of not showing it."