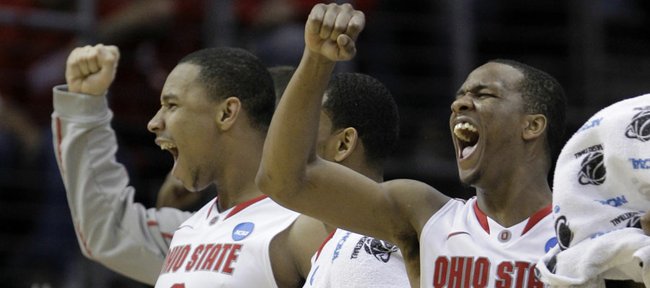 Cleveland — Texas-San Antonio coach Brooks Thompson understands what it takes to beat Ohio State, he just doesn't know if it's possible.
Like Northwestern, which stymied Ohio State more than just about any other team this season, the undersized and overmatched Roadrunners attempted to slow the pace, crowd Jared Sullinger and Jon Diebler and hope for the best.
And just like opponents in 32 other games, the Roadrunners' game plan didn't matter much.
In the second round of the NCAA tournament before a record state of Ohio crowd of 20,164 at Quicken Loans Arena, top-seeded Ohio State busted out of the shackles San Antonio tried to lock on them with a 75-46 dismantling victory.
"I think it can (work)," Thompson said of the strategy. "Obviously it didn't today. You have to crowd Diebler, there's no doubt about it. Sullinger, our guys were just bouncing off him. I don't think it will work if (William) Buford and guys like (Aaron) Craft are making their shots. The other guys stepped up and I think they will throughout the tournament."
The problem with the slow-down strategy is the Buckeyes have so many options, although critics frequently bemoan their lack of depth.
Ohio State (32-2) led by as many as 38 points against San Antonio (20-14) and were shooting at a 70 percent clip in the second half. The Buckeyes' efficiency was staggering, finishing off the Roadrunners by shooting 55.8 percent, including a 12-for-24 effort on 3-pointers.
Buford made 7 of 12 shots for a team-high 18 points. Deshaun Thomas came off the bench to score 13 points.
Diebler nailed 4 of 8 3-pointers for 14 points. Sullinger, the Big Ten freshman of the year, scored 11 points with nine rebounds.
"There's not a team that has had to defend further on the shot clock," Ohio State coach Thad Matta said. "Our guys had a good feel for that with what we went through last week (in the Big Ten tournament)."
Matta and his staff prepared the Buckeyes for an up-and-down race on the court, but the Roadrunners scrapped their typical style for a shot at becoming the first No. 16 seed to upset a No. 1.
San Antonio took a four-point lead early in the game, but the Buckeyes had too many hot hands.
Devin Gibson connected on 9 of 18 shots for 24 points, but the rest of the Roadrunners did little to help combat the waves of Buckeyes scoring with no other player scoring more than six.
In the next round, Matta expects a different style from eighth-seeded George Mason, which beat Villanova earlier in the day. But the Buckeyes have learned not to trust opponents' film.
"You never know what you're going to get in the NCAA tournament," Matta said.
More like this story on KUsports.com