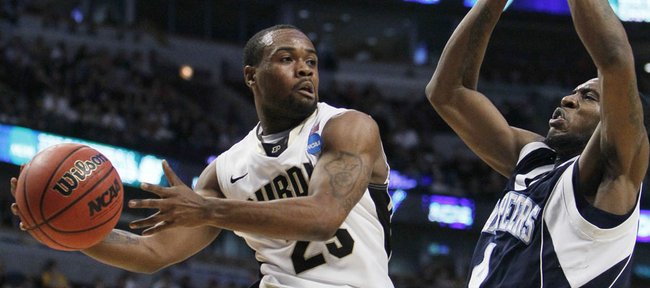 Chicago — E'Twaun Moore scored 19 points and JuJuan Johnson added 16 with 16 rebounds Friday night as third-seeded Purdue routed St. Peter's 65-43 in the second round of the NCAA's Southwest Region.
The Boilermakers (26-7), who made the round of 16 the previous two seasons, will face the Georgetown-Virginia Commonwealth winner Sunday at the United Center for a return trip.
Winning their first game in the NCAA tournament is commonplace for the Boilermakers. They've now captured their opener in their last 13 appearances.
Purdue led 33-17 at the half and then broke away in the second after scoring the first seven points. The Peacocks (20-14) were led by Jeron Belin's 12 points but shot only 29 percent.
An early 9-0 spurt featured the 6-foot-10 Johnson's highlight-reel dunk as he soared to grab an alley-oop inbound pass from Terone Johnson. D.J. Byrd's 3-pointer capped the run and put the Boilermakers in control early at 15-4.
Purdue, playing without suspended backup guard Kelsey Barlow, got a lift from Terone Johnson, a freshman. He had five first-half points, four assists and a late 3-pointer that lifted Purdue to a 33-17 halftime lead.
St. Peter's, in the tournament for the first time since 1995, got in by winning three straight games to capture the MAAC tournament. The Peacocks beat Alabama at an early-season tournament, showing they could play with any team.
But the one-two punch of Johnson and Moore, who combined for 53 percent of the Boilermakers' points this season, was too much. The two stars exited the game with just a little more than four minutes remaining.
Starting the second half, Johnson grabbed an offensive rebound and hooked in a shot, Byrd found the range again on a 3-pointer and Lewis Jackson's driving basket highlighted a 7-0 spurt that put the Boilermakers up 40-17. Purdue increased the lead to 27 before the Peacocks used a 14-3 run to show some life, but by then it was way too late.
More like this story on KUsports.com