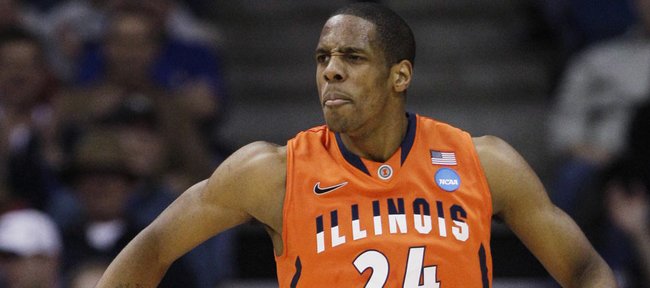 Tulsa, Okla. — Finally, improbably and seemingly out of nowhere, the Illinois team the players, coaches and fans envisioned before the season began showed up at an opportune time.
Perhaps the Illini have been running a complicated ruse for most of this season?
That's one explanation for what happened Friday night when the Illini defeated former coach Lon Kruger's UNLV squad 73-62 to set up a savory matchup with another former Illini coach in Kansas' Bill Self. This was Illinois' first NCAA tournament victory since 2006.
The No. 8-seed Illini's performance was as flawless as it was stunning, especially in the first half.
Their main worry coming into the game? Trying to handle UNLV's full-court pressure. The Illini (20-13) made mincemeat of it. The ninth-seeded Runnin' Rebels (24-9) could not keep up with the Illini, who raced up and down the floor with ease, getting easy basket after easy basket against that pressure. And when UNLV missed, the Illini's transition game looked like it had a few gears replaced in time for the tournament.
Illinois opened up a 26-12 lead, and kept pouring it on from there in the first half. Astonishingly, the Illini led 46-24 at the break and had 20 points in the paint.
Senior guard Demetri McCamey played some of his best basketball, scoring 12 points with four assists in the first half, while the Illini used their height advantage to dominate the glass. McCamey finished with 17 points and seven assists while senior Mike Davis added 22 points and 10 rebounds.
Instead of UNLV dominating the pace of the game with its defense, the Illini dictated the tempo with theirs. UNLV shot a dismal 21-for-54 on the night The only question that lingered after that first half was: Could the Illini prevent a second-half collapse? Too many times this season, Illinois has let leads disappear, albeit never one as big as 23 points.
There were a few nervous moments as the Illini got a little sloppy with the ball and UNLV hit a few shots to cut the lead to 61-43. But a pair of 3-pointers from the slumping D.J. Richardson pushed the lead back to 67-47 and sent away the anxiety. UNLV narrowed the gap in the final minutes, but that was just window dressing.
When the final horn sounded, the Illini did not wake up from a dream — they actually were that dominant.
The Illini did this without the help of freshman Jereme Richmond, who was suited up and on the bench, but did not play. Richmond has averaged 22.1 minutes per game this season. It was unclear why Richmond was benched or if he will play against Kansas. Richmond also missed the Illini's game against Wisconsin early on Jan. 15 for personal reasons.
But on Friday, the Illini didn't seem to need him.
More like this story on KUsports.com