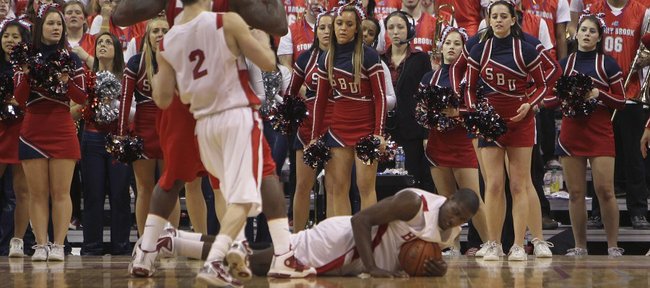 Top-seeded teams
No. 1 Kansas: The Jayhawks are making their 22nd consecutive NCAA tournament appearance — the longest active streak in the nation — after winning their seventh straight Big 12 Conference regular-season title and the conference tournament for the fourth time in five years. Yet, both UCLA (77-76) and USC (70-68) nearly beat Kansas in Lawrence in December.
No. 2 Notre Dame: A loss to Louisville in a Big East Conference tournament semifinal probably cost the Fighting Irish a No. 1 seeding. As a consolation prize, they get favorable bracket placement and an opening-weekend assignment only a bus trip away.
No. 3 Purdue: Few expected the Boilermakers to win 25 games after they lost star Robbie Hummel, who suffered a torn knee ligament at the season's first practice. But who also would have thought they would lose their final regular-season game against lowly Iowa, then get blown out by Michigan State in a conference tournament quarterfinal.
No. 4 Louisville: The Cardinals play aggressive defense and have outstanding guards in Preston Knowles and Peyton Siva.
Top players
Marcus Morris, forward, Kansas: The Big 12 player of the year leads the Jayhawks in scoring (17.3) and is second in rebounding (7.2). His brother Markieff, another junior who, at 6 feet 10, is an inch taller, is second in scoring (13.6) and first in rebounding (8.2).
JaJuan Johnson, forward, Purdue: The Big Ten Conference player of the year is a dominant presence at both ends. He was voted the conference's top defensive player, and had team-best averages of 20.5 points and 8.2 rebounds.
Ben Hansbrough, guard, Notre Dame: He was the only unanimous choice to the All-Big East team after averaging 18.5 points and 4.3 assists.
Rim shots
• Illinois could be facing former Illini coaches in its first two games. For openers, Illinois gets Nevada Las Vegas and Lon Kruger, who guided the Illini from 1996 to 2000. A win there and Illinois could draw top-seeded Kansas and Coach Bill Self, who had the Illini from 2000 to 2003.
• The national leader in rebounding and field-goal percentage does not play for any of the region's top-seeded teams. Morehead State's Kenneth Faried averages 14.5 rebounds, is shooting 64.4% and has 27 double-doubles in 33 games.
MATCHUPS
at Tulsa, Friday
No. 1 KANSAS (32-2, Big 12 champion) VS.
No. 16 BOSTON UNIVERSITY (21-13, American East champion)
Boston's Terriers have won 11 straight games and are led by 6-5 wing John Holland, a senior who is only the seventh player in American East Conference history to surpass career milestones of 2,000 points and 700 rebounds.
No. 8 NEVADA LAS VEGAS (24-8, at-large selection) VS.
No. 9 ILLINOIS (19-13, at-large selection )
Senior guard Tre'Von Willis has scored in double figures in nine of Las Vegas' last 10 games. Rebels swingman Chace Stanback, a transfer from UCLA, is averaging 13 points. Illinois has lost 10 of its last 16 games.
at Denver, Thursday
No. 5 VANDERBILT (23-10, at-large selection) VS.
No. 12 RICHMOND (27-7, Atlantic 10 champion)
Vanderbilt's Jenkins isn't the only player who can fill it up from the perimeter. Richmond forward Justin Harper, who is 6-10, has 73 three-point baskets and averages 17.9 points and 7.0 rebounds.
No. 4 LOUISVILLE (25-9, at-large selection) VS.
No. 13 MOREHEAD STATE (24-9, Ohio Valley Conference champion)
Mr. Outside, Louisville's Preston Knowles, versus Mr. Inside, Morehead's Faried. Knowles has 97 three-pointers; Faried, who this season broke Tim Duncan's Division I career rebounding record, is the only Eagles starter taller than 6-4.
at Chicago, Friday
No. 6 GEORGETOWN (21-10, at-large selection) VS.
No. 11 USC or VIRGINIA COMMONWEALTH
As point guard Chris Wright goes, so go the Hoyas. Wright suffered a broken hand on Feb. 23, when Georgetown was 21-6. Without him, they were 0-4 — their losses by 12, seven, 22 and 17 points.
No. 3 PURDUE (25-7, at-large selection) VS.
No. 14 ST. PETER'S (20-13, Metro Atlantic Athletic Conference champion)
The Peacocks are making their first NCAA tournament appearance in 16 years, but if Purdue's Johnson doesn't prove too big to handle, Boilermakers guard E'Twaun Moore (18.2 points, 5.1 rebounds) might simply be too good.
No. 7 TEXAS A&M; (24-8, at-large selection) VS.
No. 10 FLORIDA STATE (22-10, at-large selection)
Texas A&M; plays gritty defense, but the knock on the Aggies is they struggle to score. Florida State? Ditto. The Seminoles need star forward Chris Singleton to return from a fractured foot. He hasn't played since Feb. 12.
No. 2 NOTRE DAME (26-6, at-large selection) VS.
No. 15 AKRON (23-12, Mid-American Conference champion)
Notre Dame is battle tested, and its school-record 25 regular-season victories included wins at Connecticut and Pittsburgh. Akron has won 11 of its last 13 but needed a buzzer-beater to down Kent State to win the Mid-American tournament. Eight Zips players average between 5.1 and 11.9 points per game.