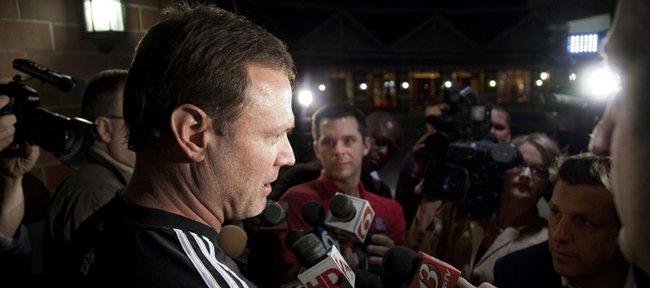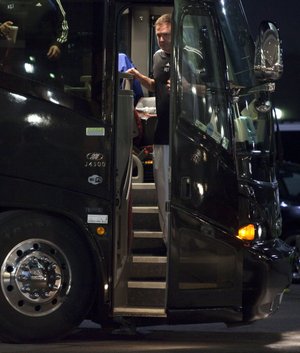 Tulsa, Okla. — Travis Releford and Josh Selby carried Cheddar's Casual Cafe to-go boxes off Kansas University's big, black charter bus into the Renaissance Hotel shortly after 9 p.m. on Wednesday.
The two Jayhawk basketball players obviously enjoyed KU's first team meal in T-Town, site of Friday's 5:50 p.m. NCAA Tournament game against Boston University.
"Well, we had an assortment of things: ribeye, shrimp and some broccoli and cheese casserole, pretty tasty," KU coach Bill Self reported to a horde of media members stationed outside the team hotel.
"They are loose," Self added of his top-seeded Jayhawks (32-2). "It's not that difficult to get them loose right now. They are excited. I can tell. We have had pretty energized practices. We haven't gone long (last two days), but they've been energized."
The Jayhawks practiced Wednesday in Allen Fieldhouse, hopping on a bus for Tulsa just after 2:30 p.m. After checking in, it was off to the nearby restaurant for dinner.
One topic of conversation had to be President Obama picking KU to win the NCAA Tournament. He believes the Jayhawks will down Ohio State in the national championship game.
"Didn't he do that last year, too?" Self said.
Indeed, Obama picked the Jayhawks to win it all in 2010 after correctly picking North Carolina in 2009.
"We're going to prove him right this year, at least try to. I don't put much stock in that stuff. I hope he turns out to be a very wise man," Self added.
The Jayhawks are to hold an open practice from 4:25 p.m. to 5:05 p.m. today in BOK Center in downtown Tulsa, site of Friday and Sunday second- and third-round games.
Self knows the area well. He coached Oral Roberts from 1994 to '97 and Tulsa from 1998 to 2000.
"Of course we had a great time in our seven years here," Self said. "We have a lot of friends around, ex-players. I'm happy to be back. I'm happy to bring my team back. It's been a goal every year to position yourself to play close to home in the first two rounds. This is the best situation for us. Oklahoma hasn't been good ... at least Oklahoma City hasn't been good to us in the postseason," added Self, whose Jayhawks lost to Northern Iowa in the second round last year and Bucknell in the first round in '05 in OKC's Ford Center.
"We need to change that this weekend," he added.
Oral Roberts was the school that gave Self his first head-coaching job. He had records of 6-21, 10-17, 18-9 and 21-7 before moving on to Tulsa, where his teams went 19-12, 23-10 and 32-5.
"I don't think about the 18 losses in a row that often (in first year at ORU) until you guys remind me of it, but those were great years," Self said. "We ended up winning 31 of our last 38 there, which was a great accomplishment. Going to Tulsa and having the great team that went to the Elite Eight (2000) ... in all honesty should have been in the Final Four. Those were great times and great memories and everything. Certainly I think of those players all the time, especially when I am in the area."
Of course, if KU is able to beat Boston, the Jayhawks would meet either Illinois or UNLV at a yet-to-be-determined time Sunday. UNLV is led by former Illini coach Lon Kruger. Self coached at U of I from 2001 to '03.
"They always said the committee has a strange sense of humor because you see things like this happen periodically," Self said of all the Illinois coaches here. "We've stayed away from Illinois (in NCAAs) for seven years. The law of averages has to catch up sooner or later. UNLV has been a team in our bracket three of the last four years. I don't think it's an easy draw.
"Of course there are no easy draws. We have to worry about the first game. Certainly we are not playing a No. 16 seed. It's a little bit different this year. We are playing a 15 seed by every standard every other year. There are six teams (this year) on the 16 line. Those four teams are playing play-in games, so naturally BU would have been a 15 seed last year. I told our guys 15 seeds have beaten one seeds before. Our guys have to be ready for that.
"Boston is fast, well-coached and really guard. Their defensive stats are better than ours. We know we have to play well."