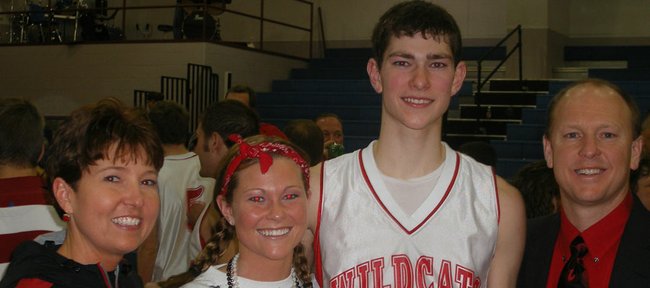 Burlington — The temperature is in the 60s, and an American flag snaps in the wind in front of the small-town high school on Cross Street.
Follow the four-toed, red-painted paw tracks, and you've made it to the front doors of Burlington High School — and also to the front doors of Kansas University senior guard Tyrel Reed's past.
Stacy Reed greets you with a smile and handshake, his kind eyes leaving you unprepared for the deep voice that coached Tyrel through high school.
Stacy, whose son will begin his final NCAA Tournament appearance when KU faces Boston on Friday, is ready to show you around Tyrel's old school.
Take a left at the office, then a right at the commons area, and your journey through his son's past begins.
Local legend
Start at the trophy cases on the right, where there's something interesting about the picture inside the 2004 Kansas State championship trophy.
Then-freshman Tyrel Reed, sitting fourth from the right on the front row, is wearing a different jersey than his teammates. His white, No. 41 jersey has black trim on the neckline — a junior varsity uniform. After playing so well with the jersey early in the year, he told the coaches he didn't want to switch.
To the left, a girls' P.E. class walks counter-clockwise around the gym, and one of the few reminders of Tyrel's record-breaking senior year is on the far wall: a white banner honoring Tyrel as Kansas' 2006-07 Gatorade Player of the Year.
Above hangs the Wildcats' scoring records. Tyrel's 1,710 career points is first in the school's history, while his 26.4-point scoring average his senior year is second all-time.
It could have been more if Stacy let Tyrel play more than 21⁄2 quarters a game in blowouts his senior season.
Back in the commons area, a smaller board displays other records — one of which Stacy says might be more impressive than any in the gym.
Though Tyrel won a state title in the long jump and holds the school record in the 400-meter dash, his best mark might be in the basketball decathlon — a series of 10, one-minute shooting drills created by Stacy to rate a player's ability at the beginning of each high school season. Three of the drills included off-hand layups, rapid-fire free throws and three-pointers.
Tyrel — named after a character in Louis L'Amour's book, "The Daybreakers," one of the first long books Stacy read as a child — has the top two decathlon scores ever at the school. His score during his senior year was so high that Stacy had to review what happened.
In a high-speed, pressure situation, Tyrel had missed fewer than 20 shots.
And that's after he'd put up roughly 300 during the 10-minute time span.
Reed the artist
At the end of the commons area, take a right, and you make it to Room 136.
Doug Stewart steps out of class to talk about one of his favorite students in industrial arts.
"He's just one of those special kids," Stewart says.
Stewart still remembers times he'd come to the school on a quiet weekend, later hearing noise when he walked toward the gym.
There he'd see Tyrel, dribbling between strategically-placed chairs on the court while making his way through his shooting routine.
When Tyrel wasn't on a basketball court, he loved woodworking. An entertainment center he made still frames his parents' TV in their living room, while a wooden bar — so big that it had to be removed from the high school in three pieces — was a gift to Stacy that's still displayed proudly in his basement.
Tyrel also had another favorite inspiration when it came to woodworking. He created a wooden Jayhawk that he gave to his sister, Lacie, and also constructed a long coffee table that now displays many of his championship rings and trophies in his parents' living room. His mother, Debbie, helped him paint it.
The table — about three feet long — is a likeness of James Naismith Court at Allen Fieldhouse.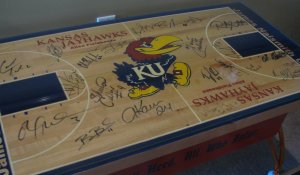 He made it before he even committed to KU for basketball.
Country-wide tour
Continue down the hall, and you make it to Room 134, where home ec teacher Tammy Hanson has a story about Tyrel.
Hanson, wearing a denim jacket over a red shirt with "Jayhawks" spelled out in sequins, works with two boys at the high school that came from foster homes.
While in junior high, the two boys weren't the most popular, and they would sometimes get teased at the local rec center.
That is, until the best high school player in the city, Tyrel Reed, overheard what was going on and made sure the group knew that the bullying wasn't going to be tolerated.
Tyrel and the two boys later became friends.
Following a right at the hallway and then a left, you make your way to the black sign with white lettering: "Room 124 Mr. Reed."
Above his desk, all sorts of photos are scattered across the blue wall: Tyrel running during the state track meet; Tyrel on a recruiting visit to KU; photos of the family together; a shot of Tyrel on national signing day.
Nearby hangs a map of the United States, which each year draws puzzled looks from students, considering Stacy teaches American history and government.
"I thought I'd throw in some geography," Stacy says with a laugh. "It doesn't really fit into World War II, but it's one of those things."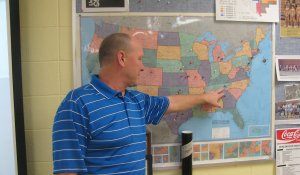 The map is covered with pushpins. The locations marked are each of the places that Stacy has been to watch basketball games over the last few years, whether to watch his son, Tyrel, or his good friend, former KU assistant Ben Miller — now the head coach at Div. II UNC Pembroke.
The blue pushpins indicate nonconference games; the red ones, Big 12 games; the white ones, NCAA Tournament games; and the clear ones, other Div. I games.
There are more than 35 pushpins already and still room for one more.
Just this week, Stacy added a white pushpin to Tulsa, Okla., where the Jayhawks will open the NCAA Tournament against Boston.
Houston, the site of this year's Final Four, remains as an unmarked location.
Off-the-charts commitment
Take a right out of Stacy's room, then a left down the hallway, and you come to Room 144, the library.
Tony Furse doubles as the school's librarian and a high school sports radio broadcaster on 97.7 FM, The Dawg.
Furse can still rattle off, with impressive detail, an important moment of the 2004 state championship game, when, with time winding down in the third quarter against Minneapolis, Tyrel set his feet from some 35 feet away — straight on — and heaved a shot.
When Tyrel swished it, Furse — who likes to avoid clichés — couldn't help himself.
"Well, folks," he broadcasted over the radio, "Tyrel Reed is not a freshman anymore."
Two rights out of the library, and you've made it back to the front entrance, where Burlington High School principal Jim Kuhn welcomes you into his office, along with athletic director Dallas Scothorn.
Kuhn, whose son, Taylor, has been in Tyrel's class since junior high, essentially watched Tyrel grow up during fishing and camping trips, afternoons spent at the golf course and countless basketball games — something Kuhn almost felt spoiled by over the years.
"If he scored 26 or 28, it was like, 'Well, he always scores,'" Kuhn says. "That's what he's been doing since he's a seventh-grader."
Scothorn was there during many of the open gyms at 6 a.m., when Tyrel would shoot around for college coaches, who weren't allowed to speak to him because of NCAA rules.
Barry Hinson, a current KU assistant who was head coach at Missouri State at the time, was one of the attendees, along with then-Kansas State coach Bob Huggins and Missouri coach Mike Anderson.
The workouts were intense, too, as Tyrel would set up his chairs around the gym before going full-speed through his shooting drills.
Scothorn didn't remember Tyrel missing an early-morning shooting session.
"I've never seen another kid in my 31 years with that kind of commitment," he says.
Scothorn always was just as impressed, though, by Tyrel away from the court. No one in his class seemed to have animosity toward him. When Tyrel grew in fame his later high school years, he always made the time to sign autographs for children.
The A.D., who lives next door to the Reeds, still sees the same from Tyrel today. Whenever Tyrel's car appears in front of his house, Scothorn notices all the neighborhood kids gather in the Reeds' driveway to shoot hoops on the family's rim.
Sure enough, a little while later, Scothorn will see that Tyrel is outside, shooting alongside his young fans.
Achieving his goals
Just across from the library, you come to Room 120, where English teacher Devra Parker has pulled out four folders: two yellow, one green and one blue.
Parker, wearing a gray zipper jacket with the word "Jayhawks" down the sleeve and a white- and blue-beaded KU bracelet, has saved many of Tyrel's papers from her Comp. I, II and Intro to Literature classes.
Inside you find Tyrel's résumé, dated Nov. 7, 2006, where accomplishments include a 4.0 grade-point average, the No. 1 academic rank in a class of 64 and Emporia Gazette Basketball Player of the Year.
His objective on the résumé: "To further pursue a post-secondary education while playing Division I basketball."
"I'd say he did that," Parker says with a smile.
In another paper dated Sept. 11, 2006, Tyrel thanks his mother, sister and father for helping him become the person he is. He says Stacy "has been a father first, teacher second and coach third all of my years."
Parker still remembers the day in high school when Tyrel signed with KU, as he would have to leave early from her class to attend the ceremony. Parker had figured he might just not attend the class at all.
Not only did Tyrel show up, he was able to earn a "Participation Dollar" — a reward in Parker's class for contributing positively — before he left to sign that day.
"He's reaping what he's sown," Parker says. "He deserves all the accolades he's gotten."
Jaydreamin' Reed
Stacy hops in the passenger seat of your car and guides you two blocks from the high school to his house on Rim Rock Court.
In the driveway, the black three-point line he painted is still there, along with a rain-weathered orange rim.
Stacy heads downstairs to his bar, pulling out the memorabilia he's gathered over the years. He takes out the Dasani water bottle Tyrel threw to his mother right after the 2008 NCAA title game and also a ticket stub he had Charles Barkley sign during a game at Sprint Center in Kansas City, Mo.
There are two frames downstairs that are most dear to Stacy, though.
One holds a blue national championship T-shirt, with each player on the team signing over his jersey number. All the coaches and other members of KU's staff have scribbled their signatures across the shirt as well.
The other frame is just to the left, and Stacy calls it his pride and joy.
For his birthday in December, during Tyrel's first year at KU, Debbie surprised Stacy with a large print of "Jaydreamin'."
In the famous lithograph print, a young boy sits on a basketball while staring up at Allen Fieldhouse in the distance.
Stacy takes a second to look at the painting before speaking.
"My kid," he says, his voice slowing, "is living the Jaydream."
Just above the boy in the photo, a bit to the right, is an extra touch not found on any other Jaydreamin' print.
In black lettering, the signature "Tyrel Reed" appears in black marker — right there on the green grass between the young boy and Allen Fieldhouse.
More like this story on KUsports.com