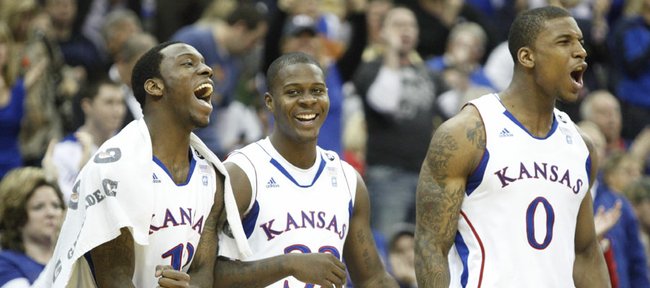 Kansas University basketball coach Bill Self will have a game plan — stock full of Xs and Os — for Friday's NCAA Tournament opener against Boston University.
You can bet the Jayhawks, by 5:50 p.m., Friday in Tulsa, will certainly know all of the Terriers' tendencies.
Yet the technical aspect of this game, and any other games the Jayhawks may play in the 2011 NCAAs, may actually not be as important as one huge intangible — KU's own state of mind.
"Being loose and having fun this time of year is imperative for success," said Self, who added, "I think we're more relaxed this year (compared to last year's 33-3 team), I do.
"That was a loose group playing Texas (in Sunday's 85-73 Big 12 tourney title victory). It may have been a loose group playing K-State in the finals last year (preceding KU's 1-1 showing in the NCAAs). For whatever reason, I think we have a couple of guys on this team that I think will keep things loose for us."
Those guys?
"There's three — Brady and the twins," Self said of senior Brady Morningstar and juniors Marcus and Markieff Morris. "Brady is a fun guy. I think he does a good job keeping everything loose."
Looking back, Self believes the Jayhawks, who entered last year's NCAA Tournament as the No. 1 overall seed, were wound tight in their 69-67 second-round loss to Northern Iowa in Oklahoma City.
"I'd say probably after the game started," Self said Monday on the Doug Gottlieb ESPN radio show, asked when he first noticed the players' tight collars.
"You get behind, start pressing a little bit. It's a long game and certainly things happen early, but even going into the game before against Lehigh (90-74 first-round win), we were down eight to 10 against them. I thought our guys were feeling it a little more.
"They'd been ranked No. 1 all year with the exception of two or three weeks. Maybe they felt they were carrying the extra burden a bit. I'm glad Ohio State is No. 1 overall. That's fine. Let everybody talk about them. We just need to play," Self added.
KU's eighth-year coach said it all starts at the top.
"From a preparation standpoint, we will not change much," he said, "but I will definitely try to create a looser atmosphere because I know they care. If this team didn't care, we wouldn't be 32-2. I just want to create an atmosphere where they are loose.
"I think there's ways to do it. One thing about a coach," he told Gottlieb, who like Self is a former Oklahoma State player, "is he can affect the mood of a room. You played for coach (Eddie) Sutton. When he was in one of his moods, didn't the whole room come down? When he was in one of those moods where he was feeling good and uplifted, didn't the whole room come up? Coaches can do that."
Senior Tyrel Reed is ready to play carefree basketball in the NCAAs.
"I think the key is to be loose, have fun and enjoy the experience," Reed said. "If you are too uptight, you don't make shots. You don't do things you need to do. Enjoy it. Have fun."
He agreed with Self that last year's Jayhawks, who were overall No. 1 seed, may have been felt a little more pressure than this year's squad, which was ranked No. 1 for just a week.
"This year, Ohio State kind of carried that burden," Reed said. "We've just got to go play loose. Maybe last year we were too uptight. That could have been going on. We just need to have fun."
Senior Brady Morningstar said the key to Friday's game, besides following Self's game plan will be to ... "go out and play like you know how to play, be excited, have energy like you are happy to be there. If you have fun and play ball like you can, the rest takes care of itself."
• Morris honored: KU junior Marcus Morris on Monday was named second-team All-America by the U.S. Basketball Writers Association.
The first team consisted of Jimmer Fredette, BYU; JaJuan Johnson, Purdue; Nolan Smith, Duke; Jared Sullinger, Ohio State and Kemba Walker, UConn.
Morris was joined on the second team by Kenneth Faried, Morehead State; Jordan Hamilton, Texas; Ben Hansbrough, Notre Dame and Derrick Williams, Arizona.
KU's Morris on Monday also was chosen as one of 20 players to appear on the final ballot for the Wooden Award.
• Thursday's practice: The Jayhawks will hold an open practice for fans from 4:25 p.m. to 5:05 p.m., Thursday at BOK Center in Tulsa. Boston's practice will also be open from 5:55 p.m. to 6:35 p.m.
• Recruiting: KU has offered a scholarship to Jamari Traylor, a 6-7, 210-pound senior power forward from IMG Academies in Bradenton, Fla., according to Rivals.com. Traylor has received offers from St. John's, Indiana, Minnesota and Virginia Tech. KU is after Traylor's teammate, DeAndre Daniels, a 6-8, 180-pound senior, who is ranked No. 9 by Rivals.com. Traylor is not ranked at this time.
• Possible Illini matchup: Self was asked by Gottlieb about a potential second-round game against Illinois, where he coached three years before heading to KU.
"It wouldn't be emotional, but I think certainly there would be some incentive," Self said. "I'm sure they would love nothing more than to beat whoever if they are fortunate enough to play (after first-round game against UNLV) and we are fortunate enough to play. If they are playing Kansas, there may be a little extra because I used to coach there. Maybe playing Illinois would be a little (extra) for us because I used to coach there. I think we are far enough removed. Eight years is a long time. There won't be any of those feelings as you would get I think if you were freshly removed from a job."
• More on Buffs' snub: KU coach Bill Self again expressed shock at Colorado's being snubbed by the NCAA Tournament Committee.
"I think every coach in our league is very disappointed for Colorado," Self said Monday. "Those guys in my opinion without any hesitation deserve to be in the tournament. I don't have the other tournament resumes in front of me, which you probably need before you can be an expert. You need to be able to study it, and I'm not (an expert), but I didn't see a team that finishes 8-8, really 10-9 (after postseason tourney) in the third best league in the country with four wins over top five seeds, to me, that is unbelievable. Six wins against top 50. There were teams on the bubble that had two against the top 50 or three. I am hurting for Tad (Boyle, CU coach and KU grad) and his players because I think they really deserve to be in the field.
"Texas getting a four seed blows my mind. I thought they had a two locked up," Self added. "I like their draw to advance and I think matchups are much more important (than seed)."
More like this story on KUsports.com