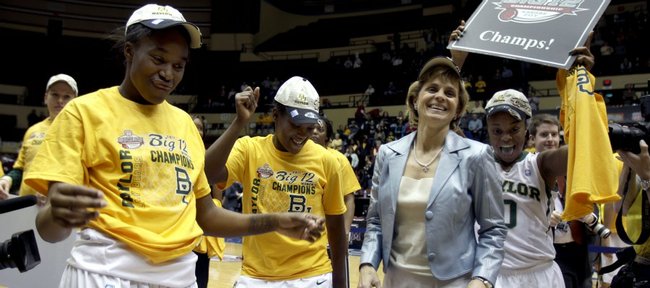 Kansas City, Mo. — Baylor coach Kim Mulkey is running out of superlatives to describe 6-foot-8 center Brittney Griner.
Griner had 31 points, eight rebounds and seven blocks to lift No. 3 Baylor to a 61-58 victory Saturday over No. 8 Texas A&M; for the Big 12 tournament title. Griner's points and blocks were Big 12 championship-game records.
"If anybody has another adjective (for Griner's performance), let me know," Mulkey said.
The Lady Bears (31-2) cut down the nets and celebrated a second Big 12 tournament championship in three years thanks to the domination by Griner at both ends. During one stretch, she scored 20 consecutive points.
"This game is going to help us when we get in the NCAA Tournament," Griner said. "There will be times when you get down and you have to be able to fight back."
The Aggies' Danielle Adams, the conference leading scorer at 23 points per game, was held to 12 points on 4-of-19 shooting. Adams missed a three-pointer with four seconds left that would have tied the game for A&M; (27-5).
"I thought it was going in," Adams said. "I thought it looked good when I put it up."
Texas A&M; coach Gary Blair kept alternating fresh defenders on Griner to no avail.
"It was a great college basketball game," Blair said. "You can see why the Big 12 is like it is now."