KU vs. Texas
Videos
KU vs. Texas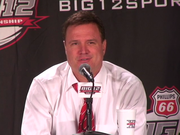 Kansas defeated Texas in the 2011 Big 12 tournament championship game Saturday, March 12, 2011 at Sprint Center in Kansas City, Mo.
Kansas City, Mo. — Texas forward Gary Johnson didn't have any problems with how Kansas University's players handled themselves before and during the Jayhawks' 85-73 victory Saturday.
Friday, before Texas' game against Texas A&M, KU forward Markieff Morris said a few words to the Texas players in the tunnel by the locker room. He told the Longhorns he wanted them to beat the Aggies so the Jayhawks could face them again.
Johnson was quoted in the Austin American-Statesman: "We exchanged a few words. Let's say it will be more than a basketball game (Saturday)."
UT beat Texas A&M, 70-58, on Friday to set up Saturday's title game against KU.
"I think people took it the wrong way as far as there was going to be on the court … there was going to be us having fistfights and stuff," Johnson said. "But, it was a lot of those guys having fun. That's what they do, talk, talk trash and have fun."
Johnson said the banter extended into Saturday's game, especially from Markieff and his brother, Marcus.
"On the court, they were talking. Just trying to be funny with each other," Johnson said.
"Just having fun, obviously something that I can learn as a basketball player. I think I take the game too seriously in my approach."
Texas guard Jordan Hamilton also heard extra talk from KU's players in the tunnel before Saturday's game.
"They'll say things, but we don't really buy into that stuff, so we didn't say anything back," Hamilton said. "We knew those guys wanted to really play us tonight."
After the game, UT forward Tristan Thompson made sure to find KU guard Tyshawn Taylor following his 20-point effort.
Thompson, from St. Benedict's Prep in Newark, N.J., played against Taylor in high school; Taylor went to St. Anthony High School in Jersey City, N.J.
"I told him, 'Hey, you played good today, and you're back,'" Thompson said. "'You're back to the player I knew you were.'"