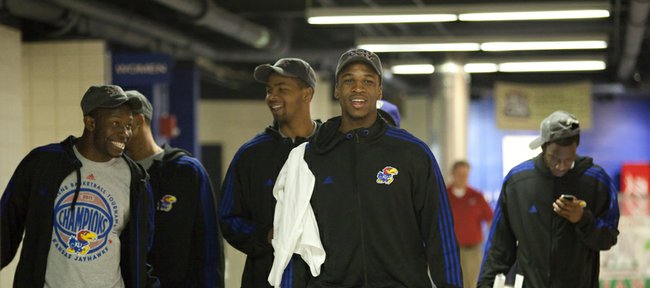 Videos
Self discusses Selection Sunday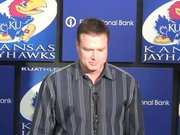 Kansas head coach Bill Self addressed the media after the Jayhawks received a number one seed in the 2011 NCAA Tournament on March 13, 2011.
Reader poll
Very easy

3%

137 votes

Moderately easy

19%

753 votes

Not easy or difficult

30%

1168 votes

Moderately difficult

39%

1510 votes

Very difficult

7%

289 votes
3857 total votes.
A savvy Kansas University staff member issued Bill Self a good-natured warning before the coach walked into a media interview room Sunday night in Allen Fieldhouse.
"Somebody said to me, 'They are going to question you about the letter B.' I said, 'Why? What starts with the letter B?' Then I realized I've been stung and hurt deeply twice by the letter B," Self said with a big smile.
"Hopefully we'll be better prepared for that (this time)."
Self's Jayhawks on Sunday learned that, as the No. 1 seed in the NCAA Tournament's Southwest Regional, they'd been matched against Boston University in a first-round matchup at 5:50 p.m. Friday at BOK Center in Tulsa, Okla.
Folks who follow KU are well aware that Self's Jayhawks lost in the first round the last two times the Jayhawks faced a team whose name started with the letter B — Bucknell in 2005 and Bradley in 2006.
"I wasn't here for either of those. Maybe Brady (Morningstar) was here, but he's been here since forever," KU senior guard Tyrel Reed said. "I don't have any of those Bradley or Bucknell woes. I was still in high school."
Actually, it was so long ago, even fifth-year senior Morningstar was not yet enrolled at KU when the Jayhawks went down in the first round.
"No," Morningstar said, asked if he had any concerns. "My name starts with a B."
That out of the way, Self said he thought Boston U. (21-13) was an unusually tough No. 16 seed and said the Southwest Regional, which has Notre Dame as a No. 2 seed, Purdue as No. 3 and Louisville as No. 4, was rugged.
"Weren't you guys surprised Boston is a 16 seed?" Self asked a pair of media members after a 15-minute news conference. "When I did my bracket in my mind who the 16 seeds were going to be, I didn't think Boston was going to be one of them.
"I was a little surprised to see their name come up," added Self, who has never coached a game against Boston U.
"Of course, everybody sees it through their own skewed eyes, and coaches have a hard time being objective about certain things, (but) I think it's a hard draw. Every coach out there probably thinks it's a tough draw to get where you want to go. You've got to beat good teams to get where you want to go, period."
There were few surprises on a Sunday in which KU earned the second overall No. 1 seed behind Ohio State.
Yet some wacky side stories emerged. A victory over Boston would push KU into a second-round game Sunday against either Illinois or UNLV.
Self, who has worked as head coach at Tulsa schools Oral Roberts and Tulsa, coached at Illinois for three years before replacing Roy Williams at KU.
One of UNLV's players is former KU forward Quintrell Thomas.
"I think it'll be a hard game if we advance regardless," Self said. "It's amazing. In '08, UNLV was an 8-9 (seed), In '10, UNLV is an 8-9, and in '11, UNLV is 8-9, all in our region. Even though we haven't played them but once (with KU winning in '08), this will be the third time we've prepared for them.
"It is unique. The last three coaches that coached at Illinois — Lon (Kruger, UNLV) playing Illinois, then the winner of that game if we advance is playing the guy who used to coach at Illinois as well. It could be pretty interesting."
As far as Thomas ... "The first thing I thought of when I saw UNLV on the screen was Quintrell," Morningstar said. "I thought that was cool we might get to see him."
Self has fond memories of the UNLV sophomore, who left KU after his freshman season.
"We like him, and the players stay in touch with him," Self said. "I don't know how much they talk to him, but he's done well. I'd think he would like that a lot to get a chance to play his old school and old teammates. There's absolutely no animosity with Quintrell at all. I thought he made a good decision for playing time moving forward.
"They've got a tough game Thursday. If we win, whoever we play ... UNLV it's Elijah (Johnson, KU guard from Las Vegas) and Quintrell, or Illinois and the connections that exist there. There'd be some sentimental value for that game, I think."
Of returning to Tulsa, Self said: "We had a lot of fun at Oral Roberts and Tulsa. People equate our success at the University of Tulsa as my stay in Tulsa. We spent four years at Oral Roberts and had great success there. We moved across town and are so fortunate it worked out at both places. I don't think it'll be a trip down memory lane, but it'll be cool to play there."
KU's players on Feb. 27 spent four hours at the Tulsa airport. The team's return flight from its game against Oklahoma in Norman couldn't land in Topeka because of fog and was re-routed to Tulsa. The Jayhawks rented a couple of old buses for the drive back to Lawrence.
"We sat at the airport. We breathed some of that good Tulsa air already," Reed joked.
"I imagine our accomodations and the bus we use will probably be higher-quality going south to Tulsa this time," Self cracked.
Here are all the teams in the Southwest regional:
Kansas
Notre Dame
Purdue
Louisville
Vanderbilt
Georgetown
Texas A&M;
UNLV
Illinois
Florida State
USC/VCU
Richmond
Morehead State
St. Peter
Akron
Boston