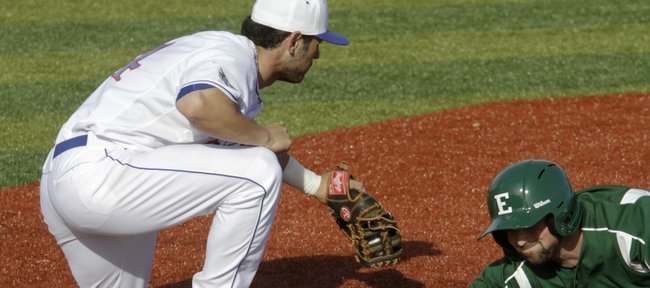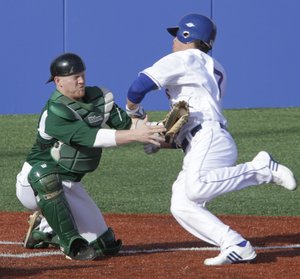 Last March, Kansas University sophomore Jake Marasco answered his phone and received the worst possible news.

The day after he smacked a career-high four hits against Iowa, Marasco learned that his mother, Carol, had unexpectedly passed away at 54.
Almost a year to the day later, Marasco blasted his first career home run, a towering drive to right-center field, to lift the Jayhawks to an 8-2 victory over Eastern Michigan on Friday at Hoglund Ballpark.
"It felt good," Marasco said. "The team has been great throughout everything. It's been a tough week, but I made it through it.
"Today," he added, pausing and mustering a smile, "helps things a little bit."
After receiving congratulations from his teammates following the sixth-inning homer, which put KU on top, 3-1, Marasco was greeted by coach Ritch Price at the base of the dugout steps with a tight hug.
"I just told him his mom would be proud of him," Price said.
Marasco, who leads the team with a .392 batting average, was one of six Jayhawks to record multiple hits as part of a season-high 14-hit attack.
KU raised its team batting average to .215, still not a gaudy number, but Price was encouraged.
"We're not chasing as many balls out of the zone," Price said. "We're starting to get more strikes to hit."
That much was especially evident in the eighth inning, when the Jayhawks (7-6) capitalized on the errant Eagles bullpen and put the game away with five runs.
KU loaded the bases on a hit batsman and two walks before Kaiana Eldredge worked a walk to force in a run, and Jason Brunansky doubled home two more.
"It's been awhile since somebody got a clutch hit and cleared the bases," Price said. "It was nice to see somebody break out."
Senior T.J. Walz evened his record at 2-2 after turning in his third straight quality start, allowing two runs on five hits while striking out a season-high 10 in 62⁄3 innings.
After struggling to find his rhythm out of the windup in a few early outings this season, Walz said he spent the week making adjustments with pitching coach Ryan Graves.
"Just getting the ball out on time, staying out front," said Walz, who fired first-pitch strikes to 19 of the 29 batters he faced. "I think it was working better today."
KU senior Wally Marciel will take the mound at 1 p.m. this afternoon against Eastern Michigan (7-6) in the second game of the three-game series.
More like this story on KUsports.com