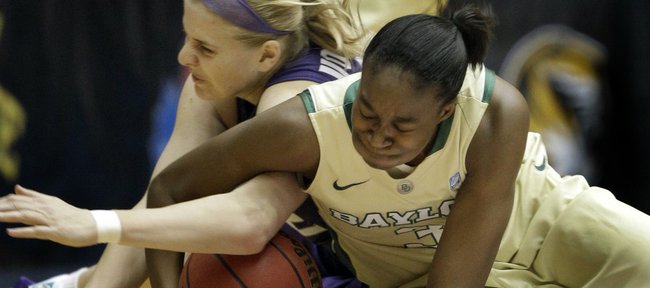 Kansas City, Mo. — No. 3 Baylor 86, Kansas State 53
Offense is a given for Baylor, so coach Kim Mulkey was especially pleased with the defense and rebounding effort that advanced the Lady Bears to the Big 12 tournament final Friday.
Brittney Griner scored 21 points, and Destiny Williams added 18 to lead Baylor to a victory over Kansas State, holding the Wildcats to 35 percent shooting and outrebounding the Wildcats, 52-24.
"Those kids come to your program as some of the best players in the country, but those kids have never had to guard anybody," Mulkey said. "That's the biggest adjustment and where you see the most improvement."
Baylor will meet Texas A&M; in the finals today.
Point guard Odyssey Sims added 14 while holding Kansas State's top scorer Brittany Chambers to 3-of-11 shooting and eight points. Kelsey Hill led the fourth-seeded Wildcats (21-10) with 14 points.
Williams finished 7-for-9 from the field. The offensive emergence of Williams gives opponents more to think about as they try to contain Griner inside.
"I just feel comfortable out there," Williams said. "Shooters just have to keep shooting."
The 6-foot-8 Griner scored all her points in just 29 minutes.
No. 8 Texas A&M; 81, No. 21 Oklahoma 68
Kansas City, Mo. — Texas A&M; is back in the Big 12 tournament finals for a fourth consecutive year, and the Aggies didn't need a big scoring game from Danielle Adams to get there.
Oklahoma held the Big 12's leading scorer to 16 points — seven below her average — but the Aggies easily beat the Sooners to advance to the championship game today against Baylor at Municipal Auditorium.
More like this story on KUsports.com