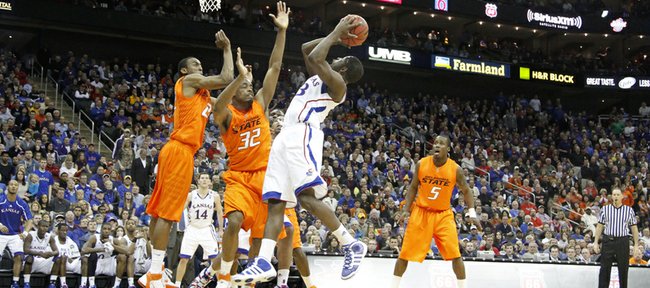 Kansas City, Mo. — Kansas University's No. 2-ranked basketball team confronted a harsh reality while huddling during a timeout with 20 seconds left in Thursday's Big 12 tournament quarterfinal nail-biter against Oklahoma State in Sprint Center.
"We weren't scared. We knew we had to get a stop or we were going back to Lawrence," KU senior guard/forward Mario Little said.
Not wanting to pack his belongings somberly and move out of the Downtown Marriott two days early, Little stuck a hand in the face of OSU's Jean-Paul Olukemi, who missed a deep three at the buzzer, assuring KU a 63-62 victory.
"We always practice like that, where we've got to get a stop," Little said. "Sometimes we're down seven (points) in practice with a minute left. We've got to grind it out."
Brady Morningstar hoisted a desperation airball as the shot clock expired on KU's final possession at :20, putting the Jayhawks (30-2) in the scary position of having to clamp down on defense or suffer a shocking loss — and likely two days of grueling, soul-searching practices — leading into Selection Sunday.
"Over the years, we've been in that situation quite often. And I've never been one to hope for things or wish for things or anything like that, but I admit I was praying a little bit," KU coach Bill Self said of his feelings as Olukemi released.
The Jayhawks, who had an awful day offensively in missing 20 of 25 three-pointers, did everything right defensively the last time OSU (19-13) had the ball.
Point guard Elijah Johnson shadowed OSU guard Keiton Page (23 points), making point guard Reger Dowell turn to Olukemi, whose buzzer-beating shot was short and off the mark.
It had no chance.
"Fortunately, I think Dowell kind of fumbled the ball, which killed the play," Self said. "I was more concerned with us fouling than making a shot because I thought they did a good job of putting their head down and driving."
The guy closest to Olukemi also had KU's key offensive play of the day.
Little, who accepted a pass from Morningstar in the lane, scored and after getting fouled by Roger Franklin, hit a free throw to bust a 60-60 tie with 1:11 left. Olukemi scored at :56, slicing the gap to 63-62.
"I told 'Rio when he got in there, we were going to need him," said Marcus Morris, who scored 16 points, but just four the second half. "I tell him, 'Show them what you show us in practice every day.' We know 'Rio can make big-time plays. Now the world knows."
Little had also scored at 3:21, upping a 58-56 lead to four points.
"When teams go zone, coach likes to throw me in the middle," Little said. "I just like to turn and face and try to catch it and maybe hit a guy somewhere or drive. I feel the game is slower when teams (like OSU) go zone so it's kind of easy for me to make moves in there."
The Jayhawks, who will meet Colorado in a 6 p.m., semifinal today in Sprint Center, preferred to look at the positives rather than dwell on an obvious off performance.
"We were more focused than we have ever been, but that team played well," said Marcus Morris, who noted, "they did a great job of double-teaming me and denying me the ball.
"Our guards didn't shoot the ball well (Tyrel Reed went 1-for-8 and Morningstar 1-for-6 from three), but I promise you they will be coming up," Morris added. "I kept passing the ball back to them. I'm expecting them to get better, and they will. They've been here before. They are my guys."
Self did not dwell on negatives in his postgame talk to the team.
"(He said), 'Nobody walk out of here with your heads down. We still moved on. We've just got to get better tomorrow,'" said Markieff Morris, who scored 10 points with five rebounds. "One of three games is going to be a bad game, and we just got that one out of the way."
Self, who stressed to the media "our guys were ready to play, but Oklahoma State had more a sense of urgency," chalked it up to "we couldn't get it going. We couldn't make shots (35.9 percent to OSU's 40.0).
"I've never been a big believer this time of year losing is good because you don't have time to learn from it," added Self, relieved to earn the 'W.'
"It could be your last one. Maybe the K-State and Texas losses were good for us. We learned from them. I'm not into learning from losses this time of year."
The Jayhawks are happy their coach doesn't have to concoct a practice plan for today, instead a game plan for Colorado.
"We are here to take," Little said. "We are not here saying, 'Maybe we win; hopefully we win.' That's not our personality. That's not the way we roll. We are here to take and advance, not survive. That's not a word we use around here, but yeah, we survived today."
They survived and are ready to move on to bigger and better things.
"You how the first game is. You've got to get the jitters out of the way," Marcus Morris said. "That was the first game of a nine-game winning streak we're trying to accomplish."