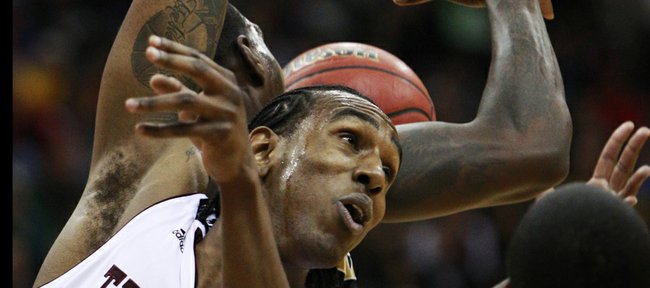 There's nothing like a quick start and a big early lead to fill a team with confidence and pep.
Texas A&M;, which squeaked past Missouri 91-89 in overtime on Jan. 15, roared off the starting pad Thursday night and romped to an 86-71 victory in the Big 12 quarterfinals.
"We were good from the beginning," Aggies coach Mark Turgeon said. "Our defense was good. Our rebounding was pretty good. Our execution was at a pretty high level. We made shots. When you make shots, you look better."
David Loubeau scored A&M;'s first eight points and combined with B.J. Holmes for 31 points in a first half that ended with A&M; leading 46-33. Loubeau and Homes each finished with 20 points.
The Tigers (23-10), who have lost eight in a row to A&M;, will nervously await Sunday's announcement by the NCAA Tournament selection committee. Ranked as high as ninth earlier this season, they've dropped three of their last four and fallen out of the poll.
Marcus Denmon had 22 points, Laurence Bowers 13 and Kim English 12 for Missouri. The Tigers tried to slow the Aggies with full-court pressure, but nothing worked.
"I thought we just seemed like we were moving in mud tonight," Missouri coach Mike Anderson said. "Just couldn't generate that energy that we always talk about."
In tonight's semifinals, the third-seeded Aggies (24-7) will hook up with ancient enemy and second-seeded Texas in the 220th game between the two, the most-played rivalry in Texas A&M; history.
The No. 10 Longhorns swept the season series this year in convincing fashion, winning by 21 at home and by 20 at Texas A&M.;
"It seemed a lot worse than that," Turgeon said. "We've just got to play better. I think we've become a better team since that whipping at home that humbled all of us."
A&M; outrebounded Missouri 35-27 and held them to 34 percent shooting.
The Aggies also got 16 points from Nathan Walkup.
The first few minutes were all Loubeau. The 6-foot-8 junior hit the opening bucket of the game, then converted two foul shots when Bowers fouled him, added a putback and then another bucket.
It was business as usual for the Tigers away from home despite a partisan crowd in downtown Kansas City. They were 17-1 in Mizzou Arena this year but 6-8 elsewhere. The cold-shooting Tigers were only 8-for-28 from the floor in the first half and went the first six minutes and four seconds of the second half without a field goal. Denmon's three-pointer broke the drought but by then the Aggies led 57-39.
"I just feel that the team that came out and played tonight wasn't the team that I know that we are," said Denmon. "We usually do whatever it takes to win, and I don't feel that we gave that third and fourth effort."
More like this story on KUsports.com