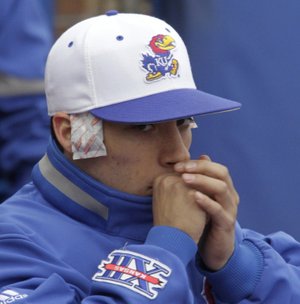 High-quality starting pitching carried the Kansas University baseball team in its first 11 games of the season.
Sophomore Thomas Taylor helped continue that trend in Wednesday's 5-3 victory at home against North Dakota, striking out seven and allowing just a solo home run in 5 2⁄3 innings.
But coach Ritch Price was disappointed with how the Jayhawks fared against North Dakota's pitching staff, which entered the game sporting a gaudy 11.65 earned-run average.
"We had some really bad at-bats," Price said.
The Jayhawks (6-6) picked up a season-high 10 hits against the Fighting Sioux (0-7), but Price still thinks his guys are trying too hard to put an end to their hitting slump.
Kansas entered the game hitting .185 and averaging just 2.7 runs per game.
"It looked like we were swinging uphill all day," Price said.
Sophomore catcher Alex DeLeon hit a line-drive home run to left field in the fifth inning to give Kansas a 3-1 lead. DeLeon also picked up RBIs on two deep sacrifice flies.
He doesn't think that the new, less-springy bats have much to do with the Jayhawks' struggles at the plate.
"At the start of the year, we were a little anxious, kind of swinging out of the zone," DeLeon said. "Now we're doing a better job of getting a pitch to hit."
Price said that the new bats affect fly balls the most. Drives that might've cleared the fence last year are now outs. He thinks his hitters have to focus on laying off pitches in the dirt and getting the ball elevated through good contact.
Price also stressed that three guys who had productive seasons last year — seniors Casey Lytle, Brandon Macias and Jimmy Waters — need to start hitting. Though they picked up five combined hits Wednesday, their batting averages all sit between .150 and .170 for the season.
Sophomore Jake Marasco has been a pleasant surprise, picking up two hits on Wednesday to boost his average to .390.
"We knew he had an opportunity to be a really good player, and he's finally emerging into an impact player," Price said.
After Taylor gave up two singles in the top of the sixth, Price called on freshman right-hander Alex Cox. He picked up four straight groundball outs, but struggled a bit in the eighth inning, yielding two runs on a double by North Dakota's Jake Magner.
But Price had high praise for Cox, especially with how Cox wants to do what's best for the team, whether that means starting or serving in a setup role.
And junior closer Colton Murray, who struck out two in recording the final four outs and his third save, is pitching with confidence. Price said Murray's arm is one of the best in America.
"Now he's letting his arm pitch, and he's not trying to knock down the backstop," Price said. "He's throwing the ball better than he's thrown the ball in the three years he's been here."
The pitching has been there, but the offense needs to come soon for the Jayhawks, who take on Eastern Michigan (7-5) in a three-game series starting Friday. In the Eagles' last six games, they've averaged more than 10 runs.
"If we don't get the bats going, they're going to come in here and have an opportunity to win the series and knock us off a couple times," Price said.
Friday's game starts at 3 p.m. at Hoglund Ballpark.
More like this story on KUsports.com