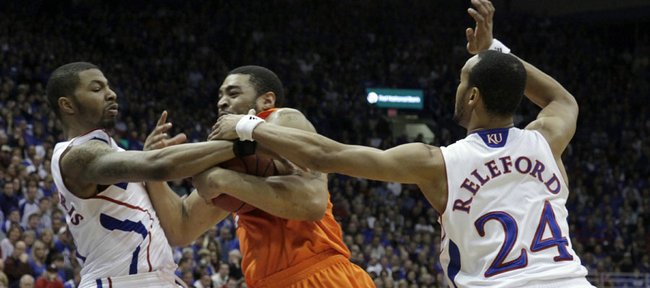 Kansas City, Mo. — Kansas University's basketball practice ended at the perfect time early Wednesday afternoon, crunch time of a first-round Big 12 tournament clash between Oklahoma State and Nebraska.
"That was a great win for Oklahoma State," KU coach Bill Self said.
He dined on barbecue in an Allen Fieldhouse lounge while watching the Cowboys (19-12) close out a 53-52 victory over the Cornhuskers (19-12) in Sprint Center.
"They are in a situation they probably need to win the tournament (to get an NCAA bid)," Self added of the No. 9-seeded Pokes, who meet No. 1 seed KU in a quarterfinal contest at 11:30 a.m. today in Sprint Center.
"I think they'll play in the postseason, no question. To get in the NCAAs, they probably have to win this, which they are certainly capable of doing."
Self — his Jayhawks boarded a huge, black charter bus for their downtown Kansas City hotel at 1:40 p.m. Wednesday — has a healthy dose of respect for coach Travis Ford's Pokes, a team the Jayhawks slammed, 92-65, on Feb. 21 in Allen Fieldhouse.
"Even though we just played them two weeks ago, our players don't know them as well as Nebraska," Self said. The Jayhawks beat the Huskers twice.
"I said all along I like their team. They can throw three bigs at you (Matt Pilgrim, Marshall Moses, Jarred Shaw) and have guys who can stretch it from the perimeter (Keiton Page, Reger Dowell)."
Moses, a 6-foot-7, 255-pound senior power forward, exploded for a career-best 27 points off 8-of-11 shooting against KU. He hit 10 of 13 free throws.
"I don't know who's No. 1, but it must be the (Los Angeles) Lakers, because I think Kansas is the best team in America," Moses said after scoring 10 points and grabbing five rebounds against Nebraska on Wednesday.
"I think we have legit shot if we play as a team and we do our best to contain the Morris twins and (Brady) Morningstar and the guys they've got from the three-point arc. They've got an excellent point guard and great depth on the bench. If we come ready to play and play as a team, we'll have a shot."
The Jayhawks resembled the Lakers in sinking 10 of 23 threes in the first meeting vs. OSU. KU led, 52-28, at halftime and never looked back.
"I was joking with some of my teammates after we played them. That team probably could play somewhere in the NBA and compete," Moses said. "We knew they were that good. We're going to know (today). So the question is, are we going to bring the effort to try to make those guys miss shots, to get out there and contest on the ball, box out, rebound, fronting, three-quartering the post and do our best job and give our best effort?"
Marcus and Markieff Morris combined for 32 points and 12 boards versus the Cowboys.
"Marcus Morris is personally my favorite player to watch when we're not playing them. Him and (Colorado's) Alec Burks," Moses said. "They're never really scared any nights. They don't really take any nights off. Rebound the ball excellently, versatile player ... I think he (Morris) reminds me a lot of me," Moses added, laughing. "He's a cool guy, too. Playing against him, he's not really a big trash-talker. A nice guy, him and Markieff. So I kind of like them."
There appeared to be some trash-talking between the Morris twins and OSU's Moses and Matt Pilgrim (four points, four boards) in Lawrence.
"You know when we're playing basketball, especially against teams like that, you kind of get into bickering with guys back and forth. It's all love. It's all in basketball. After the game, we shake hands and let it go," Moses said. "We're going to have to come up with some different lines or something, because it didn't work last time."
Pilgrim — the 6-foot-8, 255-pound senior had 12 rebounds and two points versus Nebraska — said, "not at all," when asked if he was trying to get in the twins' heads.
"That's just how we play. We play aggressive. They responded to it. We're going to play the same way we did last time," said Pilgrim, who had four points and four boards against KU.
"If they respond to it, there's nothing we can do. But I plan on attacking the same way we did last time."
Of today's meeting, Pilgrim said: "This is another opportunity to make a name for ourselves. It's the end of the season, but there's always time to step up."
The Jayhawks, of course, have to be aware of sharpshooter Page, a 5-9 junior from Pawnee, Okla., who missed nine of 11 shots and had eight points in 38 minutes in Allen.
He scored 16 points off 6-of-13 shooting, including four of eight from three versus Nebraska.
Page has made 54 of 172 threes this season.
"He's good," KU coach Self said. "Four threes don't seem like an unbelievable number. When the winning team has 53, it is a high number. He's played well."
Page had a tough time shaking the defense of Elijah Johnson in Allen, missing six of eight threes.
"He was just a little more physical and tried to play on top of ball screens a little bit more," Page said. "He's a good defender, good athlete, has good length. He did a good job down in Lawrence. Personally, I think I've been struggling all season to get my shots to fall down. But yeah, he did a great job of playing defense on me that game."
Page noted that today's game presents "a huge opportunity for us. Our backs are against the walls. We're just striving to play another day. I think our guys are understanding that and knowing that it takes every single one of us out there to go out and give a team effort and just play as hard as we can for 40 minutes."
The winner of today's game will meet either Kansas State or Colorado at 6 p.m. Friday in Sprint Center.
The tourney final is 5 p.m. Saturday.