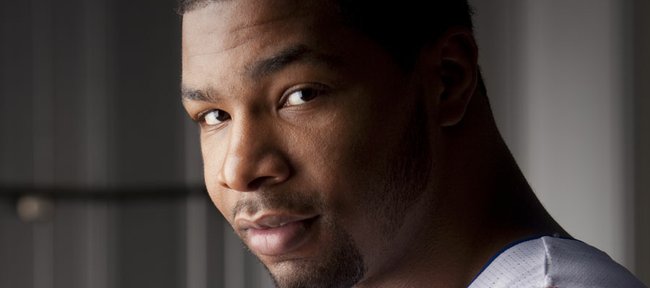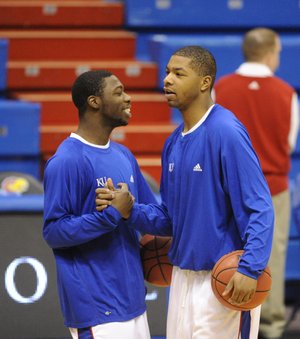 Only five Kansas University players remained in the Oklahoma City Thunder locker room following the biggest upset of the 2010 NCAA Tournament.
It was March 20, a Saturday, and Thomas Robinson and Elijah Johnson both sat in front of their lockers, while Markieff Morris and Xavier Henry buried their heads in their laps, still stung after Northern Iowa's 69-67 victory over KU.
Only one player stood. Marcus Morris paced back and forth, still trying to make sense of what had just happened.
Marcus felt like he'd just lost a family member. Never again would he play with guard Sherron Collins, center Cole Aldrich and Henry, with Aldrich and Henry later declaring for the NBA Draft.
Marcus was certain of one thing, a line he kept repeating to himself over and over again.
"I can't let this happen to my team next year. I can't let this happen to my team next year. I can't let this happen ... "
It was then, watching his teammate pace back and forth, back and forth across the room, that Johnson realized KU had become Marcus Morris' team.
★ ★ ★ ★ ★
Wearing a blue KU practice jersey over a gray T-shirt, KU junior Marcus Morris makes his way behind a large desk a half-hour before a recent practice.
He leans forward in the office chair, answering questions intently, and after a few minutes talking to him, it's tough not to notice the contradictions.
The player that KU coach Bill Self says can do more things than any other he's ever coached is the same one that drives the coach crazier than any other.
The player with the reputation of being dirty on the court is a media favorite thanks to his friendliness, candidness and steady stream of one-liners.
And the player who loves playing basketball more than anything else in the world has to constantly be pushed to be at his best.
Want to know more about him? It's probably best to start at the beginning.
"It's tough to understand what we come from," Marcus says.
★ ★ ★ ★ ★
Though Marcus' family — which includes his mother, Angel, older brother, Blake, and twin brother, Markieff — is especially close-knit, there were times it couldn't shield him from what was going on outside his house's walls on Erie Avenue in Philadelphia.
Marcus saw a lot of things growing up: dead bodies getting picked up on his block after shootings; needles, cocaine and marijuana and knowing people that told him they were drug dealers; ambulances and policemen outside his window, dealing with the aftermath of another instance of street violence.
During Marcus' freshman year, two friends were killed over a basketball game in west Philly. One of the men was coaching, and after exchanging words with people in the crowd during the game, he was shot afterwards.
Marcus says he still hears about young kids with dreams that never make it out of the city.
"In Philadelphia, it's either you rap, you play ball or you sell drugs," Marcus says. "That's just the Philadelphia mindset for kids around our age."
Marcus' most traumatic experience came when he was around 14. While hanging out late at night in his neighborhood with Markieff and some other friends, gunfire erupted as a confrontation broke out on his street.
Marcus' first instinct was to get away. And it wasn't a slow instinct.
The two brothers immediately took off, sprinting their way safely back to the house.
"Bullets," Marcus says, "don't have a name."
The incident changed Marcus' view on life. Even now, when he goes home to visit, he's careful about what he does and where he goes.
"Just in north Philly," Marcus says, "every place can be the wrong time."
★ ★ ★ ★ ★
During his junior year of high school, Marcus received a cell-phone call in class from his neighbor who told him that his house was in flames.
Nearly everything was gone. Clothes, photographs and even the bunk bed that Marcus and Markieff shared were destroyed, along with the house.
With few other options, Angel decided to move the family in with her parents, Shirley and Thomas, on Jerome Street in the Hunting Park neighborhood in Philly.
The three boys stayed in the basement, roughly as big as one of the rooms at Jayhawker Towers where Marcus lives now.
The basement's height was only 6-foot-5, meaning both Marcus and Markieff had to hunch over to avoid hitting their heads on the ceiling.
Blake slept on the floor, while Marcus and Markieff shared a bed made up of two twin-sized mattresses pushed together. Every day, the brothers filled up kerosene heaters to warm the basement, hoping that the heat would last through the night, which didn't always happen.
"Me and my brother just had too much pride for anybody to feel sorry for us," Marcus says, "so we never really told anybody about it."
Friends and coaches said even with the altered living arrangements, Marcus and Markieff didn't change.
High-school teammate Lamar Trice still came over to their house everyday, even spending the night on occasion.
When he did, he'd sleep between the twins on their mattresses in the basement.
Marcus says the move was difficult at times, but it also provided ample motivation.
His grandparents still live in the old house on Jerome Street. Shirley is still working into her 60s, and other family members are struggling to get by as well.
Marcus knows making the next level could help them out of those situations.
"I just feel like me and 'Kieff are the future of the family," Marcus says. "I feel like we're the future of Philadelphia at times."
★ ★ ★ ★ ★
Prep Charter High School coach Dan Brinkley still laughs when talking about the phone call he took from his cousin, Leonard Brinkley, about seven years ago.
Leonard, a teacher's aide, began talking about these two kids at his school that played basketball. Neither was very good, but they were both 6-foot-5.
Dan was confused.
"Lenny," he said, "I thought you worked at an elementary school."
Leonard responded.
"I do work at an elementary school."
About a week later, Dan was driving up Broad Street — one of the biggest and busiest in Philadelphia. Looking to his left, he spotted two young boys walking in the opposite direction.
Both were about 6-5. And both, Dan says, looked like babies.
Though he'd never seen them before, Dan knew he'd just found the Morris twins.
After pulling a U-turn in the middle of the street, Dan parked his car and followed the twins to their house on Erie Avenue, staying a few steps behind. When they made a left onto a porch, Dan followed the confused brothers up the stairs.
"Is your mom home?" Dan asked.
Once inside, Dan talked to Angel about the twins joining his AAU team: the Hunting Park Warriors.
He made sure to include a promise.
"If you allow your sons to play basketball," Brinkley said, "I guarantee they'll get Div. I scholarships."
Angel agreed, and Brinkley received a pair of raw 13-year-olds. Neither could dunk at 6-5. Both struggled to even make layups. During one game, both twins stopped running at midcourt during the middle of the game; turned out that a previous coach had told them that if they needed breaks, they should just take them right there in the center of the court.
Still, Brinkley noticed something right away with Marcus: The big man had great hands.
"I told him, 'I'm going to make you a guard,' and he started laughing at me," Brinkley said. "When I wasn't laughing, he realized I was serious."
On his state championship team his senior year at Prep Charter High School, Marcus Morris ended up being more than the team's starting small forward.
He also was the team's backup point guard.
★ ★ ★ ★ ★
When Prep Charter High School assistant coach Rahim Washington picks up the Morris twins from the airport, he's always greeted with the same questions.
"Where are Tamyre and Rahim? Did you bring them?"
Rahim Jr., 13, and Tamyre, 4, are Rahim's two sons, and both gravitate to the twins when they make their way back to Philly, whether it's playing video games or wrestling on the floor.
Rahim Washington, 32, was just 25 years old when he first met the Morris brothers as an assistant coach for Prep Charter High School.
Many times, Washington took it upon himself to challenge Marcus.
At 5-foot-9, Washington would face Marcus every day in one-on-one battles. Washington — who is second in the record books at Overbrook High School in Philadelphia for points scored in a game, behind a guy named Wilt Chamberlain — won most of the games. He let Marcus know about it, too.
Brinkley also had the twins for gym class, and one assignment was teaching them "The Bop" — an old-school Philadelphia dance popular in 1950s night clubs.
Sometimes, when watching KU games, Washington can see some of that same rhythm from Marcus in high school, where he finally convinced him to dance with the girls to get his 'A.'
During Marcus' sophomore year, there was one time when he was complaining on the team van about head coach Dan Brinkley.
Marcus said he didn't want to play any more. Why did Brinkley want him at Prep Charter if he was just going to sit on the bench?
Washington delivered the truth back to Marcus. He wasn't playing hard enough. There was no reason, at his size, that he should only be getting more than three or four rebounds per game.
"Well," Marcus said, "I'm just going to go out there and grab every rebound then."
The next game, he led Prep Charter with 19 rebounds.
"Don't tell him that he can't do something," Washington says. "Don't tell him that this guy is outworking you, because his thing is, 'All right, I'm going to prove you wrong then.'"
Washington's relationship with Marcus goes deeper now.
This past summer, while Marcus and Markieff were in Philadelphia, Washington picked them up from their grandmother's house and drove them to St. George St. Barnabas Episcopal Church on the corner of South 61st and Hazel Avenue.
There, Rahim Jr. and Tamyre were baptized, and afterwards, Marcus and Markieff received a pair of certificates: Markieff, the godfather of Rahim Jr.; Marcus, the godfather of Tamyre.
★ ★ ★ ★ ★
Marcus Morris is ready to tell a secret. Things weren't always great for him at KU.
His freshman year, KU coach Bill Self told him that he was out of shape.
Before every practice, Marcus says, he had to touch every step in Allen Fieldhouse. He says he'd run all the way up a set of stairs, touch the blue number marking the section, then run back down to the floor before going to the next row.
At the time, he hated Self.
"My freshman year, I wanted to transfer. I couldn't stand it," Marcus says. "But I'm happy that he did that to me, because it made me the person I am today and the player I am today."
During Marcus' freshman season, Self remembers times when he would try to correct him on something minor, Marcus would deny something that the coach had seen with his own eyes.
Marcus would tell Self he hadn't messed up, continuing to insist he hadn't all the way until film sessions, when the video clearly showed Marcus' flub.
Now, Self's critiques aren't questioned. The coach hears, "My bad," from Marcus more than anything else.
"He's changed a lot in that regard," Self says.
One thing that was never in question was Marcus' personality.
Though the Morris twins have earned the reputation as dirty players because of some on-court physical play, Self says Marcus and Markieff are the two most fun guys on the team to hang out with, which makes their teammates care about them.
KU senior Brady Morningstar calls Marcus as loyal of a person as he's been around since he's been at KU.
The Morris twins' motto — "Family over Everything" — even has become a team slogan. The two use the abbreviation "FOE" on most of their Tweets, and the words are inscribed on both Marcus' and Markieff's left biceps.
Sophomore Elijah Johnson — who likes to make SmashBurger runs with Marcus — says people have the wrong impression of him if they only think he's a rough-tough kid from Philly.
"I see that side of Marcus when he's mad or frustrated," Johnson says, "but Marcus has to be one of the best friends I've ever ran across ever in my life."
He's become a leader, too, and Johnson was there the moment it happened.
★ ★ ★ ★ ★
Talk to the ones close to Marcus, and they all have a story about how the Northern Iowa loss affected him.
Trice — currently a guard at Mount St. Mary's — said Marcus told him he wasn't sure exactly how the loss had happened, but that he was going to get himself a championship.
"He was going to go harder than ever before with workouts," Trice said. "He said he wasn't taking any days off. He stuck by those words."
Washington saw it first-hand in the summer. If Marcus wasn't lifting weights, he was shooting around. He worked on drills, going from his jump shot to his long jump shot to his mid-range game to his jump-hook, one right after the other.
There was a time in the summer when Washington texted Marcus at 10 p.m., and Marcus answered it at 2 in the morning. He said he'd just gotten out of the gym.
Sometimes, Marcus would mention to Washington that his wrist hurt. Or his calves were sore. Or his shoulders didn't feel right.
Though Washington pleaded with Marcus to take one day off to let his body rest up, Marcus said he couldn't.
There were days when Marcus went through a light workout, only shooting a few free throws. But he never took a day off.
"It's all because of that loss," Washington says. "He doesn't want to have that feeling again."
Brinkley also received calls from Marcus, wanting to work out both morning and night.
"I had never seen that kind of focus," Brinkley says.
Marcus himself says every time he saw a basketball, every time he took a shot, the same thoughts ran through his mind.
"Man, what if I'd have made this shot against Northern Iowa? Or what if I would have grabbed that rebound?"
"I think about it every day," Marcus says. "I thought about it every day."
When Johnson stays over at the twins' dorm room, Marcus' first words in the morning are about basketball. When the two leave class, Marcus is talking about basketball.
"It's on his mind. It's on all our minds," Johnson says, "but he just speaks it more than anybody else."
That included March 20, 2010, a Saturday, when in the middle of a locker room, Marcus repeated the same words over and over, pledging to his teammates to work harder than he ever had before.
More than an hour after the team bus had left, Marcus made it around to his four teammates. Even though they didn't feel like doing anything at the time, Marcus made them stand up with him.
Marcus wrapped his arms around Henry, Robinson and Johnson and made a promise.
"It won't happen again," he said, as the teammates made their way out of the locker room.