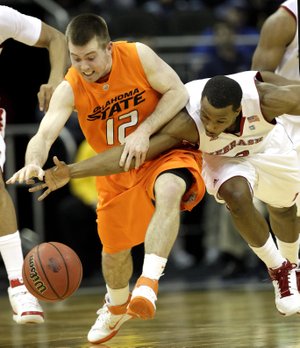 Kansas City, Mo. — Endings like this make college basketball fun.
Oklahoma State's 30-percent foul shooter swishes two in a row in the final seconds. Then Keiton Page, the best free throw shooter in the conference, misses the front end of a 1-and-1 with 16 seconds to go, giving Nebraska a chance for one more shot.
But the Cornhuskers' Lance Jeter fell down under the bucket and Nebraska failed to put the ball up, enabling the Cowboys (19-12) to hold on for a 53-52 victory Wednesday in the first round of the Big 12 tournament.
Page did make two key 3-pointers and score 16 points to lead the Cowboys, who will meet top-seeded and No. 2 Kansas on Thursday in the second round.
"I was feeling horrible after that missed free throw," said Page, who hit 90.2 percent from the foul line and missed only five free throws throughout the Big 12 season. "But I had confidence in my teammates that we were going to come down and get a stop."
When Page missed, Nebraska grabbed the rebound. But Jeter, who led the Huskers with 17 points, fell down before he could shoot.
"I pretty much got tripped, but there was no call," Jeter said. "There shouldn't be, especially in the last seconds. You've got to make the play, and I didn't do that."
Page drilled 3-pointers on consecutive possessions to give the Cowboys the lead after Nebraska (19-12) had overcome horrific 22.6 percent first-half shooting and taken the lead against an Oklahoma State team that was almost equally as cold.
Toney McCray and Brandon Ubel each had 11 points for Nebraska while Marshall Moses had 10 for Oklahoma State, which improved to 9-0 in first-round Big 12 games.
With the loss, Nebraska's basketball program ended its tie to the Big 12, bringing a conclusion to an athletic association with some conference schools that stretched back more than a century. Next season, Nebraska joins the Big Ten.
"We had a shot at the last. They just made the play and we didn't," Nebraska coach Doc Sadler said. "Toney McCray was wide open, but Lance went in there to make the play like he did all year. But he just didn't make it."
Down by as many as 11 during a miserable first half, the Huskers finally got back even at 34-all on Ubel's bucket about 6 minutes into the second half.
Moses, in traffic, put the Cowboys on top 38-36 and then Ubel, a 6-foot-10 sophomore, drilled a 3-pointer and the Huskers took their first lead with 11:21 left.
Jeter hit a 3-pointer and a free throw, and the Huskers led 45-42. With 5:57 left, Jeter stole a pass and drove in. He missed a layup, but Caleb Walker was there for a putback, and the Huskers had their biggest lead at 48-44.
Page, a 30-percent 3-point shooter, then drilled back-to-back 3s and put the Cowboys ahead 50-48 with 3:52 to play. Moses, fighting for an offensive rebound, was fouled by Brandon Richardson and made one free throw to make it 51-48.
Brown's two foul shots raised Oklahoma State's lead to 53-50 before McCray's uncontested dunk sliced the lead to 53-52.
"I think Jeter is the key to their team," Oklahoma State coach Travis Ford said. "Every film I watched, he contributes to more than half the team's points. On that last possession, we put Nick (Sidorakis) on him, to get some size on him. We knew he would try to create something. We wanted to switch and not give him any angles. We did a great job on him."
Nebraska in the ragged first half made only 7-of-31 shots. The Huskers missed from both short and long range, making only 2 of 10 from behind the 3-point arc. McCray got a bucket off what appeared to be a banked dunk at the 12:37 mark, then Nebraska went almost five minutes without scoring until Jorge Brian Diaz scored on a goaltending call.
More like this story on KUsports.com