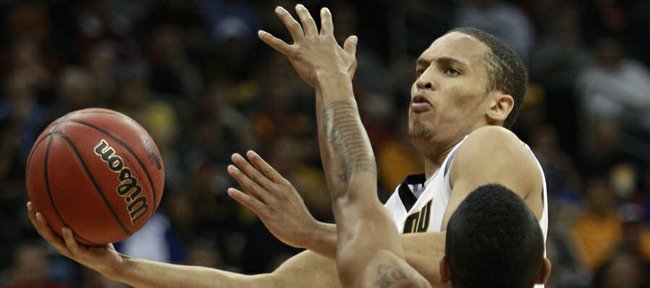 After bringing the curtain down on Pat Knight's time as Texas Tech coach, Missouri's Mike Anderson heaped praise on his fired colleague.
"I want to compliment Pat Knight," Anderson said Wednesday night after Missouri held on for an 88-84 victory in the first round of the Big 12 tournament.
"What a class guy."
Marcus Denmon scored 20 points as the Tigers fended off two second-half rallies by the Red Raiders, who knew if they lost it would be the final game for Knight and his staff.
Knight was fired Monday, effective whenever Tech was eliminated from the conference tournament. The son of Hall of Fame coach Bob Knight, who coached Tech while grooming Pat for the job, finished 50-61 in three disappointing seasons.
"If anybody's looking for a house in Lubbock, Texas, I know seven that are available," Knight deadpanned.
Twice Missouri (23-9) had big runs and appeared to pull away. But the Red Raiders (13-19) responded each time and made it close before the Tigers finally nailed down the victory to end a three-game losing streak and advance to a second-round game today against Texas A&M.;
John Roberson had 28 points for Texas Tech.
"We fought hard," Roberson said. "Everyone came with a lot of intensity. We wanted to win the game for our coach. We came up a little short."
With Denmon and Kim English canning three-pointers, the Tigers scored the first eight points of the second half and seized a 56-44 lead that ballooned to 58-45 on a bucket by Michael Dixon, who totaled 17 points.
But Roberson followed with a 10-footer, and the Red Raiders unreeled an 18-5 run, tying it 63-all on Roberson's fourth three-pointer. David Tairu, one of five seniors on Knight's last team, drilled a three-pointer and converted a rare four-point play in the spree.
Then back came the Tigers, with Denmon and Dixon hitting three-pointers in a 15-4 spurt, taking a 78-67 lead on Steve Moore's layup.
Mike Singletary's bucket halted the spree for a moment, but English, fouled on consecutive trips down the court, sank four straight free throws, giving the Tigers an 82-69 lead.
Another three-pointer by Roberson ignited a 13-2 run by Tech. Brad Reese's two free throws made it 84-82. Phil Pressey's two foul shots put Missouri back on top 86-82 before Roberson made two free throws of his own that shrank the lead to 86-84.