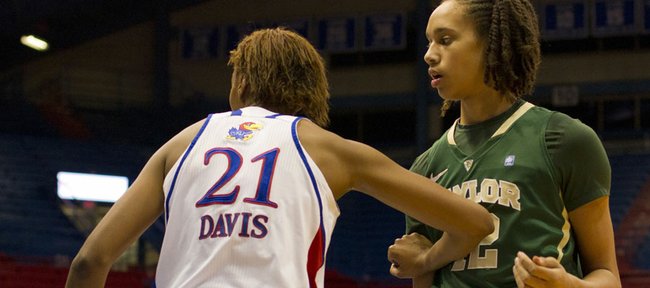 Kansas City, Mo. — The last time the Kansas University women's basketball team faced Baylor, the Bears were the No. 1-ranked team in the nation and a winter storm had just unloaded on Lawrence.
But the swirling snow and ice outside was nothing compared with the 76-37, cold-hearted beating the Bears gave the Jayhawks inside Allen Fieldhouse in mid-January.
"We're shocked that we just didn't have a pulse," KU coach Bonnie Henrickson said. "Just shocked and embarrassed, quite honestly."
Henrickson and her crew will get their chance to atone today, when the Jayhawks (20-11) and Bears (28-2) battle at 11 a.m. in the quarterfinals of the Big 12 tournament at Municipal Auditorium.
"First game was tough," KU sophomore Carolyn Davis said. "We don't think we went out and competed our best. We didn't go out and execute or do any of the things that we planned to do. And I don't think that we'll do that this time. We're ready for this game."
Baylor, the tournament's top seed, advanced to the quarterfinals via first-round bye. The Bears are led by national-player-of-the-year candidate Brittney Griner (22 points, eight rebounds per game), a pesky defense and a host of sharp-shooters on the perimeter.
In January, the Bears were merely average against the Jayhawks in most statistical categories, despite the final score. They shot 48 percent from the floor, hit just three of 13 three-pointers and forced 16 turnovers. The Bears were dominant in the rebounding department, though. Led by Griner's 15 boards, Baylor outrebounded Kansas, 55-25, a frightening thought for a KU squad that was overpowered on the boards by Colorado, 38-37, on Tuesday, including 23-11 on the offensive glass.
Although their only meeting with the Big 12's regular season champion left the Jayhawks hurting, the players seemed truly energized by the opportunity for another shot. More than fine-tuning the X's and O's, Henrickson is counting on pride to carry her team in today's rematch.
"We talked a little bit in the locker room (Tuesday) about remembering what (it) felt like emotionally after that (first meeting)," Henrickson said. "I don't think any of us have forgotten that, and that's important. But it's a new day. It's a new game. A different game."
More like this story on KUsports.com