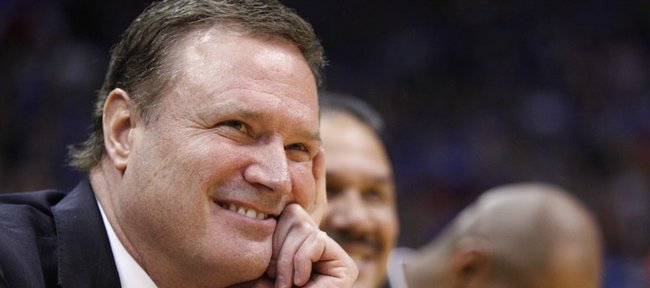 Videos
Bill Self weekly press conference, March. 7, 2011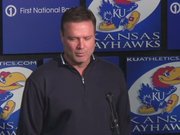 Kansas head coach Bill Self addressed the media at his weekly press conference Monday, March 7, 2011 at Allen Fieldhouse.
Kansas University's Bill Self, who was named the Associated Press Big 12 Coach of the Year on Monday — a day after the league coaches accorded him the same honor — insists he has his faults.
The man who has led KU, Illinois and Tulsa to 11 league championships in the last 13 years — his squads took second the other two years — reprimanded himself publicly Monday for perhaps not allowing his players to enjoy their successes as much as he should.
"One thing I've done a very poor job with my team is always talking about 'next game,''' said Self, whose Jayhawks are 62-5 the last two seasons. "They (players) have become very robotic in thinking 'next game,' which is good in an NBA season, but in a college season, hey, this is a big deal to win a championship.
"We need to enjoy the wins more from this point forward," added Self, whose Jayhawks wrapped up their seventh straight Big 12 title on Saturday at Missouri. On Monday it was revealed he drew 16 of 22 coach-of-the-year votes from individuals who regularly cover the Big 12. Texas A&M;'s Mark Turgeon received three votes, Colorado's Tad Boyle had two and Kansas State's Frank Martin one.
"It's something I have to stress to the guys. A lot of places we'd be cutting down nets and doing everything else when you win a conference championship. Here these guys think, 'That's what we're supposed to do. We did our job,' and they have done their job and done it very well, and they need to feel that from me more. I can do a better job of that," Self said.
The Jayhawks obviously couldn't cut down the nets in Mizzou Arena and didn't want to celebrate after last Wednesday's home win over Texas A&M;, considering that just meant KU had claimed a share of the 2010-11 crown.
"You've got to be able to blow off steam," Self said. "Baseball players, after a guy pitches a no-no, everybody runs out and jumps on him (pitcher). We haven't had any of that. Football teams that have huge wins ... we haven't had any of that stuff because there's always the next game.
"I know in other sports you have the next game, too, but it's not two days later. I need to do a better job of showing them how much I appreciate their efforts because their efforts have been unbelievable, absolutely remarkable. The last few years, these guys have done some things in my wildest dreams I would never thought they could accomplish from a winning standpoint.
"When you start adding up championship opportunities in our league and how many these guys have won, it's staggering. Not to celebrate that as much as we do, I think is doing those players a disservice. We have to do a better job of that," he noted.
Self, who expressed regret he didn't let his players cut down the nets at Sprint Center last year after winning the Big 12 tournament — "I didn't let 'em cause we had bigger fish to fry" — will feel better upon being reminded he actually did let the players celebrate that day.
"We did. He's getting old, man. He forgets. He's getting old," junior Marcus Morris joked, remembering the net-snipping ceremony after a title win over Kansas State.
Senior Tyrel Reed said the players have celebrated "in their own ways. Since I've been here, we've won four regular-season championships. It's an amazing feat. Down at the core, we know how big a deal it is. We may not celebrate in public, cutting down nets, but we still celebrate."
Self did make sure to congratulate his team at practice Monday. Some of the Big 12 coaches, in turn, congratulated Self on a job well done.
"It's pretty amazing," Texas A&M; coach Mark Turgeon told the AP. "Bill's done a great job. I've been here four years, and it seems like every time we play them they're ranked either No. 1 or No. 2 in the country. They have a toughness, and they win road games other teams can't win."
Noted KSU's Martin: "For Kansas to do what they've done, seven consecutive years, is remarkable. It's a credit to Bill Self. It's a credit to his assistants, to their recruiting, their consistency in handling young men, making them perform, and getting people to coexist and put their egos aside and play and compete. That's hard to do one year. But to do it seven years in a row is just amazing."
Self has won the AP honor in three of his eight seasons at KU.
"I appreciate that people recognize the success we've had, and this is going to sound like coach-speak, but it really is the players who win championships," Self said.
More like this story on KUsports.com