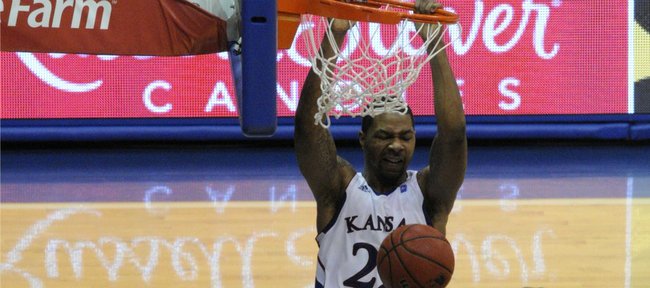 Normally a man of many words, Marcus Morris needed just one to describe his emotions upon being named Big 12 Player of the Year.
"Happy," said Morris. He on Tuesday completed a sweep of the league's top player awards. The Associated Press tapped him for the league's top player honor on Tuesday, two days after the league coaches deemed him best in the conference.
"I mean, I can't do it if we don't win. I put it all on us winning," Morris added.
The Jayhawks take a 29-2 record, 14-2 in league play into Thursday's first-round Big 12 tournament game against either Oklahoma State or Nebraska (11:30 a.m., Sprint Center, Kansas City, Mo.).
"Look at Marcus ... who has been more consistent?" KU coach Bill Self said of Morris, who averages 17.3 points and 7.0 rebounds a game. "He's very deserving. You can make a case for some others too. There are good players in our league. At the end of the day, my personal biased opinion is the right guy won it because he was the best player on the team that won it (league)."
Morris, a 6-9 junior from Philadelphia, received 15 of 22 votes from a panel of sports writers and sportscasters who cover the conference. He and Colorado's Alec Burks were the only unanimous first-team picks, chosen on all 22 ballots. Marcus' brother, Markieff, was named to the AP's second-team.
The rest of the first team: Kansas State senior Jacob Pullen, Texas sophomore Jordan Hamilton and Baylor senior LaceDarius Dunn.
Texas forward Tristan Thompson is Big 12 Freshman of the Year and Missouri junior forward Ricardo Ratliffe Newcomer of the Year.
Morris is the fifth Jayhawk to be named Big 12 Player of the Year, and the first since Wayne Simien in 2005.
"Coach said it a few times that he thought I could be. Winning basically makes that possible," Morris said. "I don't think it's so much being the best player in the conference. I think it's because we won and how we weren't picked to win the Big 12 but we won it."
Pullen received five votes for player of the year. He's the only repeat first-team selection from last season. Hamilton and Burks each received one vote for player of the year.
Markieff Morris was joined on the second team by Thompson, Missouri junior Marcus Denmon, Iowa State senior Diante Garrett and Texas A&M; sophomore Khris Middleton.
•
Anderson had fun on visit
Braeden Anderson, a 6-8, 230-pound senior forward from Wilbraham and Monson Academy in Wilbraham, Mass., completed his official campus visit to KU on Tuesday.
Anderson, who originally committed to DePaul only to recently re-open his recruiting, told Rivals.com he may also visit Kentucky, Florida and Arizona.
"Kansas is going to be really, really tough to beat," Anderson told Rivals.com, "but I welcome those challengers. It was really hard and tough to not give coach Self good news during my visit. It was tough not to commit, but my uncle really wants me to see some other places. He wants to go on some visits with me and enjoy this process. He wants to come back with me to Lawrence, so that's something we will talk about."
Anderson told Rivals.com that KU is the leader. "Oh man, my official visit to Kansas was pretty crazy," he said. "Being able to really see the history and tradition of Kansas basketball was really cool."
— Doug Tucker of the Associated Press, who picks the All-Big 12 team with the help of media members, contributed to this report.
Doug Tucker of the Associated Press, who picks the All-Big 12 team with the help of media members, contributed to this report.
More like this story on KUsports.com