Originally published March 8, 2011 at 12:56 p.m., updated March 9, 2011 at midnight
Photo Gallery
KU women knock off Colorado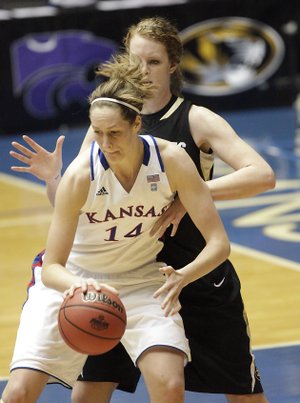 Kansas defeated Colorado 71-45 in the opening round of the Big 12 women's basketball tournament in Kansas City.
Kansas City, Mo. — With its 71-45 pounding of Colorado in Tuesday's opening round of the Big 12 tournament at Municipal Auditorium, the Kansas University women's basketball team made sure there would be no warm and fuzzy farewell tour for the Buffs, who will bolt for the Pac-10 next season.
On the strength of 17 points from sophomore guard Monica Engelman and 16 more from sophomore forward Carolyn Davis, Kansas (20-11) snapped a two-game losing streak, knocked off CU for the third time this season and, most importantly, moved on to today's second round, where a matchup with top-seeded Baylor awaits.
"(This was) a good win," KU coach Bonnie Henrickson said. "Survive and advance in March."
Although the KU offense was sharp throughout Tuesday's victory — the Jayhawks shot 50 percent from the field, including 6-of-11 from three-point range — it was the defense, particularly in the second half, that decided this one. CU shot just 26 percent for the game, 29 percent in the first half and 24 percent in the second.
"I think (for) a chunk of the second half they were shooting 18 percent," Henrickson said. "(I'm) just real proud of the defensive effort. I thought we were disruptive. I thought they struggled to get into rhythm because of our pressure."
Tied at 14-apiece midway through the first half, the Jayhawks ripped off a 13-0 run to gain some separation heading into halftime. Three straight Kansas three-pointers (two from Engelman and one from Tania Jackson) pushed KU's lead to 25-14, and Engelman (7-of-13 shooting) added a jumper with a toe on the line to make it 27-14 with 3:50 to play in the half. Colorado responded with an 8-2 run to close the half and then opened the second half with a 7-2 run to cut the Jayhawks' lead to two, 31-29. All seven CU points in the second run came from senior forward Brittany Spears, who finished with a game-high 21 points and became Colorado's all-time leading scorer.
"Oh, yeah, we thought that we (were) back in the game because we were only down by two," said Spears of the run. "But then they went on a run and we all just panicked and went separate ways."
From there, KU held CU scoreless for more than eight minutes — from 14:53 to 6:49 — and the Jayhawks' pressure defense produced several steals and easy baskets during a 16-0 run that blew the game open.
"We always talk about not letting the other team come out and make a run," Davis said. "When they came out and did that, it wasn't what we had planned to do. And I think that it was great for us to just fight back. We didn't let them continue to make a run. We got stops and we pushed in transition, and that's what cut the run."
That and the fact that several Jayhawks elevated their play while Davis sat on the bench for nearly six minutes of the second half with three fouls. Engelman took over the scoring burden. Point guard Angel Goodrich controlled the tempo. And reserve guard Keena Mays flourished during the decisive run, scoring seven points and gathering multiple loose balls. For the game, Mays finished with nine points, seven rebounds, four assists and a steal. In three games against CU this season, Mays averaged 11 points, four rebounds, three assists and two steals per game.
Engelman, who also had her share of success against CU this season, averaging 14 points per game, said she was proud of her team's ability to put the hammer down with its leading scorer on the bench.
"I'm not surprised," Engelman said. "Gotta be prepared for situations like that. With Carolyn out, you have to find different ways (to score)."
Kansas did that Tuesday and, in doing so, flashed a little of the untapped potential that Henrickson and the Jayhawks have been waiting for all season.
"If there's anything we've done consistently, it's be inconsistent," Henrickson said.
That makes today's quarterfinal squabble with Baylor (28-2, No. 3 in the nation) an even scarier proposition. But it's one the Jayhawks are looking forward to.
"It's another opportunity," Engelman said. "We played them in conference and we weren't very satisfied with our performance. But I think we're more excited. It's the next game in the tournament, second round, so (our focus is on) trying to survive and advance."