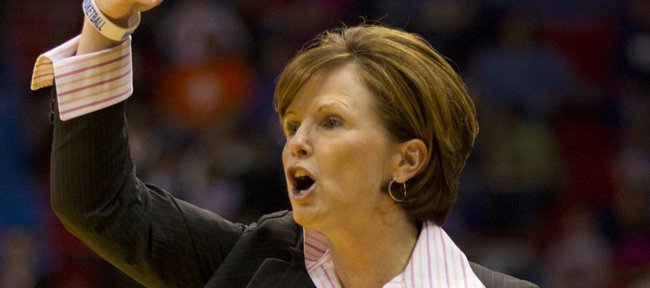 Kansas City, Mo. — The combination of a 6-10 record in conference play and two straight losses to end the regular season normally doesn't yield the kind of favorable first-round draw that the Kansas University women's basketball team received in this year's Big 12 tournament.
The No. 8-seeded Jayhawks (19-11 overall, 6-10 in Big 12) will open the tourney at 11 a.m. today by taking on No. 9 Colorado (15-14, 6-10) at Municipal Auditorium in. On paper, the match-up seems to be pretty even, just as most eight-nine games typically are. However, two of KU's conference victories came against Colorado this year, and the Jayhawks played some of their best ball of the season against the Buffs. Because of that, KU coach Bonnie Henrickson likes her team's position.
"Everyone says it's hard to beat a team three times," Henrickson said. "But would you rather have lost to them twice and then play them? That makes no sense to me. We feel good going into it, and I'm sure they feel good, too, because they have played really well down the stretch."
The Jayhawks entered last week with slim hopes of earning an at-large bid to the NCAA Tournament. But KU's bubble burst after a 72-36 loss at Iowa State early in the week was followed by a 56-51 loss to Kansas State on Senior Night. Now, Henrickson's club knows what it has to do if it hopes to end its NCAA Tournament drought.
"We have to win it," said Henrickson of the Big 12 tournament.
With a potential second-round match-up against top-seeded Baylor looming, Henrickson said her team's attention would be entirely on Colorado in the days leading up to the tournament. A fair amount of that focus will be fixed on Colorado forward Brittany Spears, who, on Monday, joined KU's Carolyn Davis in being named first-team All-Big 12.
In the two games against Kansas, Spears combined to score 34 points, but did so on 13-of-38 shooting while playing 36 minutes per game.
"I thought our kids did a good job on Spears in both games," Henrickson said. "(But she) is on fire right now, and they have won on the road. They beat Nebraska in a close game. They beat Missouri in a close game, played well and had some big wins at home. So it should be a great contest. The eight-nine game is always the closest one in the tournament."
As if Spears needed any extra motivation, she'll also be playing for history. She needs 14 points to pass Lisa Van Goor (1980-85) to become Colorado's career scoring leader.
Henrickson said Spears reminds her of former KU men's player Brandon Rush.
"I've always said that about her," Henrickson said. "She kind of shoots stiff-legged, (she has great) length, and she's kind of a silent assassin. That's a kid who you'll think you did a good job on her, and then you look at the stat sheet and she's got 25. She's just that good."
Kansas' hopes in the tournament ride on the shoulders of Davis, who averaged 18.4 points and 7.3 rebounds per game to lead KU this season. In the two games against CU, Davis combined to score 32 points and hit 11 of 13 shots from the field.
Forward Aishah Sutherland also performed well against the Buffs this season, leading KU to victory in the first meeting with 15 points and nine rebounds. Three Jayhawks reached double figures in scoring in each game against CU, which gives KU confidence heading into today's tourney opener.
"We've had success against them before so we just need to bounce back and try to get this win in the tournament and try to make a little run," said KU senior Marisha Brown after the loss to K-State.
Added freshman Diara Moore: "We have to let it go. We have the Big 12 tournament to worry about now."
More like this story on KUsports.com