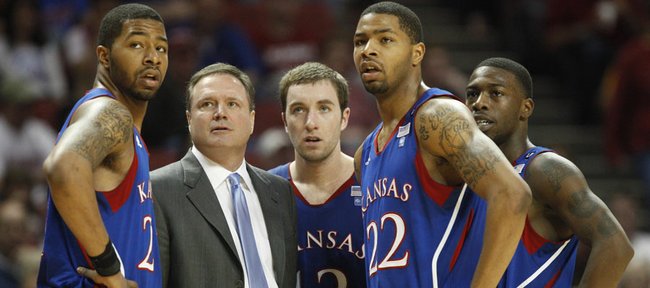 Videos
Bill Self weekly press conference, March. 7, 2011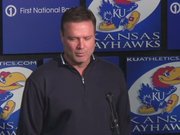 Kansas head coach Bill Self addressed the media at his weekly press conference Monday, March 7, 2011 at Allen Fieldhouse.
Bill Self, who has led Kansas University, Illinois and Tulsa to 11 regular-season conference championships in the last 13 years, on Sunday was named Big 12 Coach of the Year by his peers — the league's coaches.
"It's been a pretty good run," said a humble Self, referring, of course, to the league crowns, not his three Big 12 Coach of the Year trophies in eight years at KU as well as one Western Athletic Conference top-coaching honor.
"The biggest thing is, we've got good players. It is something etched in our minds, that this is what we've got to do. Every year we prepare to be this (champs)," added Self, who has led KU to seven straight conference titles after a runner-up finish in his first year in Lawrence.
Other Big 12 awards
"When that season is over, we switch our focus to the most important season, the postseason. We've always thought you can't get ahead of yourself."
Self — he likes to say "we" rather than "I" — gave a glimpse into his personality when told after Saturday's victory at Missouri he was a lock to be tapped coach of the year.
"I don't care about that," Self said. "Our staff has done a good job. The thing for us, you've got to get your team playing its best right now. The fun just starts. The coaching and playing to me is just now starting. We've had a good year, no question, but what happens from this point forward is much more important.
"Our guys have played well," he quickly added of the Jayhawks, who take a 29-2 overall record, 14-2 in the league into Thursday's first-round Big 12 tournament game against either Oklahoma State or Nebraska (11:30 a.m., Kansas City's Sprint Center).
"Think about our team. We've gone through some stuff, some self-imposed (suspensions to Mario Little, Tyshawn Taylor, Elijah Johnson), some tragic (deaths of Thomas Robinson's mother, grandmother and grandfather and Danny Manning's father). We've gone through a lot of stuff (including injuries to Tyrel Reed, Josh Selby, Travis Releford), and it doesn't make any difference, for the most part."
That's because KU's deep roster has come through.
"We've had five guys it seems every game that play well enough for us to win, and when you are picking from eight, it's a lot easier to get five than when you are picking from six," Self said. "We've got one McDonald's All-American on the team (Selby), and he's not yet playing like he can play.
"The other guys are good players. They share the ball and know their role and have accepted it, and to be honest with you, I think like it."
Self said the only issues that have bothered him have been the personal tragedies.
"The guys have become closer. All this stuff, the other stuff hasn't bothered me beause we put somebody else in," Self said. "These guys are to the point we put somebody else in, (and) they've got to deliver."
The Jayhawks have delivered big-time in winning yet another conference crown.
"I do think it's harder in today's time," Self said, responding to his mentor Larry Brown's statement that KU's feat just might be more impressive than UCLA's winning 13 in a row from 1967 to '79.
"Not that long ago, if you recruited great players, you were going to have great years. Now if you recruit a great player, you may have him one, two years max. We've been lucky. We've had good players. We haven't had other than Wayne Simien first-team All-Americans. We haven't had unbelievable guys from a prospect standpoint, NBA standpoint. We've had a lot of guys come in highly recruited who have gotten better and over time played themselves in position they could be a good draft pick.
"Not any one challenged for national player-of-the-year status that some other schools have gotten. That's what I'm kind of most proud of. I feel our guys have gotten better. We've been able to keep guys around for the most part for a couple years."
Self's performance as a coach has made Brown proud.
"Roy's body of work was phenomenal," Brown said of Roy Williams' 15 ultra-successful seasons. "Being here eight years and seeing his (Self's) body of work and the way he does it, how humble he is and how he includes everybody and respects everybody, it is one of the great feats."
Several were mentioned as possible Big 12 coach of the year candidates this season. They include Texas' Rick Barnes, Kansas State's Frank Martin, Texas A&M;'s Mark Turgeon, Colorado's Tad Boyle and Nebraska's Doc Sadler.
"There are a lot of coaches that have done a great job in our league this season," Self said. "The primary reason for any postseason award is because you have good players who have performed at a high level."
More like this story on KUsports.com