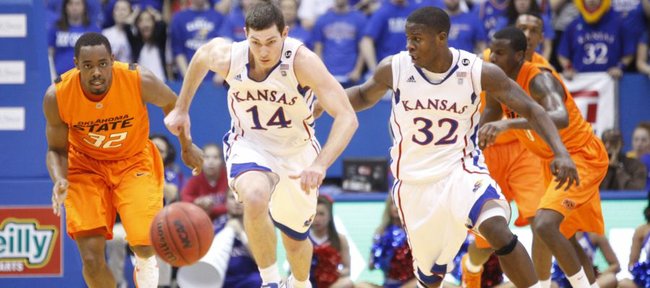 Kansas coach Bill Self revealed Monday that guard Tyrel Reed only practices the day before games because of his lingering left foot injury.
"He needs surgery after the season is over on his foot," Self said. "He practices the day before games. He may shoot two days before a game. He's not going to be allowed to do too much more than that."
Asked about the specific surgery, Self said, "I'm not a doctor. He has basically a bad heel where there's a piece of bone in there giving him some problems. They may have to go repair it. It's no big deal, but it's enough to bug you, the equivalent to having an ankle sprain or something like that."
Self said Reed has played with the injury in several Saturday-Monday games, so he doubts Reed's minutes will be cut at this week's Big 12 tournament.
"We'll play it by ear (if KU advances)," Self said. "I am not going to do anything this weekend that would jeopardize his health the following week."
Self said Josh Selby, who has a stress reaction in his right foot, wears a brace on the foot that wraps all the way around and totally immobilizes the foot.
"He can't cut, move like he wants to move," Self said. "With that being said, other people have played with one. It's one of those things you've got to adjust and play with it, but he's not moving 100 percent by any stretch. I do think his health has messed with him. He knows through a period of time that his body couldn't react to what his brain told him to do. That would be frustrating for anybody.
"Josh is playing through it, too. Nobody can fault Josh's toughness. The kid is out there fighting. He just hasn't had much success since he got hurt."
Self said Selby practices every day and believes he can make a major impact in the Big 12 and NCAA Tournaments.