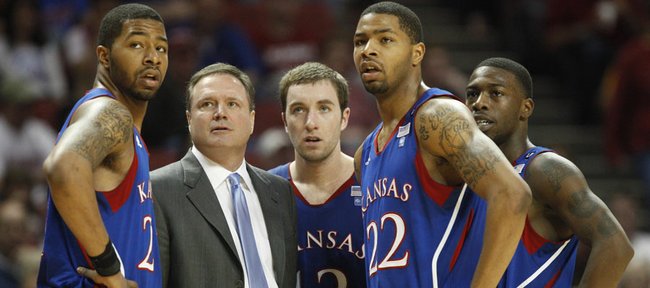 Kansas University men's basketball coach Bill Self is the Big 12 coach of the year and KU junior forward Marcus Morris is Big 12 player of the year, the Big 12 announced on its website Sunday afternoon.
The All-Big 12 awards are selected by the league's head coaches, who are not allowed to vote for their own players/themselves.
Self earned Big 12 Coach of the Year for the third time, as he also took the honor in 2006 and 2009.
"There are a lot of coaches that have done a great job in our league this season," Self said in a release. "The primary reason for any postseason award is because you have good players who have performed at a high level."
Marcus Morris averaged 17.3 points and 7 rebounds in leading KU to the Big 12 regular-season championship.
"I'm happy," Morris said in a release. "I give all the credit to my teammates. Without them there is no way I would have been selected. We've had a great season so far but we still have a lot of work to do heading into the Big 12 tournament and the NCAAs."
Added Self: "I am especially proud of Marcus for being consistent this year and being the premier performer in our league. It certainly is a compliment to him but also to his teammates to allow him to do what he does."
Kansas guard Brady Morningstar also was named to the Big 12 All-Defensive Team. He was joined by Kansas State's Jacob Pullen, Texas' Dogus Balbay and Tristan Thompson and Missouri's Laurence Bowers.
KU forward Markieff Morris was named to the All-Big 12 second team, while Morningstar and KU guard Tyrel Reed were honorable mention All-Big 12 selections.
Balbay is the Big 12's defensive player of the year, while Missouri forward Ricardo Ratliffe is the conference's newcomer of the year. Baylor's Quincy Acy and Colorado's Levi Knutson shared the Sixth Man Award. Thompson was named freshman of the year.
The Big 12's All-Rookie Team included Ratliffe, Thompson, Texas' Cory Joseph, Baylor's Perry Jones and Oklahoma State's Jéan-Paul Olukemi.
The All-Big 12 teams are listed below.
ALL-BIG 12 FIRST TEAM
LaceDarius Dunn, Baylor G
Alec Burks, Colorado G
Marcus Morris, Kansas F
Jacob Pullen, Kansas State G
Marcus Denmon, Missouri G
Jordan Hamilton, Texas G/F
ALL-BIG 12 SECOND TEAM
Perry Jones III, Baylor F/C
Diante Garrett, Iowa State G
Markieff Morris, Kansas F
Tristan Thompson, Texas F
Khris Middleton, Texas A&M; F
ALL-BIG 12 THIRD TEAM
Cory Higgins, Colorado G
Rodney McGruder, Kansas State G
Lance Jeter, Nebraska G
Marshall Moses, Oklahoma State F
Gary Johnson, Texas F

David Loubeau, Texas A&M; F
ALL-BIG 12 HONORABLE MENTION (Listed alphabetically by school)
Quincy Acy (Baylor), Scott Christopherson (Iowa State), Brady Morningstar (Kansas), Tyrel Reed (Kansas), Laurence Bowers (Missouri), Ricardo Ratliffe (Missouri), Cade Davis (Oklahoma), Andrew Fitzgerald (Oklahoma), Cory Joseph (Texas), B.J. Holmes (Texas A&M;), John Roberson (Texas Tech).
More like this story on KUsports.com