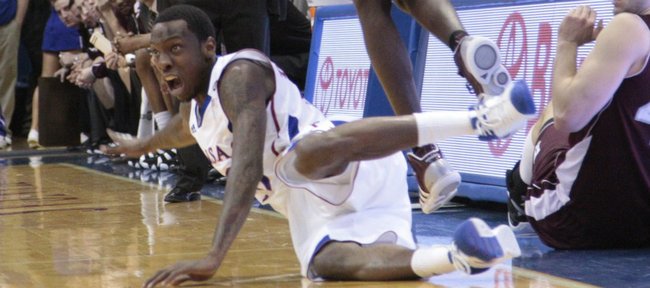 Back on Feb. 12, responding to a question about troubles at rival Kansas State University, Kansas University junior Tyshawn Taylor acknowledged his own somewhat stormy past.
"My name scrolled across the bottom of ESPN a couple times, too, so I mean, they'll be fine," Taylor said of the Wildcats.
A week and a half later, the Wildcats indeed were back on the right track, yet he was in trouble — getting suspended for violating team rules.
Taylor missed two games, was reinstated Wednesday against Texas A&M;, then on Thursday met the media for the first time since committing his misstep.
"Yeah, it happened again, right?" a contrite Taylor said of his returning to the ESPN screen. "I broke team rules and my punishment was understandable. The punishment was definitely fair. I did my time. I'm back with the team, so I'm definitely happy."
A former starter, Taylor came off the bench to score nine points with three assists and two turnovers while playing 17 minutes in KU's 64-51 win over the Aggies.
KU coach Bill Self said Elijah Johnson would start and Taylor remain in a reserve role for Saturday's 11 a.m. game at Missouri.
"I am focused on winning and being better for my team. If we win, I'm cool, man," Taylor said. "I think I played pretty well off the bench, bringing a spark. If that's what's best for my team, I'm happy with it.
"Elijah has been playing amazing. If he plays the way he's been playing, we're that much deeper, that much better. I'm excited to see how he continues to play and how coach plays us. Seeing him play hard is something that will make me want to work harder, to do things different."
Johnson — he had two points with three assists and three turnovers Wednesday — said the competition for minutes "is a positive outcome, no matter what."
KU coach Bill Self likes Johnson's play since the Taylor suspension.
"He used to be like Velcro. He'd stick to screens. It seems to me he's getting through things better now," Self said.
"It's going to be by committee. We don't need to be playing 10 guys a game anymore," Self noted. "The reality is Brady (Morningstar) and Tyrel (Reed) are playing pretty well at the other two (guard) spots. Elijah, Josh (Selby), Tyshawn are battling for minutes. It's game to game, too. If guys aren't making shots and somebody is, they'll get the majority of the minutes."
Self said Johnson "would have played more," (Wednesday) had he not remained on the floor after getting knocked in the head by an Aggie.
"He got his bell rung. He was on the floor long enough for me to sub. He said he's OK after he got up. It was too late. Maybe that's a good lesson for everybody to learn," Self said.
Trophy talk
The Jayhawks already have won a share of the conference title entering Saturday's game. If KU loses and Texas beats Baylor, UT ties KU. A Jayhawk victory over an MU team that is undefeated at home, would make KU outright champ.
"We don't want to share. We are playing for something real big," Elijah Johnson said. "I don't know if going undefeated at home (MU is unbeaten in Mizzou Arena) is as big as being the Big 12 champion, but you see the picture. We've got to win one more to win it. We've got to bring it home."
Self said "in this particular situation it's totally good to be selfish. I don't think anybody would like to share if they don't have to."
Comeback award
KU's Thomas Robinson and Angel Goodrich are on the list of finalists for the 11th-annual V Foundation Comeback Award. Robinson has suffered through the deaths of his grandmother, grandfather and mother. Goodrich is coming off her second ACL surgery. Other finalists: Jessica Breland, North Carolina; Dawn Evans, James Madison; Jacki Gemelos, USC; Levi Knutson, Colorado; Andrea Mingo, Purdue; Cory Pflieger, Rice; Kim Rodgers, Maryland; Krystal Thomas, Duke; and Whitney Hand, Oklahoma.
Recruiting
Braeden Anderson, a 6-8, 230-pound senior forward from Wilbraham And Monson Academy in Wilbraham, Mass., tells Rivals.com he will make a recruiting visit to KU. He calls KU and Kentucky his "top schools."