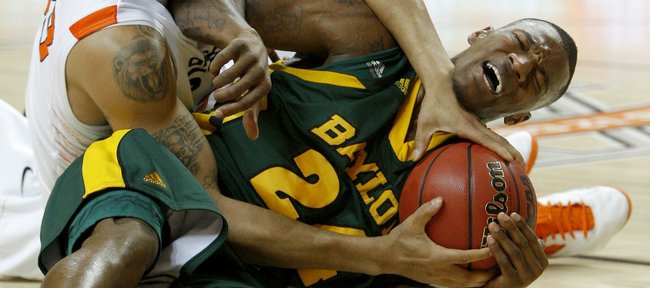 Waco, Texas — A grand jury declined to indict Baylor guard LaceDarius Dunn for assault Thursday, effectively ending the case that began last fall with his arrest for allegedly breaking his girlfriend's jaw.
Abel Reyna, the McLennan County district attorney who inherited the case when he took office in January, said he reviewed the details and did additional investigation. The grand jury then got the case and made its decision when it convened Thursday.
Dunn's attorney, Vik Deivanayagam, said in a statement that the player was "was pleased to be exonerated" by Baylor, Reyna and the grand jury.
Dunn, who last month became Baylor's career leading scorer, missed the first three games of the regular season after his arrest for aggravated assault, a felony charge related to an alleged domestic dispute with a woman in September.
The woman, LaCharlesla Edwards, who is also the mother of Dunn's young son, disputed police accounts. She had asked that charges be dropped.
"Lace appreciated the unending public support, and he is most grateful for the support of his family, LaCharlesla Edwards, and close friends whose faith in him as a person has never wavered," Deivanayagam said. "Lace also appreciates the thorough and complete investigation performed by law enforcement and is looking forward to finally putting this behind him, finishing the basketball season, and graduating in May."
Waco police reports said officers were called to Hillcrest Hospital on Sept. 27 to investigate an assault on Edwards. Dunn was arrested after surrendering to authorities Oct. 5, when his suspension was announced by the team.
Dunn was suspended academically Oct. 7. A Baylor disciplinary panel allowed him to return to class the following week after hearing evidence and determining that Dunn was "not guilty of assaulting a female which resulted in her jaw being broken," according to a letter the Baylor University Judicial Affairs Disciplinary Committee sent to Deivanayagam then.
"Lace would like to thank coach (Scott) Drew, the assistant coaches, and the entire athletic department along with Baylor University for their support," Deivanayagam said.
Baylor officials referred to the attorney's statement when a request was made for comment from Dunn, the second-leading scorer in the Big 12 (19.7 points per game) this season. He leads the league with 3.27 three-pointers a game.
Going into Baylor's final regular-season home game Saturday night against seventh-ranked Texas, Dunn has 2,252 career points and needs only five to surpass Texas Tech's Andre Emmett as the Big 12 career scoring leader. He needs six three-pointers to break the league's career mark in that category.
Dunn was a second-team All-Big 12 pick last season when he averaged 19.6 points and 4.8 rebounds while the Bears set a school record with 28 victories and got within one win of making their first NCAA Final Four appearance in 60 years. Dunn, along with team leaders Tweety Carter and Ekpe Udoh, fell in the Elite Eight to eventual-champion Duke, 78-71, at Reliant Stadium in Houston.
He set single-season school records for points (704), three-pointers (116) and free throw shooting percentage (85.7 on 126 of 147 free throws).
Baylor (18-11, 7-8 Big 12) currently sits in seventh place in the Big 12 and is considered to be on the NCAA Tournament bubble.