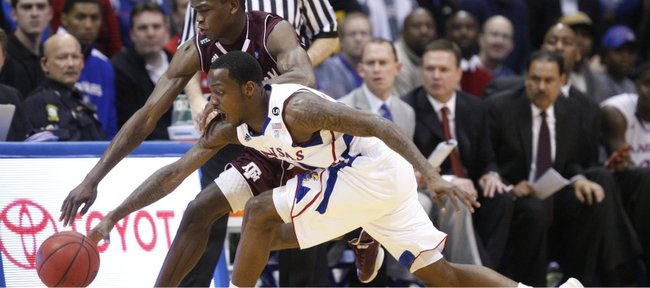 Kansas University basketball coach Bill Self said there won't be any changes in the starting lineup at the point-guard position for Saturday's game at Missouri.
For the third time in the last four games, KU sophomore Elijah Johnson will start for the Jayhawks.
In Wednesday's 64-51 victory over Texas A&M;, Johnson played 18 minutes, while junior guard Tyshawn Taylor returned from suspension to play 17 minutes.
"I thought Elijah played great down the stretch," Self said. "I thought Tyshawn played really well in the first half. Really well. He's our leading scorer and did some really good things."
Taylor started the second half for KU, but Johnson played the most important minutes.
Johnson checked in at the 11:45 mark of the second half and didn't sub out until the lead was secure with 59 seconds remaining.
"Don't read into (Taylor not starting) too much. He's going to play," Self said. "We need him to play well, especially against a team like Missouri that's got so much quickness and all that stuff, but I think Elijah, right now, really deserves the right to continue starting as long as he continues doing what he's doing."
Self was especially pleased with Johnson on the defensive end, calling him "terrific."
KU senior Tyrel Reed noticed Johnson's impact.
"He played great … changed the tempo, changed the whole outlook of the game," Reed said. "I think he's capable of doing that for us. Probably people weren't looking at him as a defensive stopper, looking at him as just an athlete — an offensive (player). He's really stepped up to the challenge and has done a good job."
Johnson's aggressive defense helped the Jayhawks to 11 steals — their most since the Baylor game on Jan. 17.
"We haven't done a good job of (ball pressure), I don't think, to this point in the year," Reed said. "But we've really got to get out and guard and defend. He's been giving us that extra edge. It's important for us to have those types of things — ball pressure — it just takes so much pressure off our bigs. We can't have (forwards) Markieff and Marcus (Morris) getting in foul trouble."
Johnson finished with two points on 1-for-2 shooting with three assists, three turnovers, three rebounds, two steals and a block.
Taylor scored nine points on 3-for-6 shooting to go with three rebounds, three assists, two turnovers and steal.