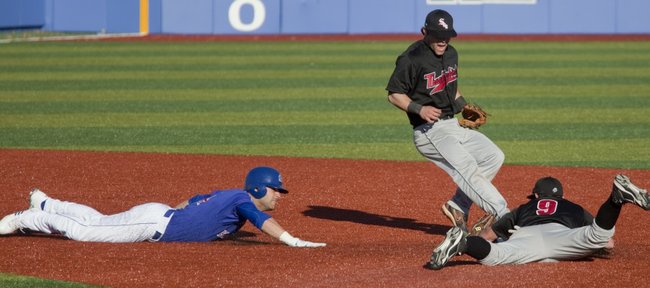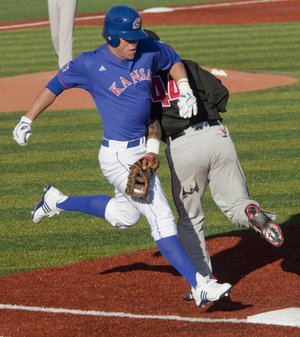 Southern Utah pitcher Chase Rezac sure left his mark on Kansas University's baseball team on Tuesday.
Rezac hit seven Jayhawk batters, including Brandon Macias three times, in KU's sweep of the Thunderbirds (2-1 victory, 5-1 victory) at Hoglund Ballpark.
Macias tied the school record in his three times getting plunked.
KU junior first baseman Zac Elgie led the offense, going 2-for-4 with an RBI double. Sophomore pitcher Thomas Taylor lasted 5 2/3 innings, allowing seven hits, walking one and striking out three.
The Jayhawks (4-3), winners of three straight, recorded their first doubleheader sweep since April 2009. Southern Utah dropped to 4-4.
Kansas put up eight hits in the nightcap: Elgie, James Stanfield and Jordan Brown had two a piece. Elgie's third double of the season broke a scoreless tie in the bottom of the third and gave Kansas a 1-0 advantage.
After Southern Utah tied the game in the top of the fourth inning, KU answered with two runs in the bottom of the frame on a squeeze bunt and throwing error.
KU's bullpen allowed just one hit over the final 31⁄3 innings. During the Jayhawks' four-game homestand, which began on Feb. 22, KU's pitching staff is sporting a 1.46 earned-run average. Starting pitchers have allowed one or no runs in all four starts.
In the first game, senior Wally Marciel tossed seven shutout innings, allowing three hits, five walks and five strikeouts in the longest outing of his career.
Kansas will take on UC Riverside at 5 p.m. on Thursday in the Surprise Classic in Surprise, Ariz.