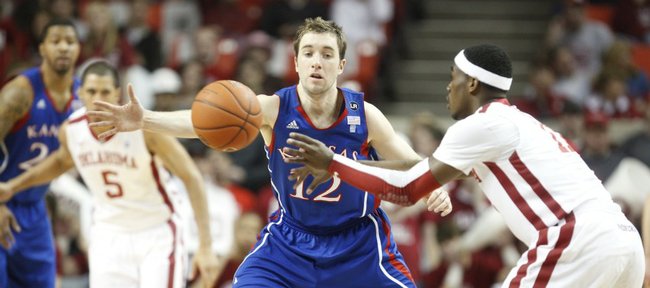 Videos
KU Seniors to play last game in Allen Fieldhouse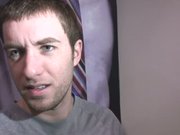 Wednesday's game against Texas A&M will be the last at Allen Fieldhouse for Kansas seniors Brady Morningstar, Tyrel Reed and Mario Little.
Brady Morningstar, who grew up in Lawrence, has listened attentively to countless Kansas University Senior Night speeches throughout the years.
His favorite of all-time?
It's one from the not-so-distant past.
"It's Sherron's, probably because I could relate to it," Morningstar, KU's 6-foot-4 senior guard out of Free State High, said of last year's tearful testimonial of Sherron Collins, the Chicago point guard who was embraced by the Morningstar family upon his arrival from the big city.
"I think when he first got here his freshman year ... I don't think he'd have been able to do that. He came a long way in four years," Morningstar added.
Morningstar — his Senior Night speech follows today's 8 p.m. game between KU (27-2, 12-2 Big 12) and Texas A&M; (22-6, 9-5) — figures to be just as emotional as his buddy Sherron's.
"I'm sure there will be some tears. I hope not, but I'm sure there will be," said Morningstar, who as a youth was a fixture in the Allen Fieldhouse stands watching games with dad, Roger, who played at KU during the 1973-74 and '74-75 campaigns.
"It just shows how much a place means to somebody when you are going to cry over leaving it. It'll be emotional. That's life. When you get attached to somebody and it's coming to an end, even though you knew it would ... you still don't like to see it coming."
Senior Night 2011 may turn into one of the most significant in school history if the Jayhawks are able to defeat KU grad Mark Turgeon's Aggies.
A victory would assure the Jayhawks of a seventh-straight conference title, best string in school history. KU also won six straight league crowns from 1922 to '27.
"It is a big deal," Morningstar said of being the top team in the league. The Jayhawks have won 10 of the 14 Big 12 regular-season titles and a nation's best 53 conference crowns overall. KU's six straight titles are second on the country's active list next to Gonzaga's 11 in the West Coast Conference.
"We control our own destiny. It's exciting, a good position to be in," Morningstar added.
Morningstar, who will start his eighth straight game tonight, has been a steadying force for the Jayhawks. He's averaged 8.6 points a game in league play off 53.2 percent shooting. He's made 51.1 percent of his threes with 56 assists versus 10 turnovers. Overall, he has 90 assists against 32 turnovers and averages 6.5 points a game.
"When I came here as a freshman, I didn't know how much I'd play," Morningstar said. He played sparingly in 16 games as a freshman, red-shirted, then started 34 of 35 games as a sophomore and nine games his junior campaign.
"I knew I wanted to be part of something special. As years have gone on and I've learned the game, gotten an opportunity to play and start making plays, it's the most fun in the world, especially in front of the fans we have.
"I may have surpassed expectations a bit just because I didn't expect to be starting three years and making a major impact. I knew I could, but didn't know if it'd happen or not. It's exciting. Now it's time to make the most of the last couple weeks of the season."
KU coach Bill Self liked Morningstar so much as a Free State High player, he was willing to bring Brady aboard and thwart his plans to attend New Hampton (N.H.) Prep School.
"Recruiting is such an inexact science. Brady lived just down the street. I never did an in-home visit. I saw him play one time in high school and thought he had a chance to be pretty good," Self said.
"He was recruited by a lot of mid-majors (as well as West Virginia) and made the decision to go to prep school. I got to the family and said, 'Are you sure you just don't want to just come to KU now?' I remember Linda (mom) saying, 'No, he made a commitment to go to prep school. That would be best for him.'
"It was best. Brady has basically been, even though he has been a sixth man, a three-year starter for us. He started all the games as a sophomore and some as a junior and senior, so he's been great."
In fact, Morningstar and fellow Kansan Tyrel Reed have come so far, "They've been to the point where if they don't perform well, we don't win," Self said. "There have been huge improvements in their developments since they got here."
Morningstar — he received his degree in communication studies last May — plans on playing pro ball somewhere next season.
"I think keeping on playing would be the most fun now," Morningstar said, acknowledging he's not sure what career path outside of hoops he'd pursue.
"I see Charles Barkley and those guys on TV, I would love to do something like that," Morningstar added of getting into broadcasting. "I feel to be on such a high level, TNT or something, you have to be an NBA veteran or all-star so people recognize you. I think that would be the most fun, you sit around a studio and talk about basketball. I'd like to stay around the game, maybe get into coaching later in my life, something like that.
"I've got no clue what's coming up. A lot of those decisions are made after the season is over. There's a lot of season left. We want to make it last as long as we possibly can."
More like this story on KUsports.com