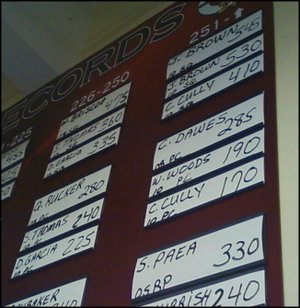 Oregon State defensive tackle Stephen Paea pulled off such an amazing feat Sunday at the NFL combine, by Tuesday he was telling a condensed, somewhat Hollywood version of his life story on Jim Rome's nationally syndicated radio show.
Rome and many others throughout the sports world expressed amazement at Paea's ability to bench-press 225 pounds 49 times, shattering the combine record by four reps.
Out in Los Angeles, Paea's cousin, former Kansas University and NFL defensive tackle Chris Maumalanga (1990-93 at KU), wasn't stunned. In Lawrence, Maumalanga's friend, Fred Roll, former KU strength coach who now puts Lawrence High football players through summer conditioning, didn't express shock. Neither did LHS football coach Dirk Wedd.
"So explosive," Wedd said of Paea.
Added Roll: "Not surprised at all."
How would they know?
Roll saw Paea play rugby before he ever came to the United States and immediately pictured him in a helmet and shoulder pads. Roll had lost his job as the KU strength and conditioning coach and visited his friend Maumalanga during the retired player's five-year stay in Tonga.
"Two American football freaks like Fred and me with no American football, we gravitated to the next-best thing: rugby," said Maumalanga, who got his uncle to get Roll a job training with a national Tongan rugby team.
Maumalanga and Roll visited Maumalanga's cousin Ramona and it was there that they saw Paea, Ramona's brother, playing rugby.
"This kid could fly," Roll remembered. "We needed to get him to America to play football."
Maumalanga told his relatives about what a great experience he had in Kansas and described it as, "heaven on earth."
Paea's mother was working in the San Francisco Bay Area and his father was living and working in Samoa. Maumalanga made arrangements for a visa, and Paea, his twin brother Will, their younger brother Pora, flew to San Francisco and in the summer before the 2004 football season, the three brothers and an older brother who would rent an apartment in Lawrence, were dropped off in town by their parents.
Scott Penny, who starred in football for LHS and as a hammer thrower at Oregon, is attending KU Medical School now. He was watching ESPN on Monday when he learned of his former teammate's feat.
"I remember lifting with him during our summer weights program," Penny said. "I think I got a better workout taking the weights off and putting them on for him than I did from my workout. He had never lifted before and he did five sets of squats with almost 500 pounds on."
Penny also remembered having the twins and their younger brother to his house.
"They had their Tongan tribal tattoos and we had them draw them on us," he said. "They did a pretty good job with Sharpies."
Paea had the strength to take to weight-lifting immediately. Learning to play a sport not played in Tonga presented a greater challenge.
"He had never played football and it was a long, hard process, getting him to understand the game," Wedd said. "By the end of the season, he was a pretty good player. He played tight end and defensive tackle."
Remembered Roll: "He was so raw, but you couldn't block him. He would get into the backfield every time and then he'd be like, 'OK, I'm back here, now what am I supposed to do?' He'd run by ball carriers."
Wedd expected a dominant senior season out of Paea, but the family had different plans. Their mother came to Lawrence and told her sons they would spend the next school year in Provo, Utah, where Paea attended Timpview High. After that, he red-shirted one season and played two at Snow College, where he received an associate's degree in December of 2007 and then signed with Oregon State. As a senior, he earned Pac-10 Defensive Player of the Year honors.
Roll, who said he listens daily to Rome's radio show, which airs locally on 610 Sports from 11 a.m. to 2 p.m., grew excited when he heard Rome promote that Paea would make his Jungle debut as a guest. After running errands with his wife, Roll got back into his car, drove home and pulled into his driveway, when Rome's 11-minute, 48-second interview of Paea started. Roll stayed seated in his driveway throughout the interview.
Swelling with pride, Roll quickly deflated and was disappointed in some of the things he heard.
During the interview, Paea said he arrived in the United States at 16 and couldn't speak any English.
"When he came here in the summer of 2004 his English was just as good as it is now," Roll said. "My wife's from Tonga. They don't let you graduate from high school in Tonga unless you can speak English."
Paea also said he never lifted weights until his senior year in high school, missing the mark there by a year-and-a-half. He also said he never played football until he was a senior, when in truth he played for Lawrence High as a junior.
Wedd chuckled when told Paea said he didn't know any English upon his arrival in the United States. Then Wedd pointed to the record board in the Lawrence High weight room, which showed that in the spring of 2005, Paea set a record that still stands with a bench press of 330 pounds.
Roll called Maumalanga to express disappointment that it seemed as if Paea had forgotten what both men had done for him. (Tuesday night efforts to reach Paea through the Oregon State sports information office and through Maumalanga were unsuccessful.)
"I just had a conversation with Stephen tonight," Maumalanga said. "If you talk to Stephen, you'll understand he's a pretty authentic guy. At the same time, you can recognize when he's been coached. I think sometimes in an interview, especially when someone isn't that comfortable in front of a camera or a microphone, he can just tell a condensed version and then just tell it so many times. ..."
It becomes too difficult to change it.
Orlando "El Duque" Hernandez, it routinely was reported, defected from Cuba in a raft, until it was learned later that it was a much larger, more comfortable vessel.
Regardless of the story, Maumalanga expressed pride at the decisions his cousin has made and the hard work he has endured to put himself in a position to get drafted in the early rounds.
"They didn't want to leave Lawrence, but they had to because of family finances," Maumalanga said of the Paea brothers. "The driving force behind what Fred and I did for the family was that we're passionate about football and love to help people."
Maumalanga said he also had visions of KU getting a pipeline of football players from Tonga.
"We wanted to find out and learn if it was possible for a rugby kid to excel at American football," Maumalanga said. "The end result is Stephen Paea proved that theory. Fred Roll and I proved it's no longer a theory. It's actually a fact. It's very easy to turn a big rugby player into an American football player."
On the Jim Rome Show, Paea talked about coming to the States to pursue the American dream. What he didn't say was that the pursuit of that dream started with him running on Daisy Hill on KU's campus and in the weight rooms at LHS during summer conditioning drills.