Videos
Bill Self weekly press conference, Feb. 28, 2011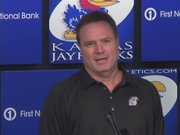 Kansas head coach Bill Self addressed the media at his weekly press conference Monday, Feb. 28, 2011 at Allen Fieldhouse.
O'Keefe Little, who delivers pizza in one of the roughest neighborhoods of Chicago, never has to dodge bullets while working his route.
"Nobody bothers me. It's because I'm Mario's uncle. Mario is a hero around here in the 'Wild 100s,''' said Little, uncle of Kansas University senior basketball player Mario Little.
"The Wild 100s" is a nickname for Roseland — Mario's old neighborhood, which covers 103rd to 119th Streets on the far South Side.
"Crime is down. The streets are clear whenever Kansas is on TV or the Bulls are on TV," O'Keefe said proudly.
O'Keefe and several other members of Mario's extended family will be about 500 miles from the mean streets of Roseland on Wednesday.
A group that includes Mario's mother, Margie, and 85-year-old grandmother, Hazel Lucille, will be in Allen Fieldhouse for the final home game of Mario's college career. KU will play host to Texas A&M in an 8 p.m. Senior Day battle to be aired on ESPN2.
"I just want to say Mario had no chance of making it in life without Kansas," O'Keefe Little said Monday in a phone interview. "Mario's classmates have fallen by the wayside in the ghetto. The streets here are where people die.
"There's gang life, drive-by shooters. If Mario had stayed in Chicago, he'd be involved in that. He's had friends shot, beaten to death, sentenced to prison.
"We tell him, 'You don't want to be here. We'd rather you be in Kansas and "Dorothy."'"
It hasn't been all smooth sailing in the Land of Oz — "I've had a couple bumps in the road, but I'm still here standing," said Mario, who received diversion for two misdemeanor battery charges in mid January.
Not proud of that situation, Mario is beaming over the fact he needs to pass just one three-hour math class to earn his KU degree in African-American Studies.
"Only one person has graduated out of my family, my cousin," Mario said. "My uncle has pushed me to graduate — to make my grandmother proud and all that."
O'Keefe and Hazel — she's yet to see a game in Allen; O'Keefe's been here before — helped raise Mario and push him through an especially turbulent time of his life.
"You know what is surreal for me," O'Keefe said, "I remember when Mario folded his arms in grammar school, got straight F's and said, 'I'm not doing nothing and nobody's going to make me.' His grandmother loved him and nursed him in summer school, told him how to unfold his arms and not be angry at the world and do his assignments. Somebody (mentor Tommy Dobson) gave him a basketball and said, 'You can't play the game if you do not make the grade.' He's not looked back since."
Mario Little admits attaining a college degree was not always a top priority.
"I didn't know what I was going to do in high school," Little said. "By my sophomore year of junior college, I figured I'd get a degree. I'm a good student," he insisted. "I don't start trouble, just maybe not always do my work or something. I'm not a bad student."
Little — he starred at Chicago's George Washington High, then moved on to become junior college player of the year his sophomore season at Chipola (Fla.) Community College — has been a key performer off the bench in his two seasons at KU. He also served a red-shirt campaign.
"I mean, I try to bring something to the table," said Little, more than willing to play the role of an undersized 6-6, 218- pound power forward, as well as wing.
"I like to get out on the defensive end and get other guys open looks. I try to play with energy.
"I (also) take a couple open shots," added Little, who averages 6.2 points a game off 51.9 percent shooting in 15.6 minutes a game.
Coach Bill Self likes to joke about Little taking A LOT of open, and guarded, shots.
"Mario's role is to give us a boost off the bench and to score if need be. He will certainly try his hardest to oblige," Self cracked.
On a serious note ... "He also give us an element of toughness. I think with Mario, this guy came in as a very heralded player. Then he had to have a rod put in his leg (surgery, April 2009) and fight through injuries and some obstacles. He's a team guy. He's my kind of guy. Mario is a tough winner," Self added.
This tough guy, who happens to play a mean keyboard and still performs for the congregation at Roseland Presbyterian Church on trips home, does not know whether he'll weep during pre-game introductions and/or his postgame Senior Night speech Wednesday.
"I never know with me. I don't know how I'm going to feel. I might be sad. I might be happy," said Little, who said he plans on peeking at a "notecard with bullet points" to make sure he doesn't forget anybody to thank. "I'm going to embrace it and try to focus on the game."
That might be hard to do with teammates/buddies Brady Morningstar and Tyrel Reed also taking part in emotional Senior Day activities.
"It means everything to me," Little said of KU. "When you first come here, coach Self tells you, 'You will not get it until you leave.' It's almost that time. I get it now. KU means a lot to me."
And to relatives such as O'Keefe.
"I'll be the guy in the stands with the sign that says, 'Bill Self For President,''' O'Keefe said. "KU has meant everything to Mario. KU has saved Mario.
"I need to stop now. This is making me cry," O'Keefe added, politely ending Monday's interview about Mario. "Mario is like a son to me. Mario never knew his dad. I tell him, 'an uncle is like a dad. You've got family.' He knows he's got family here and at KU."