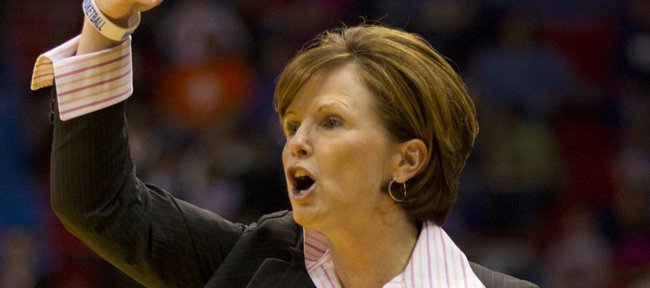 Your favorite local university not only has the best college basketball coach west of the Mississippi working for it, but for at least one year it also had the most overpaid college basketball coach on its payroll.
The first one's name is Bill Self, the second Bonnie Henrickson.
It took looking at a tax form, 990, filed by the Kansas University athletic department for the 2009 calendar year (fiscal year 2009-2010) to realize just what a sweet deal former athletic director Lew Perkins bestowed upon Henrickson, aside from football coach Turner Gill his most high-profile hire.
All Henrickson had to do during her first five seasons as coach of the program she inherited from Marian Washington was to avoid serious criminal activity, discreditable conduct and NCAA rules violations to set herself up for a (before-taxes) 2009 payoff in excess of $1.8 million, about $1.3 million of which was for making it through five years without getting fired for cause. Poor performance is not considered cause.
That's how much faith Perkins had that Henrickson would turn KU's women's basketball program into a winner when he signed her in March of 2004.
Seven years later, Bonnie hasn't taken a single KU team to the NCAA Tournament, never has finished higher than tied for seventh in the Big 12 and never has posted better than a 6-10 conference record.
At Virginia Tech, Henrickson coached the Hokies into five NCAA Tournament appearances in seven seasons. At Kansas, she's tried hard to match that success. Maybe she's tried too hard, put too many hours in, studied too much tape, overloading her players with far too much information. They expend so much mental energy trying to remember what they're supposed to be doing, they don't have any left to feel the game, to tap their creativity, to improve at a rapid rate.
Perkins has taken heat for many things that happened under his watch, but not for making what will amount to a very expensive mistake in hiring Henrickson, unless she finally turns it around.
Why no heat? First, Herickson's such a nice person and does so much good for non-basketball, charitable causes, she gets the benefit of the doubt. Second, her team generates so little interest, it's seldom in the conversation.
Teased too many times by strong nonconference performances, only to be let down in Big 12 play, the fan base understandably has grown suspicious of expecting too much.
In contrast, Henrickson's expectations never have been higher.
"I think we were two games away (from making the tournament)," Henrickson said. "As young as we were, offensively we made some progress. Defensively, we were worse than when we had less talent. I'm excited about the five freshmen we have coming in. Our recruiting class was ranked 27th, and some of the kids can help us in areas we need help."
Playing in the Big 12 makes it difficult to win, easier to recruit.
"I'm excited about the kids I'm on the phone with who I can't talk about," she said. "Really, really good players. They believe in what we're doing and think we have a lot to offer. They have great respect for the league we're in."