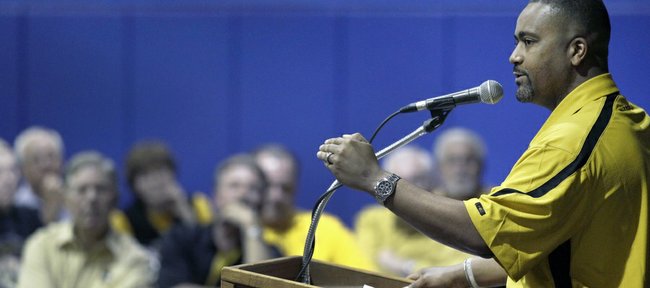 Columbia, Mo. — For new Missouri coach Frank Haith, freshmen can wait.
With four available scholarships next season and 10 returning players, Haith has recruited three Div. I transfers to fill out the roster he inherited after Mike Anderson left for Arkansas.
The latest recruit is former Pepperdine guard Keion Bell, who led the West Coast Conference team in scoring each of his three seasons. The 6-foot-3 guard from Los Angeles will sit out a year and has one year of eligibility remaining.
MU has also signed 6-foot-5 guard Earnest Ross, who was Auburn's leading scorer as a sophomore. He too will sit out this coming season but has two years of eligibility.
The Tigers' third recruit can play immediately. Forward George Goode, a 6-foot-8 Kansas City native, will graduate from Louisville this summer but has one year of eligibility left and will compete as a graduate student. He averaged 2.9 points and 1.4 rebounds last year as a reserve at Louisville, where Missouri assistant coach Tim Fuller was an assistant for one season.
With all but one of last season's top nine players returning, Haith is recruiting not just for the 2011-12 season but for 2012-13. That's when the Tigers will lose six of those players, along with Goode.
Missouri initially had three scholarships to fill when Haith was hired in April after seven seasons at Miami. A fourth roster spot opened this month when freshman reserve Ricky Kreklow, a hometown prep star at Rock Bridge High whose parents coach Missouri's volleyball team, decided to transfer.
"Ricky's a wonderful young man. I would have loved to coach him," Haith said in an Associated Press interview. "But I totally understand his feelings, wanting to get away from home a little bit."
NCAA rules prohibit Haith from talking publicly about recruits, but his track record suggests that Missouri's final roster addition will also come from the transfer ranks. In his first year at Miami, Haith said, he had three available scholarships but initially didn't sign any newcomers.
"We're going to get freshmen," he said. "There's no doubt about it. But right now, I don't want our roster to be so bare next season, losing seven guys with only three returning."
With many of the top high school players already committed by the time he arrived in Columbia, Haith had no interest in signing a younger player just for appearance's sake.
"I saw those high school kids out there," he said. "There just wasn't a good fit for us."
Ross, who was recruited by Haith out of high school, averaged 13.1 points and a team-high 6.6 rebounds a game for Auburn.
Bell was an even more prolific scorer at Pepperdine, averaging 18.9 points before he was sidelined by injuries and a season-ending suspension after 20 games.
For Haith, recruiting battle-tested players allows him to both mold the team in his image but also build upon the foundation left by Anderson, who led Missouri to three consecutive NCAA Tournament appearances and a school record 31 wins in 2009.
More like this story on KUsports.com