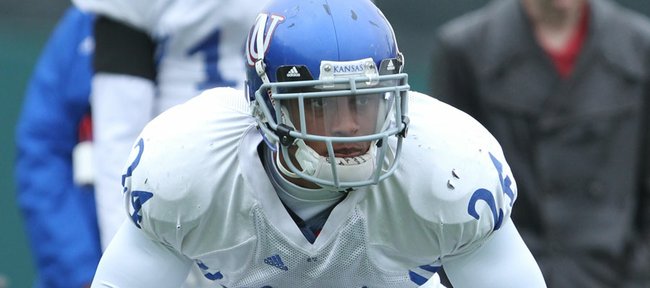 Last month, the Ohio State University football program was rocked by investigations into improper benefits and an alleged cover-up stemming from a tattoo-parlor scandal that involved some of the team's highest profile players.
Five-game suspensions to kick off the 2011 season were dished out to five players, including standout quarterback Terrelle Pryor, who has since left the team. Head coach Jim Tressel, the man who led the Buckeyes to their first national championship in more than 30 years in 2002, resigned.
While the temporary downfall of the mighty program unfolded hundreds of miles away from the Kansas University campus, at least one player on the current KU roster kept an eye on what was happening in his home state.
During high school, safety Bradley McDougald, of Dublin, Ohio, originally committed to Ohio State. He later changed his mind and chose Kansas because of the opportunity to play wide receiver, which he did during his first two seasons in Lawrence.
Today, McDougald is back at safety, projected as a starter for the Jayhawks this fall. While his place on the field takes him back to his high school days, the current state of the OSU program is vastly different than what he experienced while being recruited by then-Buckeyes assistant and current interim head coach Luke Fickell.
"In Columbus, (Ohio), I feel like Ohio State football and basketball might be looked at as a professional team," McDougald said.
That's why it didn't surprise him much to hear about the mess the Buckeyes found themselves in during the past six months.
"When you have a team like Ohio State and you have the fan support they have, so much attention is given to those players," McDougald said. "When you give college athletes the attention they were given, I could see how things like that could happen."
Though he chose to play ball at a different school, McDougald maintains friendships with several members of the Ohio State team. He has talked to a few of them in recent weeks, and what he has heard sounds a lot more like a team that's united, not divided.
"They're just using it as fuel to work hard in the offseason," McDougald said. "Now that everybody thinks they're down and everybody thinks they're the bad guys, they're just looking at it as adversity, just another step for them to overcome, another little speed bump. They're using that as motivation."
Though Fickell was the lead recruiter for him in high school, McDougald had a couple of opportunities to talk with Tressel. What he remembers is a man who racked up 106 wins in 10 years in Columbus and was beloved in Buckeye-land more than the man many painted as an out-of-control tyrant who tried to hide improprieties from the NCAA.
"One thing I can say, he'll shoot you straight," McDougald said of Tressel. "He cares about the people around him, he's a nice guy, and he definitely loved Ohio State, there's no doubt about that. I always thought he was a good guy, and he's definitely a good coach who knows how to win."
Currently up 10 pounds from last year's playing weight, McDougald, a 6-foot-1, 205-pound junior, said he spent the offseason trying to fine-tune his skills at safety. After playing the final two games of 2010 at his old position, the Ohio native who caught 52 balls for 558 yards and a touchdown during 2009 and 2010 is looking forward to playing defense full-time this season.
"In some of my first interviews, when people asked me why I chose wide receiver over defense, I just told them that I felt like the timing was wrong at safety," McDougald said. "I didn't feel like I was big enough to play and be really effective my freshman year. But I felt like I could do that on the offensive side of the ball, even at my size."
Though switching over was different at first, McDougald now believes he's where he belongs.
"I definitely feel like that," he said.