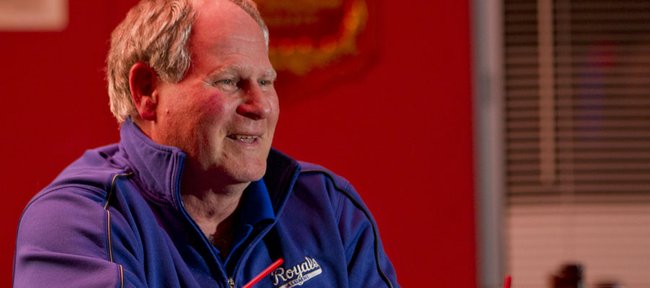 Escalating fuel prices don't make the hourlong drive from Lawrence to Kauffman Stadium any easier, even for those who can afford to invest so much time commuting. Those who can't just might feel as if they are in the middle of a major-league baseball game by pulling up a stool next to Marty "Duck" Pattin, who spent 13 seasons as an American League pitcher.
On Thursday nights, the American Legion hall is the best place to find Pattin, where he often listens with friends to The Junkyard Jazz Band. Every now and then, he'll pop up at The Shenago Lounge, regaling fellow patrons with tales from his seven seasons with the Kansas City Royals, his fifth and final team. He used to be a fixture at the Alvamar driving range, though he's not there as often these days because it's taking him longer to recover from his left-knee replacement than it did his right-hip replacement.
Pattin, 68, is one of the hidden treasures of Lawrence, which he has called home for nearly 30 years. The second of just five Kansas University baseball coaches since 1954, Pattin (1982-87) succeeded Floyd Temple and preceded Dave Bingham. Pattin moved the family to Lawrence to start the job and put down roots.
"Hello," he said, when he answered a recent phone call, "this is your friendly mallard, The Duck."
And friendly he is. Approachable, too. Introduce yourself to him, receive his firm handshake, ask him a question about his playing days, staring down the likes of Mickey Mantle, Reggie Jackson, Frank Robinson, and in spring training, Willie Mays. Then sit back and enjoy the trip back in time. Before joining Pattin on a storytelling journey to a magnificent baseball era, a look at humble beginnings that helped the man reach his lifelong dream is in order.
His parents divorced when he was 5. Marty, his brother and sister were raised by relatives, spending most of their time under the roof of their grandparents in a small home in Charleston, Ill., alongside the Illinois Central railroad tracks on which steam locomotives chugged past the family apple orchard.
Marty's daily routine as a child: Awakened at 5 a.m. by the aroma of Grandpa's biscuits and gravy, then off to do his paper route. Bike to school, bike home, feed the coal into the stove in the living room that heated the house. Bike to practice for whatever sport was in season and bike back home. Every four or five days or so, head to the Phillips 66 filling station with a baby buggy featuring a five-gallon can where the carriage used to be. Fill it with kerosene to fuel the kitchen stove, try to miss the ruts in the road on the way home so that half of it doesn't spill. Cut the grass with a push mower.
"We always had food on the table, never went hungry," Pattin said. "Grandma worked at the Brown Shoe Co., about three miles from our house, for 40 years. She'd walk to work and back, six miles a day, for 40 years."
Baseball games played on the street, a taste for mischief and a fertile imagination enabled Pattin to develop his gifted right arm.
"Nobody in the neighborhood messed with me because if they got me mad, I was deadly from a block away with a rock," Pattin said. "I stopped three freight trains. I'd hit 'em and hide behind the outhouse."
An indoor bathroom didn't come until Pattin drew closer to high school. Years before that, in his mind, he already pitched in the big leagues, facing the hitters he read about in the newspaper.
"I had a little shed at my grandmother's house and I would pretend I was Whitey Ford and I was facing Mickey Mantle," Pattin remembered. "Little did I know when I was peppering the target on that shed with apples I'd ever get to face him."
Never mind that Ford was a lefty and a teammate of The Mick's. Dreams don't follow rules. That's why they're dreams. Pattin idolized Mantle from afar. Closer to home, it was his older brother and their cousin, Denny Roy Walker, two of the better local teenage baseball players, that he emulated. Walker, who lived in nearby Mattoon, Ill., died in a motorcycle crash at age 16, but his spot-on impersonation of Donald Duck lives on through his cousin Marty.
"I tried and tried and tried and then one afternoon, I got it," said Pattin, who never lost the ability to talk like a duck.
When Pattin shared his plans with a high school teacher to attend hometown Eastern Illinois University, she said she didn't think he would study enough to earn a diploma. When he did, he returned to the high school to show her the piece of paper.
Walt Warmoth, a local philanthropist who owned restaurants, told Pattin he need not worry about tuition. Warmoth put him to work in Walt's Cafe for 30 to 40 hours a week. The highlight of Pattin's time at EIU came when he married his sweetheart, Vera, at the Methodist Church in Charleston. The coach made sure the entire team showed up. At the end of the ceremony, the players lined up on both sides of the steps to form an arch with baseball bats. The newlyweds walked through it to 37 years of happiness, much of it raising their two sons. Vera died of cancer in 1996 and Marty remarried about five years later. His second wife, Joy, was taken by cancer two summers ago.
Pattin's secondary highlight at Eastern Illinois came when he struck out 22 batters in a game. Still, a scout from the Philadelphia Phillies was unimpressed and shared with the 5-foot-11 Pattin that he didn't consider him a major-league prospect because he was too short. Pattin's fastball, delivered after a high leg kick, was anything but short.
"I ran into him many times through the years," Pattin said. "I didn't say anything to him. I didn't have to."
The California Angels chose Pattin in the seventh round of the first amateur draft, in 1965. He made his major league debut May 14, 1968, at age 25. Three months to the day later, he faced his boyhood idol at Anaheim Stadium. Mantle's body and skills had eroded and he was playing first base in his final season, but he still batted third and still struck fear into pitchers.
"I worked him to 3-and-2 and then my knees actually started shaking," Pattin remembered. "I said to myself, 'Mick, it's either you or me. My best pitch is a fastball, so here it comes.' So I reared back and I threw him a high fastball as hard as I could throw it. He swung and missed it. Man, I could have floated off that mound. That was the greatest thrill. As a kid, I dreamed about that so many times and then to actually do it ... "
A year later, Pattin pitched for the expansion 1969 Seattle Pilots, the only season the team existed before moving to Milwaukee as the Brewers. Pilots teammate Jim Bouton rocked the baseball world in 1970 with a tell-all book he penned during the '69 season. Many ballplayers ostracized him for breaking the code of silence that covered off-the-field activities. Pattin, mentioned several times in the book, didn't go that far, but he expressed mixed emotions about Bouton's "Ball Four."
"Every time you started talking, you'd see Bouton over there writing what you're saying," Pattin said. "We didn't know what to think at the time. I've never read the book completely through. He depicted a lot of guys in there who were my childhood idols, like Mantle. I just didn't like the way he portrayed other players. He was no saint himself, if you know what I mean."
Still, Pattin said he enjoyed seeing Bouton two years ago at an autograph session. Then Pattin laughed when he recalled Bouton getting knocked out of a game in the first inning.
"He goes up to (manager) Joe Schultz and says, 'Hey, Joe, mind if I go down to the bullpen and work on my knuckleball?' Joe says, 'I don't give a bleep, bleep. You can go down there and bang your head against the wall for all I care.' We had some characters on that team," Pattin said.
After Pattin threw 264-2⁄3 innings, nine complete games, five shutouts, made the AL All-Star team and won 14 games with a 3.13 ERA for the '71 Brewers, he was shipped to the Boston Red Sox in a 10-player trade. During two seasons with Boston, Pattin teamed with three Hall of Fame ballplayers: Carlton Fisk, Orlando Cepeda and Carl Yastrzemski.
On Cepeda: "He had the biggest bat I'd ever seen. I almost couldn't lift it. In fact, I've still got it."
On Fisk: "Pudge wouldn't say a whole lot. He was a brash rookie. He'd come out to the mound just to get on me. He'd say, 'When are you going to put the ball over the plate, Martha?' I'd say, 'Bleep you! Quit calling me Martha!'"
On Yastrzemski: "One year, I lived with Yaz for about three or four weeks until my wife got to Boston. He'd take me to all the (Bruins) hockey games. Man, could he play. He'd pick that sucker off that Green Monster, throw it to second and keep that runner at first. He knew every nook and cranny in that thing. He knew exactly where it was going to fall. He was a good team guy. First one to the ballpark."
And a prankster.
"Yaz, (Gary) Peters, (Luis) Aparicio, we all kind of hung out together," Pattin said. "(Luis) Tiant was our victim. He'd have a big, old cigar he'd be smoking in the whirlpool, reading the paper. Yaz would sneak up under there and light his newspaper on fire. Next thing you hear is, 'You son of a beach!' Had a lot of fun with those guys."
Pattin retired after going 43-39 in seven seasons with the Royals, throwing his final pitch in the 1980 World Series.
The late Hall-of-Famer Harmon Killebrew, who hit more than 40 home runs in eight seasons for the Washington Senators/Minnesota Twins organization on his way to 573 career homers, spent the final year of his career with the Royals.
"Just a great guy to be around," Pattin said. "He loved his ice cream. He and Fran Healy were always going out for ice cream."
During his time with the Royals, Pattin developed a fondness for another Hall of Fame player, third baseman George Brett, whose clutch hitting and mischievous sense of humor made him an ideal teammate in Pattin's eyes. For one play, memorable for all the wrong reasons, the feeling wasn't mutual. During multiple rain delays in Milwaukee, Pattin told manager Whitey Herzog he felt fine and wanted to continue pitching. His body was willing, but his mind betrayed him when The Duck didn't duck.
"After about the fourth rain delay, a guy hits a little check-swing down to third base," Pattin said. "George fielded it just like Brooks (Robinson), one-handed, one swoop and threw the ball. I'm standing on the mound and for some reason I reached up and I snagged the ball. I went to throw it and the guy's already standing on first base. Whitey says, 'I have seen it all now.' George says, 'Dad-gummit, Ducky, I make the best play I ever made and you cut the son of a buck off.' Can you imagine having to explain that one to the sportswriters?"
Pattin was sitting at The Shenago one night last year when a friend called to inform him Zack Greinke inexplicably had cut off a throw from the second baseman to home plate and Royals announcer Ryan Lefebvre marked the occasion by saying, "Ducky, after all these years, you're off the hook."
Speaking of hooks, Pattin shared a story of the first time he took his and Vera's first son, John, on a Royals road trip. Brett, now a happy husband and father, was then a happy bachelor.
"John was 8 when the road trip started and when he came off it, after Jamie Quirk and George got done with him, he was 19," Pattin said. "That fall, when we came back home to Charleston after the season, I get a call from John's third-grade teacher, Mrs. James."
Mrs. James had asked the children in the classroom what they had learned over the summer. John Pattin's hand shot up.
"George Brett taught me how to take a girl's bra off with one hand behind my back," John said.
Marty and Vera went to the school to apologize to Mrs. James.
"She just started laughing," Pattin said. "All three of us had a really good laugh."
Without Bouton breaking the ice with "Ball Four" in 1970, Pattin might never have felt comfortable telling even a harmless story such as that. Pattin never made the money Brett did playing baseball or Bouton did writing about it, but he voices no regrets.
"Sure it would be nice to play in this day and age and make all the money these guys make," Pattin said. "But they didn't have near the fun I had. I don't care how much you make, it doesn't take away the fact that I played on four division champs, in one World Series, made an All-Star team. All the money in the world could not buy me that."
On April 6, The Duck spent his birthday on a pond in Illinois near his boyhood home, a fishing pole in his hand, so many fond memories keeping him company.