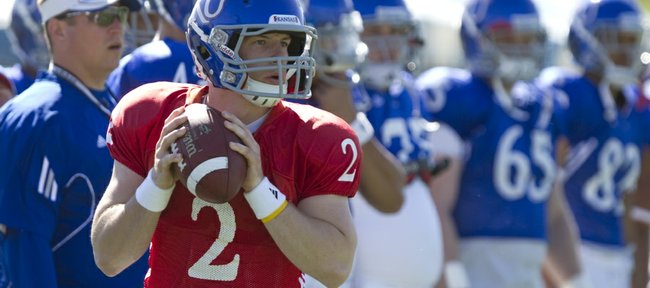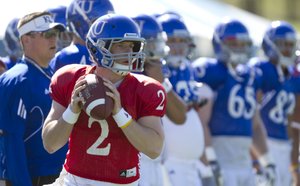 Quarterback.
It's the one position on a football team that can make or break a season.
It's also the one position on the Kansas University roster that has more questions than answers.
Three guys who took snaps for the Jayhawks in 2010 return in 2011, but only two of them return as quarterbacks. Jordan Webb — 1,195 yards, seven TDs and eight interceptions last season — and senior Quinn Mecham will enter fall camp as the leaders in the race to become KU's starting quarterback this fall.
Kale Pick, the junior from Dodge City who won the job heading into 2010 but attempted just 36 passes at QB, returns this fall as a wide receiver.
Word from the KU camp is that Webb emerged from spring ball with a lead over Mecham. After delivering up-and-down performances throughout 2010, Webb appears to have matured and improved quite a bit in the offseason.
KU coach Turner Gill said Webb displayed more confidence and poise throughout the spring.
Offensive coordinator Chuck Long said the third-year sophomore from Union, Mo., learned from his first year as a starter.
Though Webb and Mecham took most of the first-team reps during spring drills — red-shirt freshman Blake Jablonski also got a few snaps — they'll welcome a couple of newcomers into the battle when preseason camp opens in August.
Freshmen Brock Berglund, of Highlands Ranch, Colo., and Michael Cummings, of Killeen, Texas, will hit campus looking to compete for the starting job right away.
Gill and Long have said both will get the chance to prove they deserve the job, but the guess here, in Part Two of the Journal-World and KUSports.com's position-by-position summer breakdown series, is that neither will be able to unseat the incumbents.
Here are our lists, from football beat writer Matt Tait, sports editor Tom Keegan and KUSports.com online editor Jesse Newell.
Matt Tait's list
Jordan Webb: The best of the bunch — for now. Deserves a ton of credit for improving dramatically in the offseason.

Michael Cummings: This is the quarterback of the future the KU coaches had in mind when they got here. Knee injury changed things a bit.


Brock Berglund: Excellent prospect with unlimited potential. Will he be able to put odd offseason behind him and start making plays?

Quinn Mecham: Exactly the kind of guy you want in a backup role. However, as a senior, the coaches can't afford to give him many snaps unless it's absolutely necessary.

Blake Jablonski: If ever forced into action, he could handle it. Odds of that happening? Slim to none.
Tom Keegan's list
Jordan Webb: Time for him to hand off more often and throw fewer passes. Run, Jayhawks, run.

Quinn Mecham: No mobility and no arm strength, but he's a smart decision-maker and an accurate short passer.

Blake Jablonski: If only his arm were as strong as it is accurate.

Brock Berglund: Getting ranked behind a walk-on here should give him plenty of time to sit and think about what a poor decision he made when he blew off spring football.

Michael Cummings: Wearing a red shirt will give his knee time to heal from surgery. Mobile with a strong arm, he has a shot at developing into the QB of the future.
Jesse Newell's list
Jordan Webb: Best of a weak position; showed improvement in spring game.

Quinn Mecham: Has experience on his side, but still too fidgety in pocket.

Brock Berglund: Lots of potential, but will be playing catch-up after deciding to go back home instead of staying at KU in spring.

Michael Cummings: Sounds like he's making progress from torn ACL, but still should be behind three above him.

Blake Jablonski: Had a good spring game but is clearly behind the other four.
Journal-World Consensus Top 5 Quarterbacks
Five points awarded for first, four points for second, three points for third, two points for fourth and one point for fifth.

Jordan Webb (15)

Quinn Mecham (10)

Brock Berglund (8)

Michael Cummings (8)

Blake Jablonski (5)