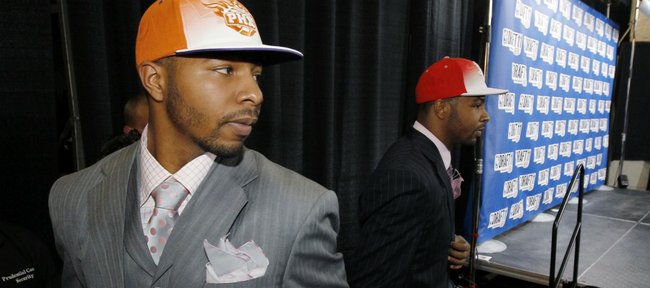 Videos
2011 NBA Draft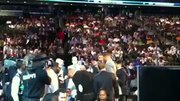 Markieff Morris was taken 13th overall by the Phoenix Suns in the 2011 NBA Draft. His brother Marcus was drafted by the Houston Rockets with the very next pick, at 14 overall.
New York — There are a lot of reasons for former Kansas University forwards Markieff and Marcus Morris to be encouraged about the fit associated with them being taken 13th by Phoenix and 14th by Houston, respectively, in Thursday night's NBA Draft in Newark, N.J.
Style of play, number of quality big men on each team's roster and chemistry with the club all are among the positives.
But KU assistant coach Danny Manning, the No. 1 overall pick in the 1988 draft who was in Newark on Thursday night, pinpointed a couple of lesser-known reasons for the twins to be thrilled with their new teams. Trainers.
Manning, a former all-star who played 15 seasons in the NBA, has strong relationships with both the Suns' and the Rockets' head trainers. When talking about them at Thursday's draft, Manning could not hide his smile, which may have crossed his face because of fond memories, the thought of what the Morris twins are in for or both.
"These guys are in great hands," Manning said. "I know both of those trainers very well and they'll take good care of these two. They're going to two great cities and I'm very happy and proud and excited for both of them."
During his career, which began with the Los Angeles Clippers, Manning played five seasons in Phoenix, averaging 13 points or more per game in four of them. Though he didn't want to make Thursday's excitement about him, Manning couldn't help but be a little extra pumped for Markieff, who now will follow in Manning's footsteps with the Suns.
"I've got some ideas for him as far as areas to live in and restaurants to eat at," Manning said. "But more than that, I'm just happy for him because it's a nice step in his journey to play at the next level, which starts now."
That's no joke, even if it might have been unimaginable a few years ago.
"What amazes me about these guys is that they wouldn't have been on anybody's radar three years ago," KU coach Bill Self said.
After an intense couple of days in the Big Apple, both Morris twins left New York for their new homes on Friday. Before boarding their planes, they shared their thoughts about the franchises for which they'll soon suit up.
In Phoenix, Markieff will team with former NBA MVP Steve Nash, a point guard known for turning big men into all-stars.
"He's a great player and he makes his bigs good," Markieff said of Nash. "I think me playing with him is going to make me a lot better. I'm just ready."
In Houston, Marcus joins a young roster full of up-and-coming talent, including Kevin Martin, Courtney Lee and fellow-Philly native Kyle Lowry. Like his brother, Marcus also is looking forward to learning all he can from the Rockets.
"I feel good about playing with those guys," Marcus said. "I'm just going to feed off of them and add to their offense and just do other things, too."
One of the tougher elements of both Morris twins joining teams in the Western Conference are the multiple guaranteed matchups against each other next season. The 2011-12 NBA schedules aren't out yet, but the Rockets and Suns faced each other three times last season. After spending their entire lives on the same team, are the twins ready to be rivals?
"No," Marcus said. "But, I mean, we've got to. I'm going to see him a lot. I hope I don't have to guard him or he don't have to guard me. But basketball is basketball and we are both competitive guys so we're just going to get after it."