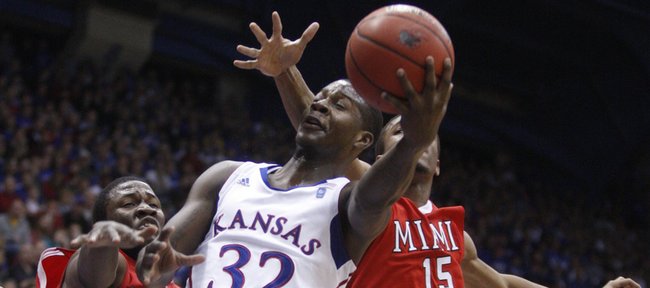 Josh Selby's post-season, pre-draft tour took much the same path as his short time in the Kansas University basketball program. It started with so much promise, veered off path and wound up in the ditch.
Selby drew raves for his initial individual workouts from NBA teams, shot up into the middle of the first round in many mock drafts, talked about leaving bad Kansas memories behind him. Now, if he's honest with himself, he must wish he had Kansas in his future. Big if.
Shortly before Thursday night's draft, a league source said Selby's stock had slipped because his foot had not healed properly and there was concern he might have "weak knees." When your only memorable college performance comes in your debut, it doesn't take much to give general managers weak knees.
Second-round draft choices don't get guaranteed contracts and first-round picks do. Selby could have played his way into the first round if his body and body language became healthier as a sophomore at Kansas. Instead, he quit on the whole idea that he needed college basketball to grow as a player and person.
No way Selby improves as much sitting the bench in Memphis or fighting for playing time in the Developmental League as he would battling in Bill Self's intense practices, playing high-pressure games and trying to lead a young team. The needed personal polish he could have attained from attending classes and interacting with students might have helped him in life.
Yet, the silly rule set in place by the NBA allows colleges to be used by professional basketball for a year to test and market the future talent gives Selby the chance to leave college basketball without leaving or taking anything from it.
The one-and-done NBA rule and the vast majority of players who take advantage of it make a mockery of the first half of the student-athlete phrase so often uttered at NCAA Tournament press conferences.
In contrast, Marcus and Markieff Morris grew as men and basketball players during their three years in Kansas. If they never earn degrees, that doesn't mean they didn't get as much out of their experience as students who walk the hill do.
Selby might suit up for some Grizzlies games, though the D-League, home of plenty of bad body language, appears a more likely destination. The Grizzlies lone 2011 draft pick, Selby has a shot to beat out reserve guard Ish Smith. Who?
Precisely.
Selby's slip supplied suspense to ESPN's telecast, especially when, with the 45th pick, the New Orleans Hornets selected Josh ... Harrellson.
Markieff Morris getting taken ahead of Marcus qualified as a mild surprise, as did Selby's drop all the way to 49th.
The most predictable draft development: ESPN's Jeff Van Gundy was the star of the night.
Nothing about Van Gundy, from his common-sense to his candid humor, screams TV guy. He throws out great questions in down-home sports philosopher fashion, such as: "Why do players get in shape after the season?" And: "Why in the draft room do they clap after their pick? They knew who they were picking. Why do they clap?"
Will anybody ever clap for Selby the way so many did during the USC game in Allen Fieldhouse?
More like this story on KUsports.com