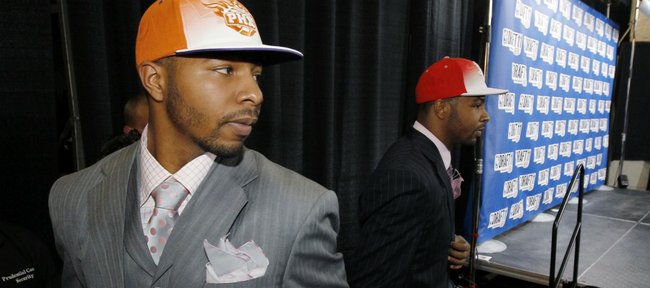 Videos
2011 NBA Draft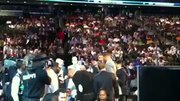 Markieff Morris was taken 13th overall by the Phoenix Suns in the 2011 NBA Draft. His brother Marcus was drafted by the Houston Rockets with the very next pick, at 14 overall.
Kansas University basketball coach Bill Self said he felt honored to share a special Thursday evening with the Morris twins and their mother, Angel, in the 2011 NBA Draft Green Room at The Prudential Center in Newark, N.J.
"Marcus' reaction when Markieff got picked ... I thought that was so cool," said Self, referring to former KU forward Marcus Morris wiping away tears when his brother, Markieff, was selected No. 13 overall by Phoenix.
It didn't take long for Markieff to return hugs to his twin, who was taken one pick later — No. 14 by Houston.
"It was great. It was great," Self added. "It wasn't an intense table. Angel was certainly relaxed and the twins seemed relaxed. They were happy. I mean they were ecstatic where they ended up."
Quite a while later, KU freshman Josh Selby, who did not make the trip to Jersey for the draft, was tapped No. 49 overall, by the Memphis Grizzlies.
"We were sitting there talking. I said, 'If you can go anywhere, where would you want to go?' Marcus told me, 'I love Houston,' and Markieff told me, 'I love Phoenix,''' Self said. "They ended up with the franchise they wanted to be with. I think Marcus hoped he'd go a little bit higher, but I think it turned out great for him.
"And Josh ... even though he didn't go until the second round, he gets hooked up with a couple Kansas guys in Xavier (Henry) and Shady (Darrell Arthur). I think that will be an up-and-coming team Josh will be able to impact as well."
Self said he had not heard rumors that there were some concerns about Selby's recovery from his foot injury at KU.
"I don't know anything about that," Self said. "I know we went through it with Shady. He supposedly had a kidney thing and word spread and next thing you know his stock fell (even though there was nothing wrong with him). I don't know if anything like that was going on with Josh."
Self said he was a "little surprised" Markieff went ahead of Marcus in the draft.
"But that's one of the most overrated things," Self said. "It's about the team with the need, Houston needing a combo forward and Phoenix a legitimate four man. Markieff fit that bill better than Marcus when they talk a legitimate four man that can defend the five.
"I think Marcus was on the board with more people and had a chance to go higher than Markieff, but I think Phoenix was certainly locked in on Kieff."
Twin figures
Markieff Morris will make $1,649,300 next season followed by $1,773,000 and $1,896,600 the following two years. Marcus Morris will make $1,566,900 next year, followed by $1,684,400 and $1,801,900. Josh Selby's contract will not be guaranteed. He'll have to make the team to be paid.
Marcus vs. Mario
Marcus Morris' Houston Rockets will face Mario Chalmers' Miami Heat in an exhibition game on Oct. 15 at Sprint Center in Kansas City, Mo. Tickets go on sale today at the Sprint Center website.