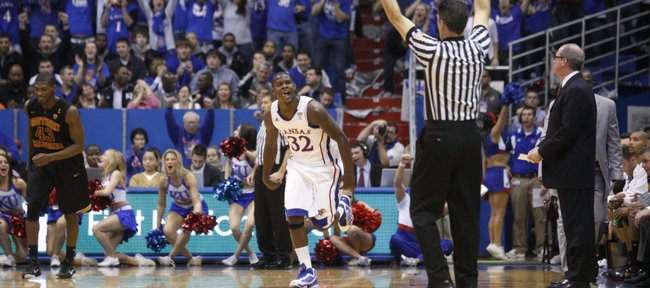 Keegan's picks
Marcus Morris: 9th, Charlotte Bobcats
Markieff Morris: 11th, Golden State Warriors
Josh Selby: 42th, Indiana Pacers
Let's pretend that a day after Josh Selby executed that oh-so smooth pass-fake to the right corner and then buried the beautiful three-pointer to defeat USC in December the NCAA stepped in and decided it wanted to suspend Selby for the rest of the season.
Where would you have picked him in today's NBA Draft?
Lottery pick. But it didn't happen that way, so where do you pick him now if you're an NBA general manager?
Second round, but since I'm not an NBA general manager and neither are you, it's still possible he could go as early as the middle of the first round. He's one of the toughest calls on the board because he came out of high school with so much hype, and after getting a late start and suffering an injury, he fell so far behind he never could catch up. His confidence was shot, which in turn meant his shot was shot too.
Since we get just one shot at guessing right in the KUsports.com NBA draft contest for a chance to win $100 in KU gear, I'm going to assume Selby really has dropped in the draft and it's not just the result of a team that wants him spreading that rumor so that other teams can feel safe passing on him early and getting him later. Since I really want to win the contest even though I'm not eligible for the gift certificate because I'm an employee, I figure the best strategy is to make one of the three picks an extreme one. That way, if the long-shot comes in, you're in good shape. With that in mind, I guessed Selby would go with the 42nd pick to the Indiana Pacers.
The contest, by the way, ends at noon today, so log on and fill out the form.
Now that one of my picks was extreme, I can play it safe with the other two. I had Marcus Morris going ninth to the Charlotte Bobcats, his twin, Markieff, getting snagged two picks later by the Golden State Warriors.
Why Charlotte for Marcus? The Bobcats need to beef up their scoring and rebounding and they can do that in one pick by taking the most versatile forward in the draft.
Picking Markieff to go to the Detroit Pistons at No. 8 would be a nice extreme pick and the Pistons reportedly are high on him, but with post defense ranking as their No. 1 need, Tristan Thompson would seem like a good way for them to go. So I went with Golden State, picking 11th. The Warriors — wisely, they didn't change their nickname to Golden Eagles — need to get tougher inside and Markieff developed into a tough rebounder at Kansas to go with his shooting and passing skills.
The KUsports.com NBA draft contest offers a particularly interesting challenge this year because of the wild swing of opinions on the three Jayhawks. For example, David Aldridge has Markieff Morris going 17th to the New York Knicks, Marcus Morris 26th to the Dallas Mavericks and Selby 28th to the Chicago Bulls. If Marcus goes only two picks ahead of Selby, I'll write a column advocating the Warriors change their nickname to Golden Eagles.
NBADraft.net has Marcus going ninth, Markieff 13th to the Phoenix Suns and Selby 36th to the New Jersey Nets.
At 6:30 p.m., mock drafts become irrelevant and mocking the draft picks begins. Shortly after that, someone will pull a Darko Milicic.
More like this story on KUsports.com