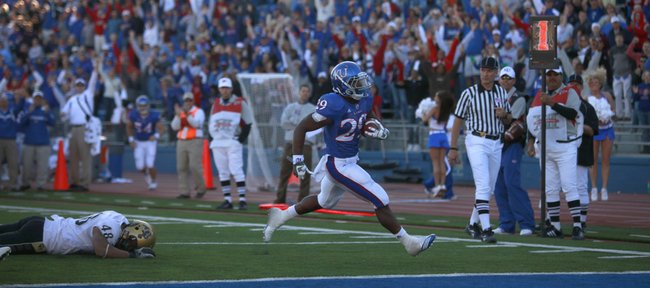 Coaches and analysts alike have said that running back is the strongest position on the current Kansas University football team.
There's a reason for that. KU coach Turner Gill, now in his second season in Lawrence, believes strongly in controlling games with a sound rushing attack and steady defense.
That much he proved a year ago when, saddled with three quarterbacks with little or no experience, Gill turned to the ground game in an attempt to keep the Jayhawks in ballgames.
At times, that was a struggle. But born from that mindset was the emergence of James Sims, a sophomore-to-be who led the Jayhawks in rushing in 2010 and returns in 2011 as KU's top threat.
Today, we give you our first installment of a weekly summer position breakdown in which KU football beat writer Matt Tait, sports editor Tom Keegan and online editor Jesse Newell rank the top five players at each position and offer up a few comments on why they voted the way they did. We'll also tally up our consensus top five at each position.
As the summer goes on, you'll see that these lists start to look a little different, with each of us seeing something unique in this player or that one. But our running back list is pretty consistent. For starters, only six different players were named, and each of us had Sims and freshman Darrian Miller ranked first and second.
Here's a look at who said what about KU's top running backs.
Matt Tait's list
James Sims: He might not wow you, but he'll keep the chains moving and knows how to find the end zone.

Darrian Miller: Could find himself in the conversation about the most exciting backs in the Big 12.

Nick Sizemore: Gill wants to run. Sizemore wants to block. It's a perfect match. And plenty of coaches have told me that this guy's a future NFL player.

Brandon Bourbon: Red-shirt freshman was really making strides before an injury this spring. Should be back to 100 percent by the start of the season and very easily could still be a factor.

Anthony Pierson: Reggie Mitchell wouldn't spend the kind of time he spent recruiting Pierson unless it's worth it. Pierson could be crazy good.
Tom Keegan's list
James Sims: Doesn't have break-away speed, but he has everything else.

Darrian Miller: Faster in pads than on the clock, he knows how to make tacklers miss.

Anthony Pierson: Fastest back in the program will work his way onto the field somehow.

Brandon Bourbon: Faster and bigger than Sims, he just as easily could be ranked first. He also would make a terrific linebacker.

Nick Sizemore: Teammates paint a picture of a tough-to-tackle, physical, blocking machine of a fullback.
Jesse Newell's list
James Sims: Not a gamebreaker but good at getting a couple more yards than you think he's going to get.

Darrian Miller: Showed in the spring he could be KU's highlight back; can break tackles and has good speed.

Nick Sizemore: He will help KU a lot without getting a ton of headlines; a good fullback with NFL potential should benefit KU's running game.

Rell Lewis: Hard to know what to expect because of injuries, but his 42-yard catch against Missouri in 2009 makes me think he could be good if healthy.

Brandon Bourbon: Leg injury in spring a tough setback for red-shirt freshman.
Journal-World Consensus Top 5 Running Backs
Five points awarded for first, four points for second, three points for third, two points for fourth and one point for fifth.
James Sims (15)

Darrian Miller (12)

Nick Sizemore (7)

Brandon Bourbon (5)

Anthony Pierson (4)
Others receiving votes: Rell Lewis (2).