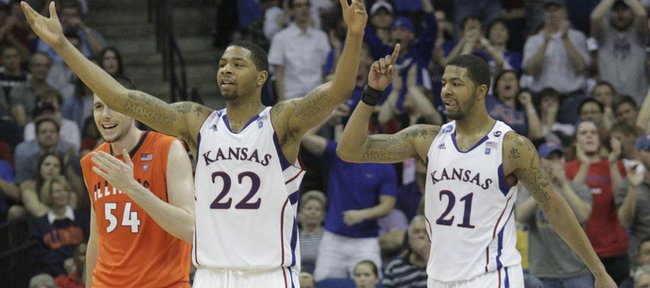 Twins to Green Room
The NBA invited KU's Marcus and Markieff Morris to sit in the Green Room for Thursday's NBA Draft in Newark, N.J. The twins will be joined by Alec Burks, Jimmer Fredette, Kyrie Irving, Enes Kanter, Brandon Knight, Kawhi Leonard, Chris Singleton, Klay Thompson, Tristan Thompson, Jonas Valanciunas, Jan Vesely, Kemba Walker and Derrick Williams.
Green Room invites go to players expected to be selected in the top 20.
"I think Marcus and Markieff will both be lottery picks (top 14)," KU coach Bill Self said. "I think Josh (Selby, former KU guard) will be taken in the first round and it will be a great day for Kansas fans. We should be happy and proud of those guys."
ESPN analyst Chad Ford says Marcus Morris will be selected ninth by Charlotte, Markieff 19th by Charlotte, and Selby 26th by Dallas.
The twins would love to play on the same team. Odds of that happening are slim.
"Yes, they can play apart. It will be good for them to be apart, although I do think they are so good together," Self said.
Clarke on market
Arkansas junior guard Rotnei Clarke has left Arkansas' basketball team, CBSsports.com reports. Clarke, who is known for his long-range shooting, had Kansas on his list of schools his senior year at Verdigris (Okla.) High School.