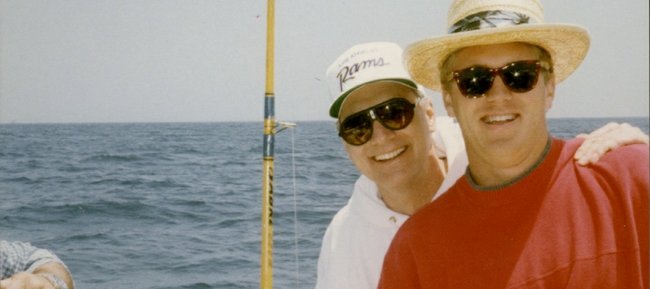 Chuck Long has had some pretty great football years during his life, be them as a legendary college quarterback at the University of Iowa or an assistant coach at various stops, including Oklahoma, where he helped the Sooners win a national championship in 2000.
That's what made 2008 so difficult for Long, Kansas University's offensive coordinator and one of those eternal optimist types.
That was the year Long lost his father, Charles Sr. Seven months later, Long was fired from his first head coaching job at San Diego State.
As he struggled to push past his first real football rejection, the man he so often leaned on was not around to lift him up with a few words or even just a smile.
"The hardest time I've ever seen him have was after San Diego State," said Lisa Long, Chuck's wife of 24 years. "It was the first time he had to go through something really difficult without his dad."
Long spent the next year out of coaching. That's when fate intervened and served up a serious blessing. As it turned out, being a full-time father to his own children was the one thing that helped pull Long through the pain of losing Charles Sr.
According to Lisa, 2009 was one of the most memorable years for Long the dad, a man who refers to his own father as, "my mentor, my hero."
"That year off was so great because he got to be with the kids," said Lisa, a mother of five. "He was able to see every basketball game our oldest son, Nate, played. And he was able to see our son, Zach, start his freshman year at quarterback. He just loved every minute of it. Nate had a great season. He was his team's MVP. And Zach only lost one game that year. It was really great. If there was a year for him to just dig in and enjoy his kids, that was the perfect one."
Charles Sr. was a part of a state championship basketball team in high school, but never played beyond that. Instead, he set out for the University of Oklahoma, where he majored in journalism and was a die-hard supporter of the Sooners. After college, Charles Sr. spent several years working as a magazine editor and later worked in public relations with Beatrice Foods.
All the while, Long was busy making a name for himself as one of the greatest college quarterbacks of all-time.
He finished his playing career with a 35-13-1 overall record, 10,461 yards, 74 total touchdowns and 782 completions. His 1985 season — in which he threw for 3,297 yards and 27 TDs and was an All-American and the Big Ten player of the year — is widely regarded by Hawkeye fans as one of the greatest in college football history.
Long said his dad cherished the opportunity to watch him play football. But their relationship never changed.
"He was supportive from Day 1 and he loved every minute of it," Long said. "But he also kept me humble all the way through. He always kept me focused on the next game."
Though Charles Sr. was proud of his son's football success, he made sure to stay out of it.
"He wasn't one to watch practice or go talk to the coaches," Long said. "When I went to school, he just dropped me off and dumped my stuff out and said, 'All right, we'll see ya.'"
When the two were together, back home in Wheaton, Ill., or at their summer cabin in Manitou Springs, Colo., Long and his father enjoyed fishing, horseback riding and playing tennis. Instead of sitting around talking about life, they got out and lived it.
"We always had the small chats more than the big one," Long said. "And I think the small chats were equally as important and effective. We had good conversations, but our conversations were outside of football. That's what made the relationship special, we talked about other things. When we did talk about football he always talked about other players. It wasn't really so much about me."
Asked to share his father's favorite memories of his football career, Long easily pointed to two.
"Probably my senior year in college," Long said. "We were No. 1 in the nation and they were No. 2, and we beat Michigan at home. That was a big highlight for him. As for the other, he was an Oklahoma graduate and when I went back there and coached and we won a national championship in 2000, that was a huge highlight for him. Those two moments were probably his most proud."
Long knows for a fact that he never once left a practice early. On the rare occasion he even considered it, one image popped into his head and made sure the 1985 Heisman Trophy runner-up, who played five seasons in the NFL, stuck it out.
That face was his father's.
"I don't know if you ever saw the movie Hoosiers," Long said. "Remember the kid who left practice and his dad dragged him back and said, 'My boy's got something to say.' That's my dad. He's just that guy."
He also was much more. Those who knew him spoke glowingly about his charming personality.
"Everybody was a friend immediately," said Lisa, who first met Charles Sr. when she was 10 years old.
Added Long: "I remember when he passed away, all the people that talked to me about him said the same thing. They said, 'We just loved your father because he loved us.'"
There are days, Lisa says, when her husband reminds her so much of her father-in-law it's scary. There are other days, when Long walks into a room with his own trademark bounce or finds a way to make everybody laugh in a difficult situation, when watching her husband's zest for life helps ease Lisa's own pain of having lost Charles Sr., the grandfather to her five children: Lindsay, 22; Samantha, 21; Nate, 18; Zach, 16; and Maddy, 14.
"They are freakishly carbon copies of each other," Lisa said. "Putting that undying positive outlook and spin on things was the biggest trait that Chuck and his dad shared."
Long remembers that about his dad. It still makes him smile.
While some of those character traits are ingrained in him there's another trait that Long consciously tries to perfect every day.
"The thing I try to carry on from my father is the way he treated people," Long said. "He was just a great person. He loved being around people and he treated them all well. We had a great relationship. We were very close. He was one of my heroes. He was just a fabulous person."
From where Lisa sits, her husband is following in his father's footsteps just fine, even those of the proud father of a young quarterback.
"Chuck drove over to watch Zach's first game and I stayed home because I'm a nervous Nellie," said Lisa, recalling that magical year of 2009. "So I was getting texts throughout the whole game that would say, 'Touchdown,' or 'Zach's great.' Chuck called afterwards and he said, 'It was so great, I was so proud,' and he was pretty choked up about it. He would've missed it if he was coaching."